Court Reporting
I went to court-reporting school to study stenotyping. After awhile, whenever anybody spoke, in my mind my fingers would be punching it out.

– Michelle Pfeiffer
The Court Reporting Program provides an academically rich training program designed to prepare you for the field of court reporting.
The Cypress College Court Reporting Program prepares students to take the California Certified Shorthand Reporter's Examination and the National Court Reporting Association Examinations.
The Court Reporting Program requires a minimum of two and a half years of study. Students must furnish their own
machines and related supplies. Students may also choose to pursue related career opportunities.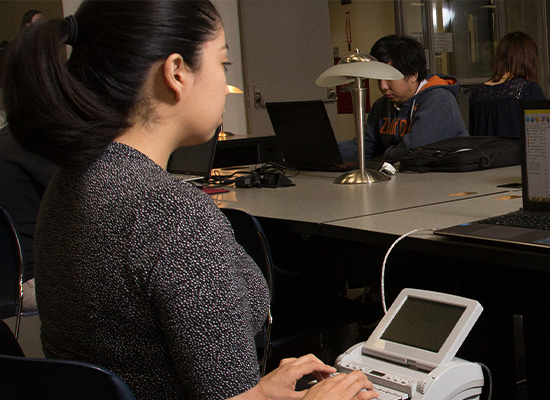 ---
What You'll Study
Practice Lab
High Speed Proficiency Lab
Qualifier Lab
Computer Aided Transcription Lab
Machine Shorthand Theory
Court Reporting Theory Review
Machine Shorthand Speed Building
CSR/RPR Directed Practice
Court/Conference Reporting: Legal
Court/Conference Reporting: Medical
Court/Conference Reporting: Congressional
Two/Four Voice Testimony
Court/Conference Reporting: Jury Charge
Machine Shorthand Challenges
Advanced CAT Systems
Vocabulary Development
Legal Terminology and Rhetoric
Legal Procedures
Spelling for Modern Business
Punctuation: Court Reporting
Formatting, Style, and Usage
Proofreading
CSR-RPR-CBC-CCP Exam Preparation
Simulated Courtroom
Court and Deposition Procedures
Dictation and Transcription
Dictionary Build
Realtime Writing Concepts
Information Technology: CTRP
Expert Testimony: Professional Reporter
Realtime Writing: Professional Reporter
Court Reporting Seminar
Internship: Agency Services
Internship: Court Services
Internship: Medical Reporting
Internship: CART
Internship: Law Office
Internship: Legal Transcription
Internship: Court Reporting
Internship: Proofreading
Internship: Hearing Reporter
Internship: Captioning
Internship: Scoping/Editing
Internship: Videography
Computer Aided Transcription: Stenograph
Computer Aided Transcription: Eclipse
Computer Aided Transcription: Dictionary Building
Court/Conference Reporting: Literary
Catalog
Visit our catalog for more information about the degrees and certificates, courses, and program learning outcomes for students majoring in Court Reporting.
---
Careers & Salary
Salary
Low: $28k
Average: $84k
High: $119k
---
What Students Say
"The one thing that stands out about the Cypress College Court Reporting program is the teachers. They were very dedicated and helped me get through the program with their support and encouragement.They were always available to answer questions and take extra time. I made lifelong friends while in the program because of the bond of working toward a common goal. It's a difficult program to finish, but with the help of friends, teachers, and a positive attitude you can reach your goals and have a very rewarding career."
Kayla Jernigan
"The best thing that happened to me was when I transferred and did my final semester of school at Cypress. I met a really great group of people, faculty and students, who have since become my closest friends, all working in some form of the court reporting field. It is these people that I always turn to first when I have questions or just need someone to listen about my day. We all still get together regularly just to share tips on briefs, software, equipment, recipes, fun and relaxation, managing our finances and our time, scopists, proofers, etc. I don't know what I would do without them! Only a court reporter truly understands what we do. Court reporting is one of the most challenging career opportunities out there and I'm so happy I'm a part of it!"
Linda Klea-Baker
---
Faculty
Adjunct Faculty
Kelvin Do
Michael Migan
Anna Pastor
Mary Rea
Elizabeth Torres
Savauna Winn
Court Reporting Department
Location: Business Education Building, 2nd Floor
T: (714) 484-7000, Option 5, ext. 48055
Department Chair: Carolee Freer, cfreer@cypresscollege.edu