Management & Marketing
Effective leadership is putting first things first. Effective management is discipline, carrying it out.

– Stephen Covey
Do you want to develop your business and leadership skills? Grow your own business? Whatever your business management education goals may be, the Management Department can help you to reach them. The Management Department is focused on preparing you to be a manager and entrepreneurs.
Looking to expand your career horizons? Work in marketing, advertising or sales? The Marketing Department focuses on the human side of business – what it takes to satisfy customers in the marketplace with the right blend of products and promotions. In our Marketing courses you will learn how to develop, price, promote and distribute products in the marketplace.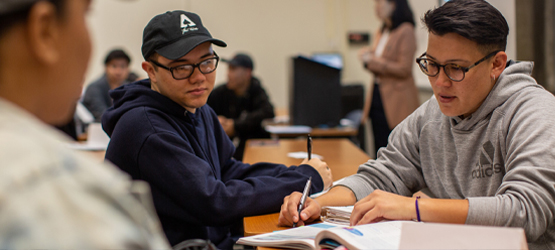 ---
What You'll Study
Business English
Business Planning
Business Finance-Recordkeeping
Computer Technology for Small Business
Managing Personnel
Business Law – Small Business
Personal Finance
Financial Literacy
Business Communications
Legal Research
Business Mathematics
Business
Writing for Business
Legal Environment of Business
Small Business Management
Principles of Management
Social Responsibility of Business
Human Relations in Business
Principles of Supervision
Human Resources Management
Sales Prospecting
Sales Presentations
Handling Sales Objections
Making the Sale
Marketing Essentials
Advertising and Public Relations
Personal Selling
Target Marketing
Buyer Behavior
Market Distribution Systems
Sales Promotion Techniques
Customer Relations
International Marketing – Small Business
Principles of Advertising
Principles of Retailing
Small Business Promotion
Multicultural Markets in U.S.
Principles of Selling
Consumer Behavior
Principles of Marketing
International Marketing
Catalog
Visit our catalog for more information about the degrees and certificates, courses, and program learning outcomes for students majoring in Management & Marketing.
---
Careers & Salary
Careers
Cost Estimator
Administrative Services Manager
Sales Manager
General and Operations Manager
Industrial Production Manager
Management Analyst
Manager, All Other
Purchasing Agent
Sales Representative, Wholesale and Manufacturing
Wholesale and Retail Buyer
Salary
Low: $26k – $37k
Average: $59k – $100k
High: $123k – $208k
---
Management & Marketing Department
Location: Business Building, 2nd Floor
T: (714) 484-7211
Department Chair: Jeannie Jo, jjo@ypresscollege.edu