Air Conditioning and Refrigeration
Success is focusing the full power of all you are on what you have a burning desire to achieve.

– Wilferd Peterson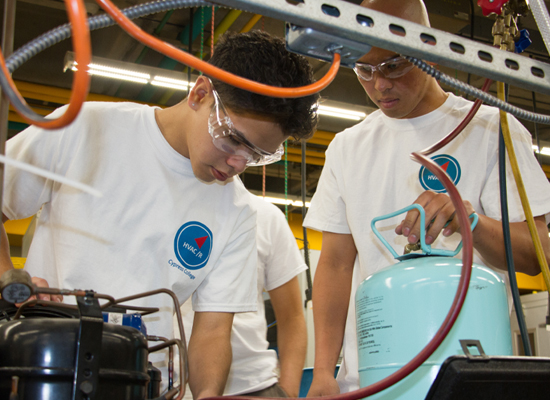 Air Conditioning & Refrigeration is a cool career with many avenues for specialization within the industry. This two-year program is designed to equip you with the basic skills for industry entry-level positions in service, design, controls application, sales and more.
The Air Conditioning, Heating and Refrigeration industry provides essential technology services for the control of environments ranging from the comfort of people to the storage of essential products to the process of manufacturing goods used in everyday life.
A career in Air Conditioning and Refrigeration offers a variety of industry paths leading to greater job security and mobility of skills. With the Cypress College educational experience, you can enter this industry in areas of applied engineering, sales, estimating and design, service repair, construction, building automation and manufacturing. These industry job opportunities are rapidly expanding to accommodate the age of digital technologies interfacing with electromechanical and pneumatic technologies already in extensive use.
---
What You'll Study
Building Commissioning
Refrigerants, Charging, and Recovery
HVAC-R Special Projects
Technician Customer Relations
Principles of Thermodynamics and Heat Transfer
Electricity for Air Conditioning and Refrigeration
Air Conditioning
Gas Heat Transfer Systems
Piping Practice, Tools, & Safety
Boiler & Hydronic Heating
Solar Energy for Heat & Cool
Blueprints and Dimension Analysis
Plumbing Principles/Practices
Load Calculation for Heat and Cool
Commercial Air Conditioning
Commercial Refrigeration
Codes & Estimating for HVACR
A/C Controls and Energy Management
Green A/C & Auditing
Heat Pumps
Air Conditioning Capstone
Green Refrigeration and Auditing
Crew Leadership-Field Supervisor
Project Management
Air Conditioning and Refrigeration Seminar
Catalog
Visit our catalog for more information about the degrees and certificates, courses, and program learning outcomes for students majoring in Air Conditioning & Refrigeration.
---
Careers & Salary
Careers
Heating, Air Conditioning, and Refrigeration Mechanics and Installers
Salary
Low: $32k
Average: $53k
High: $90k
---
What Students Say
"After completing the HVAC program, I was able to land a job in refrigeration; I have been working for Accutherm Refrigeration for a year now."
Juan Santos
---
Faculty
Douglas Sallade
Carlos Urquidi
Adjunct Faculty
John Lasater
Brandon Penesa
Bill Woodson
Air Conditioning & Refrigeration Department
Location: Tech Ed III, Room 110
T: (714) 484-7000 ext. 4806
Department Chair: Carlos Urquidi, curquidi@cypresscollege.edu