Dental Assisting
Be true to your teeth and they won't be false to you.

– Soupy Sales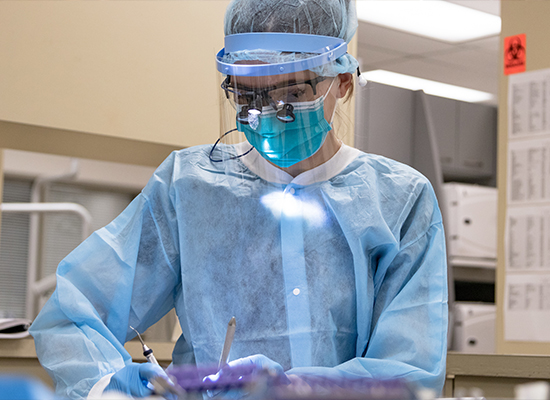 The Dental Assisting Program is a two-semester program that includes patient care experiences in a fully equipped on-site facility, with students assigned to clinics or dental offices for their externship experiences.
Dental Assistants are highly valued by the dental profession and have a choice of work environments from private offices to hospitals and clinics.
Our program prepares the students to satisfy this need. As a Dental Assistant you will be involved in a variety of duties including managing the front office, preparing the patient, taking radiographs, and mixing dental materials.
Registered Dental Assistants are not only supportive members of the dental team but they also perform important procedures in the patient's mouth under the supervision of a licensed dentist.
---
What You'll Study
Dental Materials
Clinical Externship
Oral Anatomy/Dental Assisting
Preventive Dental Health
Chairside Assisting
Radiology/Dental Assisting
Dental Specialties
Dental Office Procedures
Independent Study
Catalog
Visit our catalog for more information about the degrees and certificates, courses, and program learning outcomes for students majoring in Dental Assisting.
---
Careers & Salary
Salary
Low: $26k
Average: $37k
High: $57k
---
Faculty
Joel Silva, RDA, CDA, A.S., BS
Adjunct Faculty
Giovanna Charleston
Brenda Toy
Dental Assisting Department
Location: Tech Ed III, Building 13, Room 305
T: (714) 484-7293
Department Chair: Joel Silva, jsilva@cypresscollege.edu