Cypress College Dental Hygiene Clinic
---
The Cypress College Dental Hygiene Clinic is located on the campus in the Tech ED III Building, Room 305. The clinic provides all services legally allowed to Dental Hygienists licensed in the State of California and these services are provided under the supervision of a licensed Dentist and Registered Dental Hygienists as instructors.
Our clinic provides a learning experience for the students participating in the dental hygiene program, and since services are performed by students, your appointment will demand more time than in a private dental office.
The clinic does not provide restorative dentistry (fillings), oral surgery, or orthodontics. You will be referred to your own private dentist for comprehensive care. A recommendation form will be given to you upon completion of your treatment. If you do not have a dentist, the telephone number of the local dental society or dental schools may be requested.
The clinic does provide care for children; however, the child must be accompanied by a parent or legal guardian, who must remain in the clinical facility during the entire
appointment. Children under three (3) years of age may not be mature enough for dental care, and a referral to a children's specialist (pedodontist) may be required.
---
Appointments
Screening Appointment
Your first appointment will be a limited screening appointment. No fee is charged for this appointment. A thorough medical/dental history and a cursory soft/hard tissue exam will be performed at this time. If dental x-rays are necessary for proper dental hygiene treatment, they may be prescribed at this appointment. At the end of the screening appointment you will be advised of your treatment needs, the number of appointments and approximate fee. You will then be reappointed with a student operator for your care. To get an appointment call (714) 484-7296.
Dental Hygiene Care Appointments
Appointment number and times will vary with individual oral conditions. An appointment for an adult may be one or several appointments of 2-3 1/2 hours depending on your needs.
---
Clinic Hours
The Dental Hygiene Clinic is open during the fall Semester (early September – mid-December) on Monday mornings from 8 a.m. – 12 p.m., Tuesdays from 8 a.m. – 12 p.m. and 1 p.m. – 5 p.m., and on Friday mornings from 8:30 a.m. to 12:30 p.m.
During the spring semester (early February – mid-May) the clinic is open from 8 a.m. – 12 p.m. and 1 p.m. – 5 p.m. on Monday, Tuesday and Wednesday, and on Friday mornings from 8 a.m. – 12 p.m.
The clinic is closed during the legal, school holidays, and during January, June, July, August and late December.
Appointments may be scheduled in person at the dental clinic during clinic hours or by calling the clinic at (714) 484-7296 during clinic hours.
---
Fees
We are a nonprofit education facility and a minimal fee is charged for the care provided by our students. Your student operator will explain the estimated fee at the screening appointment. The instructor will determine if an additional charge will be needed above the estimated fee. Payment as services are rendered is our policy. As an educational facility we have no method of monthly billing, insurance processing or credit/debit card processing. Your payment may be made by cash or by check when presented with proper identification: current California drivers license or another form of current identification. If you are a student of Cypress College /Fullerton College your student ID number is required for a reduced student fee.
---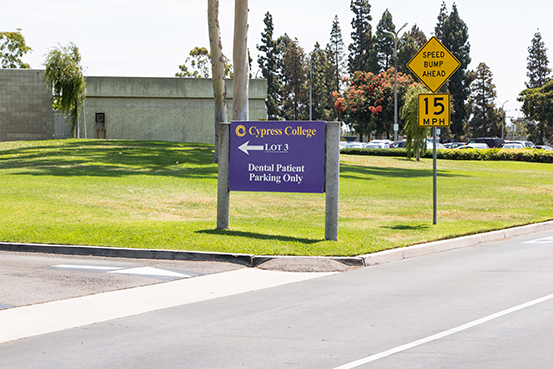 Parking
Parking is available in Parking Lot #3 in patient spaces only and in Parking lot 4 in student spaces with a purchased parking permit or with a Dental Patient Parking Permit.
Dental Parking Permits must be obtained at the reception desk in the Dental Hygiene Clinic and hung from your rearview mirror so that the date is displayed through the window. Parking Permits must be stamped with the correct date or you will be given a ticket.