Mortuary Science
Whether one believes in a religion or not, and whether one believes in rebirth or not, there isn't anyone who doesn't appreciate kindness & compassion.

– Dalai Lama XIV
The Mortuary Science Department at Cypress College prepares individuals for a career that cares for the dead and comforts the living.
As a Mortuary Science student you will prepare for employment as a funeral director and embalmer through a variety of courses.
The Mortuary Science Program at Cypress College is accredited by the American Board of Funeral Service Education (ABFSE), 992 Mantua Pike, Suite 108, Woodbury Heights, NJ 08097 (816) 233-3747 www.abfse.org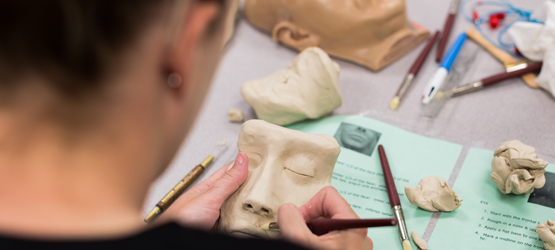 ---
What You'll Study
Work Experience
Orientation to Funeral Service
Funeral Service Pathology
Embalming Anatomy/Pathology
Funeral Service Thanatology
Funeral Service Management
Funeral Service Ceremonies
Embalming Theory and Practice
Funeral Directing
Funeral Service Administration
Methods of Disposition
Funeral Service Sciences
Embalming
Restorative Art
Funeral Services Ethics/Laws
Embalming Application
Mortuary Law
Funeral Service Practicum
Embalming Externship
Funeral Service Capstone
Funeral Service Counseling
Catalog
Visit our catalog for more information about the degrees and certificates, courses, and program learning outcomes for students majoring in Mortuary Science.
---
Careers & Salary
Careers
Embalmer
Funeral Service Manager
Mortician, Undertaker, and Funeral Director
Salary
Low: $26k
Average: $53k
High: $126k
---
What Students Say
"The Mortuary Science Program is nothing like anything I have ever experienced. In order to be successful, you must be active. By being active, I mean showing up every day, being engaged in each lecture, and being supportive of your cohorts. It is truly a team effort and we all help each other throughout the process."
Kimberly Worl
"Each faculty member of the mortuary program has positively contributed to my time here."
Holly Herrera
---
Faculty
Lori Collins
Damon de la Cruz, Ph.D.
Jolena Grande
Adjunct Faculty
Glenn Bower
Chase Mirassou
Stephen Nichols
Christina Villa
Yvonne Yu
Mortuary Science Department
Location: TE-3, Room 215
T: (714) 484-7278
E: mortsci@cypresscollege.edu
Department Chair: Damon de la Cruz, Ph.D., dcruz@cypresscollege.edu