Radiologic Technology
If the hand be held between the discharge-tube and the screen, the darker shadow of the bones is seen within the slightly dark shadow-image of the hand itself… For brevity's sake I shall use the expression 'rays'; and to distinguish them from others of this name I shall call them 'X-rays.'

― Wilhelm Conrad Röntgen
Our Radiologic Technology Program provides training in radiologic technology science. This program is an accredited program by the Joint Review Committee on Education in Radiologic Technology (JRCERT).
Your instruction in this program will qualify you for examination by the American Registry of Radiologic Technologists and the California Department of Pubic Health, through the Radiologic Health Branch (RHB) and prepare you for employment in radiologic technology.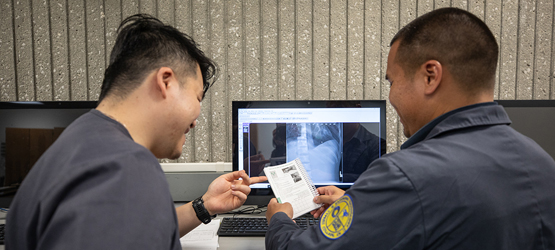 ---
What You'll Study
Radiologic Electronics
Radiography
Radiology Imaging Techniques
Radiographic Positioning
Radiography Patient Care
Radiology Special Procedures
Selected Topics
Radiographic Positioning
Radiology Externship
Radiobiology
Radiation Laws and Ethics
Clinical Internship
Fluoroscopy Permit Course
Cross-Sectional Imaging
Imaging Independent Study
Catalog
Visit our catalog for more information about the degrees and certificates, courses, and program learning outcomes for students majoring in Radiologic Technology.
---
Careers & Salary
Salary
Low: $42k
Average: $76k
High: $117k
---
What Students Say
"I chose Cypress College because of its outstanding reputation as well as its credibility for the Radioglogic Technician program. I commuted over an hour to get to Cypress College and it was more than every good thing I heard. Because of the college's reputation, I was able to find multiple employments as soon as I received my licenses for X-ray."
Roshni Chahwala
"The reputation of Cypress College and the quality of the training I received in the Radiologic Technology program has enabled me to be in my current job. Even though I have less than one year of experience in the field, I now work as the only X-ray tech of a fairly busy out-patient center. Without the strong foundations in positioning and patient care I received at Cypress College, I do not think I would have been qualified for or given this job."
Mary Eng
---
Adjunct Faculty
Gary Binoya
Bob McDermott
Phanh Pak
Derek Truong
Radiologic Technology Department
Location: Tech Ed III, Room 200
T: (714) 484-7283
Department Chair: Michael Frianeza, mfrianeza@cypresscollege.edu