Kinesiology/Athletics
Athletics keeps us healthy, gets us up and running around.

– Derek Jeter
Cypress College boasts a well-rounded physical education curriculum along with a successful sports program featuring 14 intercollegiate teams and a strong support staff of professionals.
We are committed to providing you with a quality education in the varying fields of athletics. We offer a variety of activity courses each semester. We currently offer an associate in arts degree in kinesiology as well as an associate in arts degree for transfer in kinesiology, in addition to various certificates.
Cypress College offers seven sports for women and six for men, has had a solid line-up of teams and individual athletes who have excelled since the college first opened its doors in 1966. Student-athletes are provided quality individual instruction, the chance to develop to their full potential and the opportunity to earn a four-year college or university scholarship.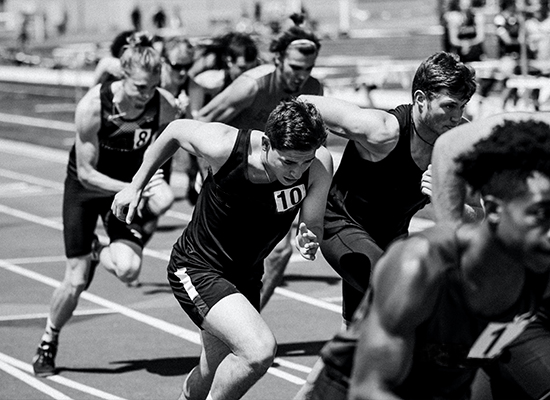 ---
What You'll Study
Adapted Kinesiology Weight Training
Adapted Kinesiology Activity
Spirit Squad
Surfing
Swimming
Swim for Fitness
Springboard Diving
Water Aerobics
Kick-Boxing
Self-Defense
Yoga
Vinyasa Yoga
Restorative Yoga
Hatha Yoga
Cardiovascular Conditioning
Walking for Fitness
Cardio Step
Mountaineering/Rock Climbing
Body Sculpt
Cardio Blast
Fitness Training
Power Training
Strength Training
HIIT-High Intensity Interval Training
Boot Camp Workout
Cardio Core
Body Building and Development
Total Body Fitness
Weight Training and Lifting
Trail Hiking
Spinning
Fitness Testing and Exercise Prescription
Badminton
Table Tennis
Bowling
Gymnastics-Tumbling
Tennis
Golf
Pickleball
Futsal
Volleyball
Beach Volleyball
Basketball
Water Polo
Soccer
Softball
Baseball
Flag Football
Strength and Conditioning
Exercise Physiology
Exercise Testing and Prescription
Public Health
Health and Social Justice
Women's Health
Contemporary Personal Health
Global and Community Health
Athletic Weight Training
Conditioning for Athletes
Intercollegiate Baseball
Intercollegiate Basketball
Intercollegiate Beach Volleyball
Intercollegiate Golf
Intercollegiate Soccer
Intercollegiate Softball
Intercollegiate Swimming
Intercollegiate Tennis
Intercollegiate Volleyball
Intercollegiate Water Polo
Intercollegiate Badminton
Kinesiology
Elementary School Movement
First Aid, CPR and Emergencies
Athletic Injuries-Prevention and Care
Sports Officiating
Theory of Coaching Basketball
Theory of Coaching Baseball
Human Performance
Sports Management
Psychology of Sport
Sport and United States Society
Lifeguarding
Water Safety Instruction
Nutrition Science and Application
Movement Anatomy
Catalog
Visit our catalog for more information about our degrees and certificates, courses, and program learning outcomes for students majoring in Kinesiology.
---
Careers & Salary
Careers
Exercise Physiologist
Home Health Aide
Nursing Assistant
Community Health Worker
Social and Human Service Assistant
Recreation Worker
Coach
Scout
Athletic Trainer
Fitness Trainer
Aerobics Instructor
Salary
Low: $42k
Average: $79k
High: $193k
---
What Students Say
"I'm thankful to be a Cypress Charger. I'm glad I get to graduate in the spring with my AA and go on to Cal State Fullerton to play. I would like to thank everyone at Cypress College for their guidance. So many people cheered me on and gave me hope, even when I felt down and out. We have something special here at Cypress College. It really feels like a family."
Josh Currenton
"The women's basketball program at Cypress College has had the greatest impact on my life. I not only grew as a basketball player, but as an individual as well."
Gabrielle Carbajal
---
Faculty
Andrew Alhadeff
Mark Canner
Sergio Cutrona
Silvie Grote
Anthony Hutting
Margaret Mohr
Nancy Welliver
Adjunct Faculty
George Abraham
Holly Armstrong
Anthony Barber
Jordan Brinkley
Francis Driscoll
Michael Ford
Dennise Gallegos
Christopher Garcia-Lopez
Collin Gladys
Sam Gould
Holly Gracia-Iris
Nicholas Graffis
Denise Haley Peaslee
Jordan Hamamoto
Matt Harris
Erick Hurtarte
Brittany Imaku
Michael Jackson
Juan Moreno
Kelly Morris
Eduardo Osorio Lozada
Raney Remme
Cristian Rus
Kendra Serrano Cardenas
Nolan Strout
Anne Taylor
Jill Toda
Thomas Valentine
Tracy Van Herk
Michael Vasquez
Nicole Weil
Michael Willey
Kinesiology Department
Location: Gym 2 Building, First Floor
T: (714) 484-7352
Department Chair: Margaret Mohr, mmohr@cypresscollege.edu