Aviation & Travel Careers
When once you have tasted flight, you will forever walk the earth with your eyes turned skyward, for there you have been, and there you will always long to return.

– Leonardo da Vinci
The Aviation & Travel Careers Department has been helping students go places since 1967. We are proud of our long tradition of success and the fact that our students work for all the major airlines and travel companies throughout the world. Our many programs and course options mean that students may attend part-time or full-time, online or in person, or during the day or evening, depending on what schedule is most convenient. Students work at all of the major airlines and airports, including Alaska, American, Cathay Pacific, Compass, Delta, Emirates, JetBlue, SkyWest, Southwest, United, Virgin America, LAX, Long Beach Airport, John Wayne Airport, and Boeing. Students also work for AAA, Norwegian Cruise Lines, Princess Cruises, Contiki, Disney Travel, and many more.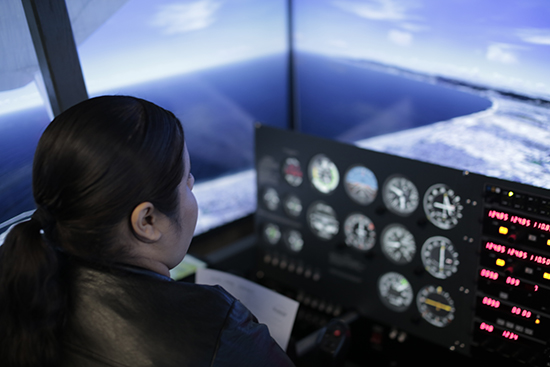 ---
What You'll Study
Special Projects
Introduction to Aviation
Introduction to Travel Careers
Career Communication/Portfolio
Aviation/Travel Open Lab
Air Transportation
Homeland Security
Aviation/Transportation Security
Disaster Preparedness/Response
Travel Sales and Tour Operations
Travel Management
Private Pilot
Air Navigation
Meteorology
Aircraft and Engines
UAV-UAS (Basic & Basic Flight)
Destinations (Americas/Europe & Africa/Pacific)
Tourism/Conference Management
Cultural Tourism
Customer Care: Airline/Travel
Flight Training (Device & Private Pilot)
Airline Reservations: SABRE
Flight Training (Flight Instructor, Instrument Rating, & Commercial Pilot)
Flight Simulator (Private Pilot, Commercial, and Instructor)
Cabin Safety Simulation
Airline/Aviation Management
Advanced Air Navigation
Cruise Line Sales and Operations
Instrument Rating
Aerodynamics
Commercial Pilot Seminar
Aviation Instructor
Turbine Simulator (Observation & Orientation)
Crew Resource Management
UAV-UAS (Advanced, Advanced Simulator, & Advanced Flight)
Airline Operations
Airport Operations
Passenger Services and Safety
Public Relations
Aviation/Travel (Internship & Seminar)
Independent Study
Catalog
Visit our catalog for more information about the degrees and certificates, courses, and program learning outcomes for students majoring in Aviation & Travel Careers.
---
Careers & Salary
Careers
Transportation, Storage, and Distribution Manager
Reservation and Transportation Ticket Agent and Travel Clerk
Tour Guide and Escort
Transportation Attendant
Flight Attendant
Travel Agent
Travel Guide
Airline Pilot
Copilot
Flight Engineer
Commercial Pilot
Transportation Inspector
Salary
Low: $21k
Average: Varies
High: $208k
---
What Students Say
"I owe everything I have accomplished to this day, to Cypress College Aviation & Travel Careers Program. I am so thankful to have Kathleen Reiland and Kathy March on my team. They have supported me through every decision I have made since I started the program at 17 years old."
Katy Straughn
"I give ship loads of credit to the incomparable, incredible Ed Valdez (ATC). I have never seen someone do so much and go so above and beyond. Kathleen Reiland has also been an influential faculty member throughout my career."
Brandy Manfredonia
---
Faculty
Jacqueline Aguet
Thomas Sutfin
Adjunct Faculty
Jeff Co
Mike Hannah
Marilyn Ivey
Charmaine Kaimikaua
Nancy Matsui
Thomas Mellana
Cira Oropeza
Evie Palicz
Clarence Stanback
Katy Straughan
James Wilcox
Aviation & Travel Careers Department
Location: Technical Education I Building, Second Floor
T: (714) 484-7231
Department Chair: Captain Ed Valdez, evaldez@cypresscollege.edu