3rd Annual 5K Run/Walk
15 Mar 2019 @ 11:00 am
$30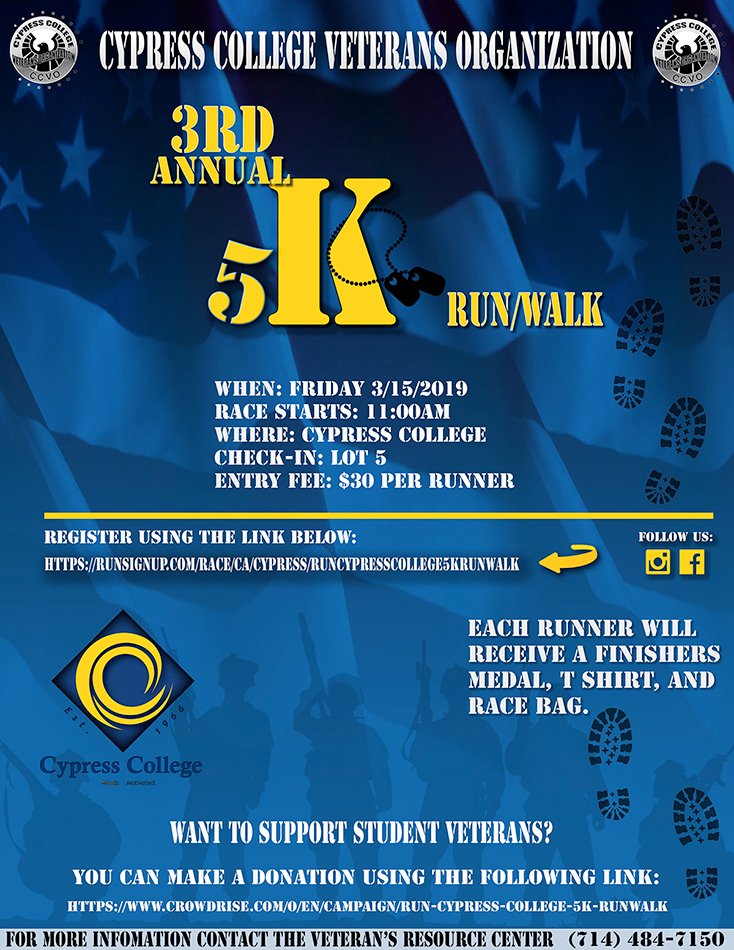 Cypress College Veterans Organization is hosting its 3rd Annual 5K Run/Walk on March 15, 2019. The race starts at 11 a.m. Participants should check in at Lot 5. The entry fee is $30 per runner.
Each runner will receive a finisher's medal, t-shirt, and race bag. To register, visit runsignup.com/race/ca/cypress/runcypresscollege5krunwalk.
The race will begin after the Veterans Resource Center Ground Breaking ceremony. This year will add a small friendly competition for those interested in knowing what their Marine Corps Physical Fitness Test score could be (3 mile run, pull-ups, and sit-up).
This year, the Veterans Club also wants to give back to the campus for all their support they have received since the Veterans Resource Center opened. The club board would like to offer the first 25 donors a free race entrance to those who can donate a grocery bag full of nonperishable food to the Cypress College Food Pantry. David Okawa's team will keep track of the donors and we will add them to the list.
If you cannot join the race but would like to contribute, you can donate and/or promote using our donation link:
https://www.crowdrise.com/o/en/campaign/run-cypress-college-5k-runwalk/ccvo