California Bike License Plate Contest Deadline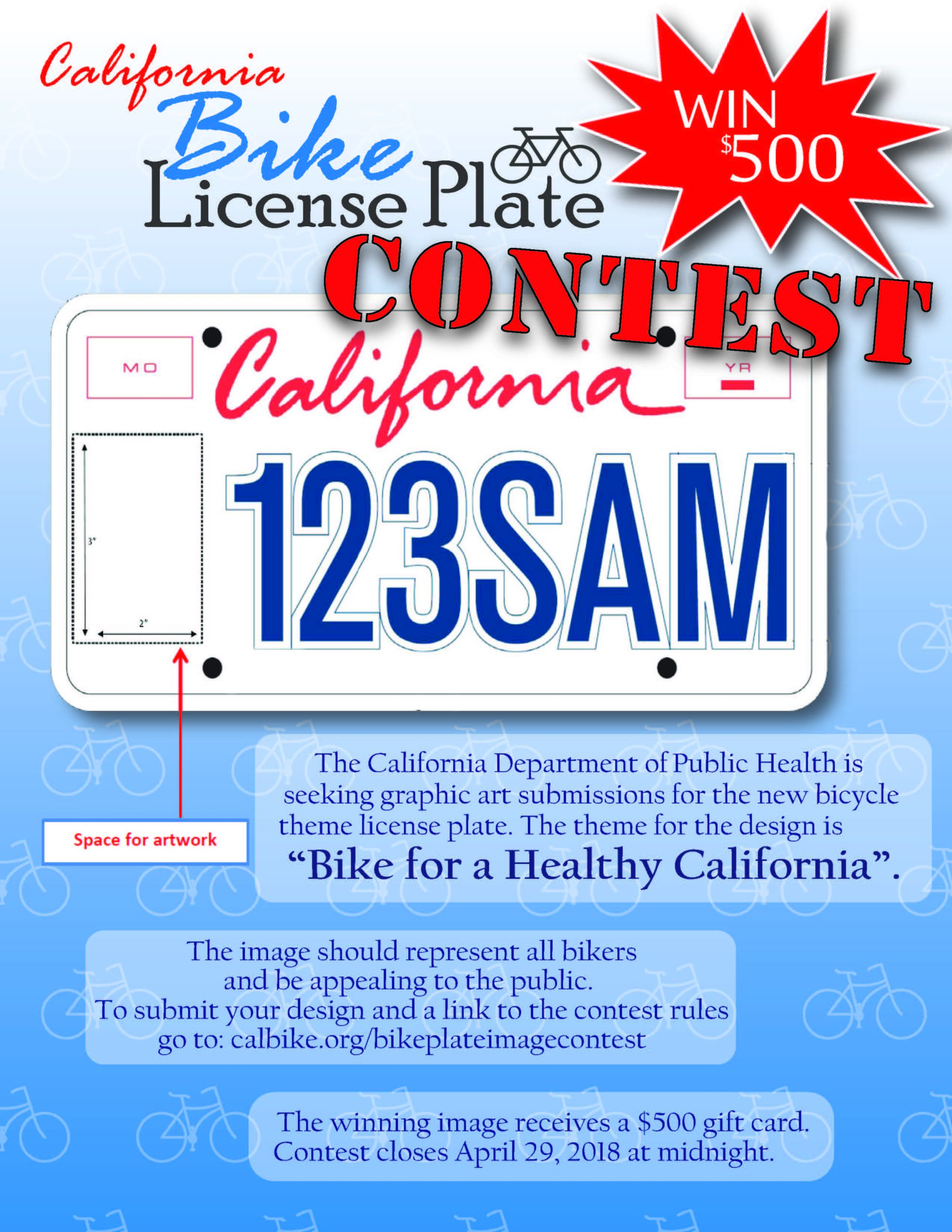 California Bicycle Theme License Plate
Graphic Design Contest Rules
WIN $500.00
Purpose of the Contest
The California Department of Public Health (CDPH), in conjunction with the California Bicycle Coalition (CBC), Cycle California Magazine (CCM) and other partners are conducting a contest for a graphic image that will go onto the California special interest "Bicycle Theme" license plate. The license plate will be available for cars, trucks, trailers and motorcycles.
The Graphic Image Theme
The theme for the license plate is, "Bike for a Healthy California".  The image should represent the theme of biking in California and depict biking as a healthy and fun activity. The image should be appealing to the public and represent all cyclists.
Proceeds from the License Plate
Funds generated from the sales of the license plates will go toward a grant program overseen by CDPH, Nutrition Education Obesity Prevention Branch (NEOPB). Grants will be awarded to, non-profit agencies, County Health Departments, community based and similar organizations in California. The focus areas of grants will include promoting biking as a way to increase physical activity to prevent chronic disease, advocating for pedestrian and biking friendly street design, education of cyclists and drivers of automobiles, safe routs to school programs and efforts to collaborate with law enforcement.
Contest Rules and Criteria
No Entry fee is required to participate or win
The contest is void where prohibited by law, regulation statute or other appropriate legal authority
The contest is open to artists of any age
Contestants under the age of 18 must have parent or guardian consent.
Each artist may submit up to three images.
The person entering the artwork is considered the contestant and the only person eligible to win the prize.
Employees of NEOPB, the CBC, CCM and judging committee may submit designs but are not eligible to win prizes.
Original artwork is encouraged but not required.
Any artwork that depicts copyrighted images must be accompanied by proof of permission from the copyright holder and allow CDPH NEOPB to reproduce the image without compensation obligations.
Any artwork that infringes on another's copyright will be disqualified. The submitting artist is solely responsible for any infringement on copyrighted materials.
Art that has been entered in previous contests is allowed.
By entering this competition, the artist is granting CDPH NEOPB a non-exclusive license to reproduce images of the entrant's artwork on the state license plate, website, newsletters and other items that can be used to generate funds to support the California Bicycling License Plate program and in the marketing of the art competition to the public. Artwork will not be used for any other purpose than that which is stated here. The winning entry will be displayed on the CDPH, CBC, CCM and other License Plate program supporters' websites.
Images that are controversial, sensationalistic or gruesome in nature will be rejected.
Preliminary entries will not be returned.
Entries must meet criteria to be eligible.
File size and Format: for judging, images must be a minimum of 72 dpi.  Acceptable file formats are jpg, gif, png and pdf or similar format. Submitted images may be any size. Final images must fit into a 3-inch by 2-inch space without distortion.
Submitting artwork: Submitted artwork to calbike.org/bikeplateimagecontest .  Entries accepted up to midnight April 29, 2018.
Final Artwork: The final draft of the image selected to be on the license plate must be in a vector graphic format.  Vector design software includes Adobe Illustrator, Sketch, Corol DRAW and AFFINITY.  For an explanation of vector graphic design click here.  If the submitter is unable to make the image in Vector CDPH will attempt that process for the submitter.
Judging and Criteria
A panel of judges selected by and/or recommended to NEOPB will select five final images for public voting.
All images are judged on the following criteria:
Appeal:

Is the image appealing at first glance?
Is it appealing to cyclist and non-cyclists?
Will it compel people to buy the plate?

Does it stand alone as a work of art?
Interpretation of the theme:

Does the image represent or express intent and or meaning of the theme?
Does it portray biking as a healthy, fun and safe pastime?

Originality: Is the design something that is original to the viewer?
The public, via voting process, will select the final graphic image.
Final Judging/Selection
Bikers, cyclists, cycling advocates, and stakeholders will be directed to the CCM website www.cyclecalifornia.com to vote for their favorite image.  Voters will be asked to rank the final images 1-5 in order in which they are most likely to purchase the license plate with the image. Only votes from California will be accepted.  The judging panel will review the votes and select the final image.
Winning Prizes
The winner will receive a $500 gift card. The winner will have the honor of claiming the notoriety of the winning design; receive a plaque/certificate acknowledging their contribution, an autographed copy of "Draft Animals" by Phil Gaimon and a feature in Cycle California Magazine.  All finalists will be mentioned on the CBC and CDPH websites.  First runner up will receive a Fitbit (valued at $129.00).  Second runner up will receive a Nutri-bullet blender (valued at $70.00).
To Enter
Have a completed image ready to submit
Fill out an online entry form for each entry (up to three). Each form must be complete. Incomplete forms will be rejected.
Upload the image onto the entry form by clicking Submit form
Online Entry Information
Required Field*
First Name* ___________________
Last Name* ___________________
Email of artist* (if a minor use parent/guardian email) __________________________
Phone number* (_____) – (__________________)
Title of Image*_________________________
Short description of image ______________________________________________________________________
Age 17 and under* ___
Age 18 and above* ____
Acknowledge, agreement release statement*
___ By checking this box, I certify the information provided above is accurate and complete to the best of my ability. I certify the artwork I have submitted is of my own creation, I did not copy it from any other source. As required, I am including permission to use a copyrighted image and permission for CDPH NEOPB to reproduce the image without obligation to the copyright holder.  I agree to abide by the guidelines of this contest and understand that all judgments are final and interpretation of the guidelines is at CDPH NEOPB sole discretion. I understand that by submitting my artwork, I am giving CDPH NEOPB the right to publish and reproduce my work in future publications, license plates and assorted items to benefit the California Bicycle License Plate program.
Release of work by a minor agreement statement*
__ By checking this box I am providing authorization and grant CDPH NEOPB permission to use the artwork created by the child in my care (Name of Child ________________________) and submitted in their name to publish and reproduce the artwork in  future publications, license plates, and assorted items to benefit the California Bicycle License Plate program
Name of Child ______________________
Name of parent of guardian ________________________
Date ____________________
Contestant Release:
I understand the submission will remain the sole and exclusive product of the California Department of Public Health from the date written by the contestant on this release and will remain the sole and exclusive product of the California Department of Public Health indefinitely. The submission of all images shall be the exclusive property of the California Department of Public Health and may be edited, altered or used in any medium, for any time as deemed necessary by the California Department of Public Health.
In granting these rights, I understand and I hereby hold the California Department of Public Health, its agencies, and their respective affiliates, officers, directors, agents, co-branders, or other partners, and any of their employees (collectively, the "Indemnities"), harmless from any and all claims, damages, expenses, costs (including reasonable attorneys' fees and costs of suit, including, but not limited to, experts costs through appeal), and liabilities (including settlements), brought or asserted by any third party against any of the indemnities due to or arising out of the contestant's submission, or the contestant's conduct in creating a submission or otherwise in connection with this contest. This includes but not limited to claims for trademark infringement; copyright infringement; violation of an individual's right of publicity or right of privacy; or defamation.  Contestant further agrees to release the California Department of Public Health from any and all claims that any advertising subsequently produced, presented, and/or prepared by or on behalf of the California Department of Public Health infringes contestant's rights with regard to any elements, characters or ideas contained in any submission.
The term on this authorization shall commence on this date submitted and continue indefinitely.
Date _____________
For official use only
Date receive _____________   Time received _____________
Assignment number _____________________
Information complete Yes___   No ___
Submission accepted and recorded Yes __   No__
If no, state reason _____________________________________________
Up load image
Thank you for your submission. Contest winners will be contacted by email by April 27, 2018
LICENSE PLATE DEMINSIONS