Cypress College Photography Exhibition
9 Sep 2019 @ 8:00 am

-

9:00 pm

|

Recurring Event

(See all)

An event every week that begins at 8:00 am on Monday, Tuesday, Wednesday and Thursday, repeating until 16 Dec 2019

An event every week that begins at 10:00 am on Friday, repeating until 16 Dec 2019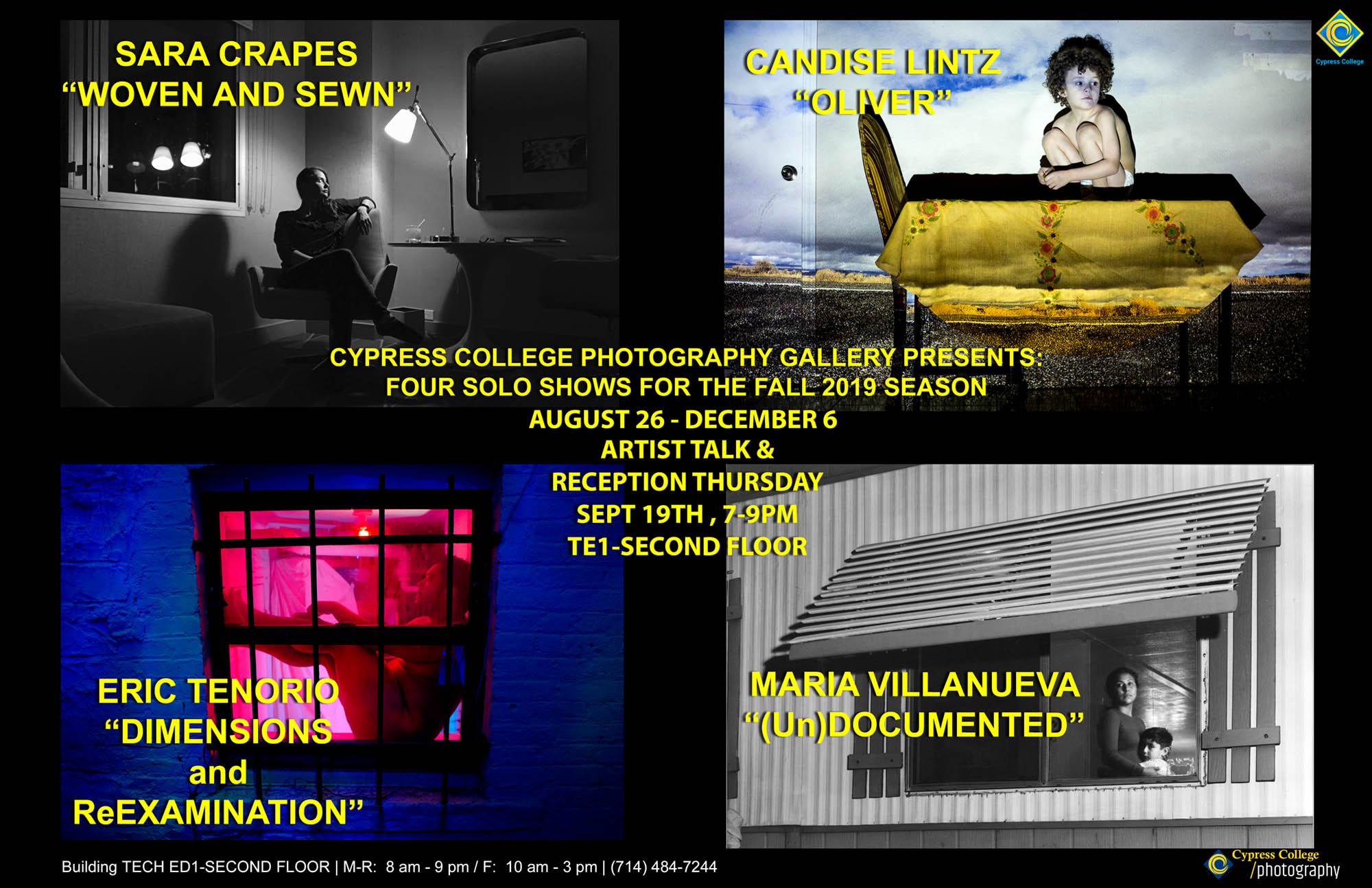 Cypress College Photography Department and the Edourd de Merlier Photo Gallery are proud to present four different artists for our Fall 2019 Exhibition. Sara Crapes, "Woven and Sewn;" Candise Lintz, "Oliver;" Eric Tenorio, "Dimensions and ReExamination;" and Maria Villanueva, "(Un)Documented." These four individuals are presenting solo exhibitions on our walls, yet they all seem to also intertwine. Each artist has been tackling ideas in their own way that deal with the self as representation, perception, awareness, and overall identification.
Sara Crapes' work deals with not only the day-to-day issues of what it means to be a woman in society, but also copes with personal struggles that the artist has dealt with in her life. Love, loss, and longing all tug at the fabric of what make Sara, Sara. Working with self-portraiture, Sara pulls back the curtain to show us what certain pieces of her day-to-day life look like.
Candise Lintz presents images of her son Oliver, a young boy who has autism. Candise creates images that show the struggle of the outside world and the internal one that Oliver lives in, by projecting photographs of the world beyond Oliver's walls on to the boy. This creates a dynamic between where Oliver does exist, which is safe at home, and where he is yet free to roam outside as the rest of us in society.
Eric Tenorio presents two bodies of work that are separate yet related. Each one deals with Eric's representation of the self, and what it means to be a homosexual man of color in our American society. Confidence as well as self-doubt all influence the beautifully saturated colors of Eric's palette, and give us an unabashed look into his life.
Maria Villanueva spent time photographing and interviewing young adults who are part of the Deferred Action for Childhood Arrivals (DACA). Maria herself is a DACA student as well, and to create her powerful portraits of her fellow DACA individuals, Maria used a traditional large format camera. This camera takes more time to use, as well as has a much higher and richer sense of sharpness and quality, and is something that most definitely has an influence on the viewer's perception of the individuals in Maria's portraits.
These four individuals come from all over Southern California and are all addressing issues that deal not only with the self but also with how we as a society interpret this idea, and perhaps they also offer an alternate view. All these artists have one more thing in common as well: each one started out as a community college student. Each one has either gone on and received a degree in the arts, is currently pursuing a degree, or is currently working as a professional commercial photographer.
"Woven and Sewn," "Oliver," "Dimensions and ReExamination," and "(Un)Documented" are all on display from August 26 until December 6, 2019 in the Cypress Photography Gallery, Tech Ed 1 Second Floor. An opening reception and artist talk is planned for Thursday September 19, from 7-9 p.m.