Disability and Inclusion Month
30 Sep 2021 @ 8:00 am

-

5:00 pm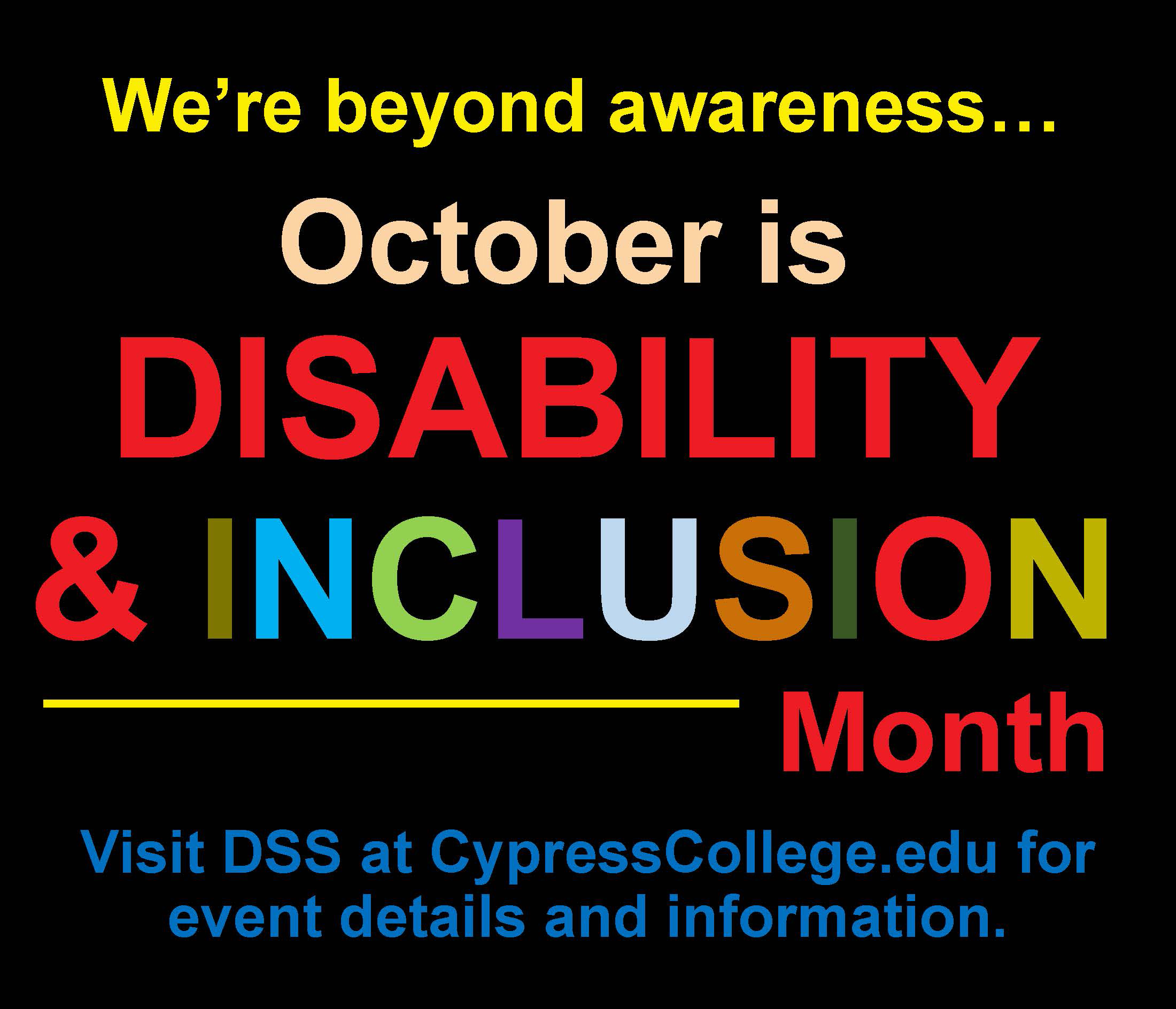 We're beyond awareness…..
October is DISABILITY & INCLUSION Month
Individuals with disabilities intersect all pathways of life — across religions, gender identities, ethnicities, races, religions, sexual orientations, and socioeconomic status. Even though, many of us still lack the grasp of the complexity, depth, and history of individuals with disabilities. Join DSS throughout the month of October to celebrate disability and engage in building inclusive learning environments. Appreciate the impact the disability community has and continues to make on our society and embrace disability as a natural part of our diversity.
Tech Tuesdays! Integrating Inclusive Technology
Learn about technology that engages students and allows them to take control of their learning.
Tuesday, October 5, 2021
2–3 p.m.
Facilitators: Steve Auger and Dr. Dawn Decker
Featuring: Otter.ai
Otter is inclusive and can be used everywhere. Lectures, meetings, and gatherings can be streamed in real time so individuals can follow the lecture or conversation. Otter is an AI digital assistant that generates notes from live conversations with a recording feature and synchronized speech recognition. Many have discovered the power of Otter.ai to take notes, transcribe lectures, capture notes from group study sessions, and process audio data. Join us to learn about Otter.ai!
Tuesday, October 12, 2021
2–3 p.m.
Facilitators: Steve Auger and Dr. Dawn Decker
Featuring: Kurzweil
Kurzweil is a software designed to provide literacy support in the classroom, home, or workplace. Its built-in features for reading, writing, and studying help students become independent learners and active participants in and outside of the classroom. Join Tech Tuesday to see what Kurzweil can do for you and Cypress College students.
Tuesday, October 19, 2021
2–3 p.m.
Facilitators: Steve Auger and Dr. Dawn Decker
Featuring: Windows 10 Accessibility
Learn how to use Windows 10 accessibility features to choose how to interact with your screen, express ideas, and get work done. Join us to learn more!
Tuesday, October 26, 2021
2–3 p.m.
Facilitators: Steve Auger and Dr. Dawn Decker
Featuring: Mobile Apps
Mobile apps are accessible anywhere at anytime. Apps help students understand information from different perspectives. They are interactive and engaging, making for a less passive learning experience. Join us to learn about mobile apps and how to use them to engage students with disabilities.
Crip Camp — A Disability Revolution
Screening and Discussion
Crip Camp is the story of one group of people and their journey to activism and adulthood. We will delve into the rich and complicated history of disability activism, culture, and history. Crip Camp emphasizes stories surrounding people of color and other intersectionally marginalized communities.
Tuesday, October 26, 2021
5–7:30 p.m.
Facilitators: Adrienne Sanchez and Dr. Dawn Decker
Language, Power, and Ableism — Join the conversation! 
Learn about and discuss the power of language and ableism and how this discrimination and social prejudice impact people with disabilities. Learn how to de-root ableism in our everyday lives.
Thursday, October 28, 2021
3–4 p.m.
Facilitators: Deborah Michelle and Sandra Garcia