Internship Strategies: Transforming Your Story into a Career Narrative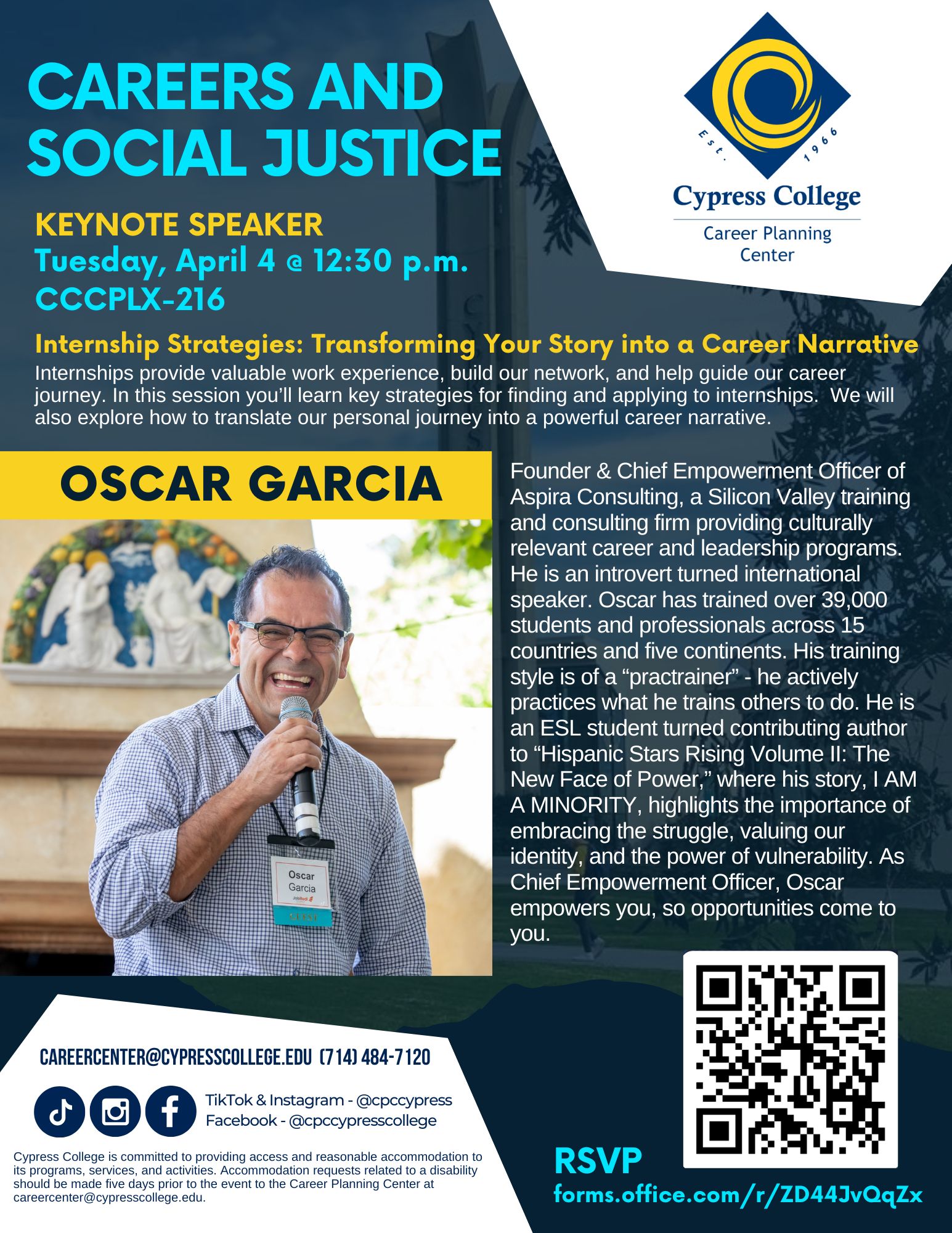 Careers and Social Justice
Tuesday, April 4 at 12:30 p.m.
Internship Strategies: Transforming Your Story into a Career Narrative
Internships provide valuable work experience, build our network, and help guide our career journey. In this session, you'll learn key strategies for finding and applying to internships. We will explore how to translate our personal journey into a powerful career narrative.
Keynote Speaker: Oscar Garcia
Founder & Chief Empowerment Officer of Aspira Consulting, a Silicon Valley training and consulting firm providing culturally relevant career and leadership programs. He is an introvert turned international speaker. Oscar has trained over 39,000 students and professionals across 15 countries and five continents. His training style is of a "practrainer" — he actively practices what he trains others to do. He is an ESL student turned contributing author to "Hispanic Stars Rising Volume II: The New Face of Power," where his story, I AM A MINORITY, highlights the importance of embracing the struggle, valuing our identity, and the power of vulnerability. As Chief Empowerment Officer, Oscar empowers you, so opportunities come to you.
Career Planning Center can be reached at careercenter@cypresscollege.edu or (714) 484-7120.
Cypress College is committed to providing access and reasonable accommodation to its programs, services, and activities. Accommodation requests related to a disability should be made five days prior to the event to the Career Planning Center at careercenter@cypresscollege.edu.