Photography Gallery Closing Reception
21 Apr 2022 @ 6:00 pm

-

8:00 pm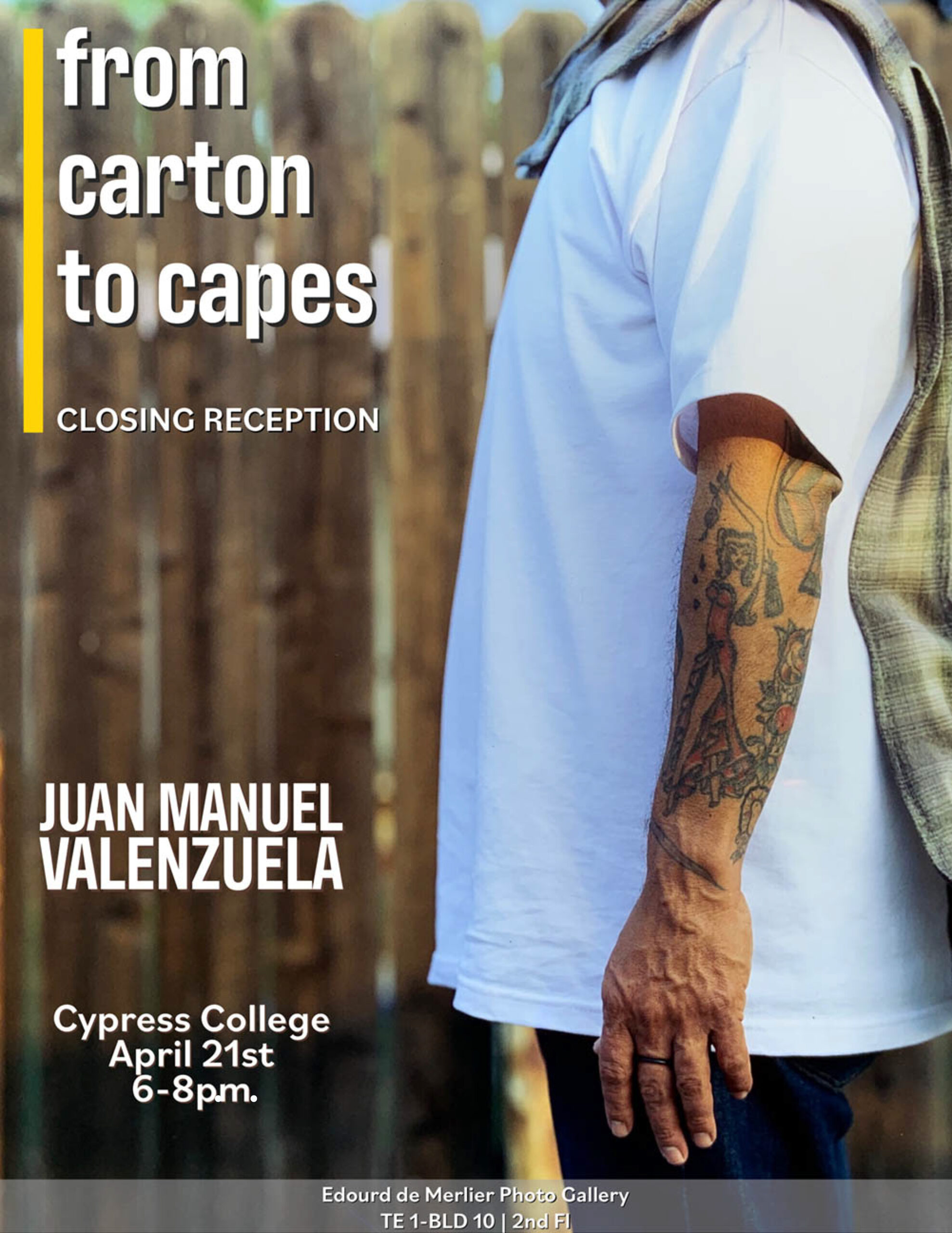 The Cypress College Photography Department and the Edouard de Merlier Photography Gallery would like to announce the closing reception for our five exhibits currently on display in the department. Thursday April 21 from 6-8 we will gather and celebrate the work of 4 solo exhibits and one group exhibit.
"From Carton to Capes" – Juan Manuel Valenzuela
Those who know, know Juan is not only an incredible artist and mind but is also the Instructional Assistant in Photography here at Cypress College Photography Department.
"The Chumps" – Gabriel Ernesto Gonzalez
Gabe is a former Cypress Photo student and is currently working on his BFA from Cal State Long Beach. The work deals with his loss during the time of Covid and can be seen as an homage to many more.
"Art Exhibit" – Brittany Hennon
Brittany is an invited Southern California photographic artist whose work deals with femininity in an abstract way.
"Not Your Model Minority" -Pixie Iwata
Pixie is a current Cypress Photo and Journalism student, and her work deals with issues surrounding sexual abuse, fetishization of the Asian Woman, and the long history of aggression against Asians, Asian Americans, Pacific Islanders, and Pacific Islander Americans.  In conjunction with Pixie's exhibit, the Photography Department and the Photography Students will be selling limited edition prints to raise awareness about Asian hate. All proceeds raised will benefit Orange County Asian and Pacific Islander Community Alliance.
"Our Lockdown Year" a collective group show featuring the faculty, staff, and student workers of the Photography Department. The show focuses on how the department continued to work, produce, and persevere in the time of Covid.
Please join us for this in-person reception from 6-8 pm. Snacks and refreshments will be served as well. The Edouard de Merlier Photography Gallery is located in Tech Ed 1, second floor. In accordance with the NOCCCD mandate, masks are mandatory.