Alireza Moady, Ph.D.
---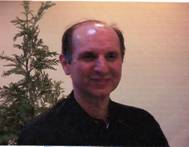 Email: amoady@cypresscollege.edu
Phone: (714) 484-7000 Ext: 48058
Office Hours: Virtual Office Hours: Tuesday 3:30-4:30 p.m., Wednesday 5-6 p.m., Thursday 5-6 p.m. Regular Office Hours: Monday 2:30-4:30 p.m.
Location: Business Division Office 206-19
---
About Professor Moady
I joined the Cypress College faculty in August 1996. I received my bachelor's degree in psychology and relocated to the U.S. for graduate studies. I completed my master's degree in systems management from Florida Institute of Technology, and then earned a doctorate in management and organization behavior from the United States International University in San Diego. While working on my dissertation, I attended University of California, Extension Studies at San Diego to study microcomputer programming and applications and earned a professional certificate.
Before coming to Cypress College, I taught computer applications and programming for numerous colleges in Southern California. I am a Microsoft Certified Systems Engineer (MCSE) in Windows 2000 networking operating system. Currently, I teach Data Communications, Networking, and Web page Design classes and also serve as the CIS/Office Administration Department Coordinator. In Addition, I am the Business Division's representative on the Curriculum Committee.
Recommended Course
Welcome to CIS 220 C Web Page Programming Online
Good morning! (afternoon!) (evening!) (midnight!). Thanks for signing up for the course CIS 220 (Web Page Programming). Students will learn the most important topics of JavaScript and DHTML (Dynamic HTML), from creating multimedia web pages with cascading style sheets, programming with JavaScript, working with dynamic content and layout, creating new frames and windows to managing large-scale websites.
Resources