David Isaacs, B.M., M.M.
---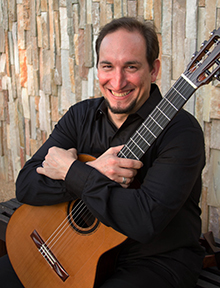 Email: disaacs@cypresscollege.edu
Phone: (714) 484-7140
Office Hours: By appointment; email to schedule.
Location: Fine Arts Building (FA), Rooms 210 & 309
---
About Professor Isaacs
David has been teaching at Cypress College since 2012, and has been an active member of the Music Department performing in Faculty Recitals and for Concert Hour. Courses he has taught include: Beginning Guitar, Intermediate Guitar, Advanced Guitar, Guitar Ensemble, History of Rock, and American Popular Music. In addition, David teaches private classical guitar lessons through the Applied Music program. Several of his students have transferred to universities throughout Southern California and earned generous scholarships.
Since the beginning of his obsession with music at 8 years old, David Isaacs has focused his attention on the guitar. An Eroica Classical Recording Artist, David has been playing guitar since 1988 and has performed throughout the US and Greece as a soloist, a chamber musician, and with guitar orchestras. David has released five CDs and has been featured on radio and TV stations across the US. As a pedagogue, David is Adjunct Faculty, Lecturer in Music and Humanities at California State University, Dominguez Hills, Studio Instructor at Vanguard University, Adjunct Faculty, Instructor of Guitar at Cerritos College, Adjunct Faculty, Instructor of Guitar and Music at Cypress College and Long Beach City College. He conducts guitar orchestras, coaches chamber groups, guides young players on their path to and through University study, and lectures about musicology, history, fine art, philosophy, literature, music fundamentals, and rock history. In addition, David teaches masterclasses, judges guitar competitions, runs guitar festivals, teaches at Morey's Music and out of his home studio. In print, David writes sheet music reviews for Soundboard, co-authored The Essential Classical Guitar Scale Book with Michael Anthony Nigro, and edited Classical Guitar Complete Vol. 1, Second Edition by Scott Morris. David helped establish and operate the Long Beach Classical Guitar Society, the Long Beach Classical Guitar Academy, and the Southern California Classical Guitar Summer Workshop for over 8 years. David earned his master's and bachelor's degrees in Classical Guitar Performance at California State University, Fullerton under the tutelage of David Grimes. David is currently attending Claremont Graduate University to work toward his Doctorate of Musical Arts in Performance with a focus on Historical Performance Practice.
Recommended Course
Mus 119 C History of Rock
If music is essential to your life, you might enjoy discovering the lives and passions of the artists who have created the sounds of Rock and Roll. Expand your knowledge and your listening skills, while exploring music from across a wide spectrum created by fascinating personalities.
Classes
Music 119 C History of Rock
CRN# 11111
Course Description: From its earliest beginnings to present day, this course surveys the inception, evolution, and development of Rock music in America and abroad. In addition to in-depth studies of Rock music and the artists who created it, students will examine the sociological, political, and economic conditions which influence its development.
Required Text: What's That Sound (4th Edition) – An Introduction to Rock and Its History by John Covach and Andrew Flory
Course Requirements: Each chapter will require the completion of a quiz and each unit will require the completion of an exam. At the end of each unit, there will be an exam given covering the unit's materials.
Concert Attendance and Reviews: Students are required to attend two live concerts (One concert occurring in the first half of the course, and the second concert occurring in the second half of the course) featuring two contrasting rock artists and submit a concert review for each.
Resources