Gary Gopar, Conn-Selmer Endorsed Artist
---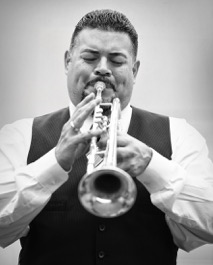 ---
About Professor Gopar
Gary Gopar
Professor
Department Chair of Music
Conn-Selmer Endorsed Artist
Mr. Gopar's extensive career in the music business has taken him throughout the United States, Europe and Mexico performing with notable ensembles that include the following musical styles: classical, jazz, Latin jazz, funk, cumbia, banda, quebradita, pop, musicals, ska, reggae and old school.
He has performed with Sublime, Long Beach Dub All-Stars, The Specials, Al Wilson, Brenton Wood, Rosie & The Originals and Tierra, to name a few.
He has performed throughout Europe as the lead trumpet player for Princess Cruises.
Gary performed fanfare trumpet as a Toy Soldier in Disneyland's, "A Christmas Fantasy Parade" for nine years. He also worked for California Adventure's, "Pixar Play Parade" for two years.
He currently plays trumpet in the jazz big band of famed trumpet virtuoso, Arturo Sandoval. On occasion, Gary has acted as road manager for Mr. Sandoval.
Gary's teaching schedule has included: Music Fundamentals, Theory, Musicianship, Music in Film, Jazz History, Music Appreciation, American Popular Music, History of Rock, Introduction to Piano, Applied Trumpet, Jazz Improvisation, Multicultural Music of America and Intercultural Music.
He is currently the Director of the Cypress College Jazz Big Band.
Professor Gopar earned his Bachelor of Arts in Music and Master of Music with a concentration in Jazz Studies from California State University, Long Beach.
Gary Gopar is a Conn-Selmer CenterStage endorsed Artist and plays on a Bb Bach Stradivarius 37S trumpet.