Rex Amend, B.M., M.M.
---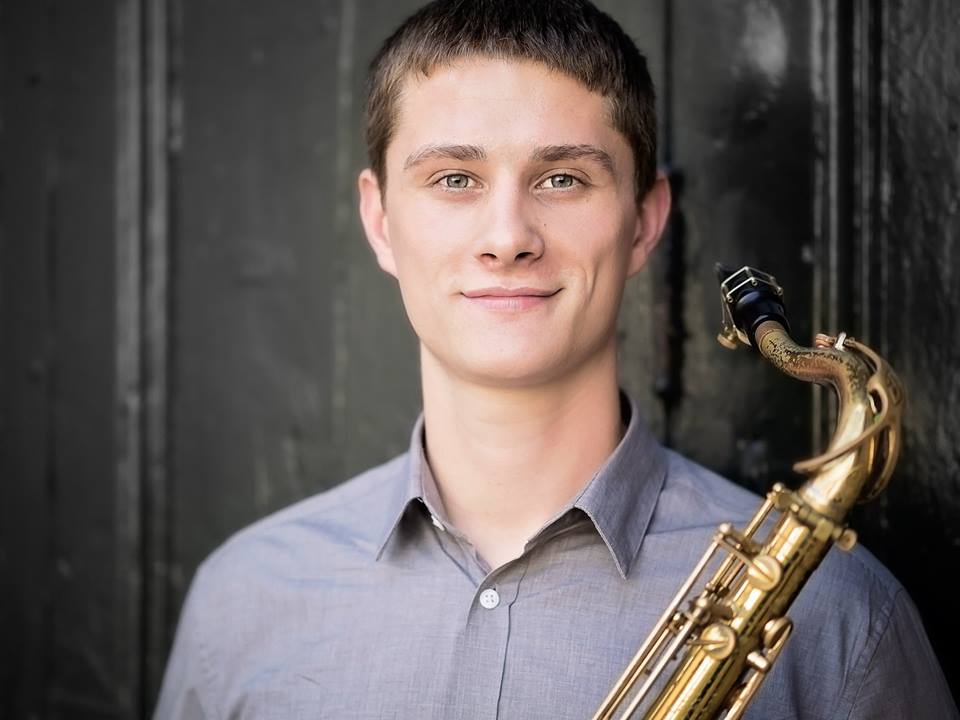 ---
About Professor Amend
Saxophonist Rex Amend grew up in Riverton, Wyoming, where he was influenced by the sounds of his musical father at a young age. By age 6, he was playing and writing songs at the piano, all the while discovering the excitement of the great music of the classic eras of rock, blues and jazz. When he picked up the saxophone at age 12, he began playing in a family band that featured both his father and his younger brother. For seven years their classic rock band played gigs all around the state, where he gained valuable experience playing music in professional, live settings. In high school, Amend received multiple musical recognitions, including selections to the Wyoming All-State Jazz Band and the Wyoming All-State Concert Band, solo awards at the Kinser, Northwest, and Greeley Jazz festivals, and won the Maestro Award at the Anaheim Music Festival.
From 2009-2013 Amend attended the University of Wyoming, studying with Dr. Scott Turpen and Dr. Ben Markley, performing in the universities top ensembles, and earning a degree in Music Education. In the spring of 2013 Amend student taught in Green River, Wyoming, where he led both schools jazz bands to "superior" ratings at state jazz festivals.During his tenure as the lead tenor saxophonist of the Wyoming Jazz Ensemble, Amend had the privilege of improvising for enthusiastic audiences alongside some of today's legendary jazz artists, including The New York Voices, Gregg Bissonette, Stefon Harris, Steve Turre, and Eric Reed. With the band, he performed at two of New York City's most prestigious jazz venues: Smoke, and Dizzy's Club Coca-Cola.
As an active professional freelance musician, Amend leads his own jazz groups, teaches private music lessons, and maintains an active career as an in-demand sideman for groups of a variety of genres. From 2010-2013, Rex was a member of Blind Dog Smokin', who has recently been nominated for a Grammy Award. While with Blind Dog, Amend has played dozens of shows and festivals around the Rocky Mountain Region, including the Donkey Creek Jazz Festival, and a multiple performances during the prime-time slots on the main stage at the Snowy Range Music Festival alongside blues legends, Billy Branch, and Bobby Rush.
In May of 2015, Amend graduated from the University of Southern California in Los Angeles, California with a master's degree in Jazz Studies, where he studied with Bob Mintzer, Bob Sheppard, and Russell Ferrante, and served as Assistant Director of the Los Angeles Youth Jazz Ensemble — a big band made up of the greater Los Angeles area's finest high school jazz musicians. His performance career in Los Angeles remains active, where he continues to work as a sideman, composer/arranger, and music educator. As of the fall of 2015, Amend teaches in the Music Department at Cypress College in Cypress, California and continues to be active as a private educator and performer.
Recommended Course
MUS 116C Music Appreciation
A survey of music literature from the Middle Ages to the present. Students will gain an understanding of music as an art form through listening and discussion of orchestral, choral, opera, chamber, and solo works.
No prerequisite required.
Resources