Richard Hock, B.S., M.B.A.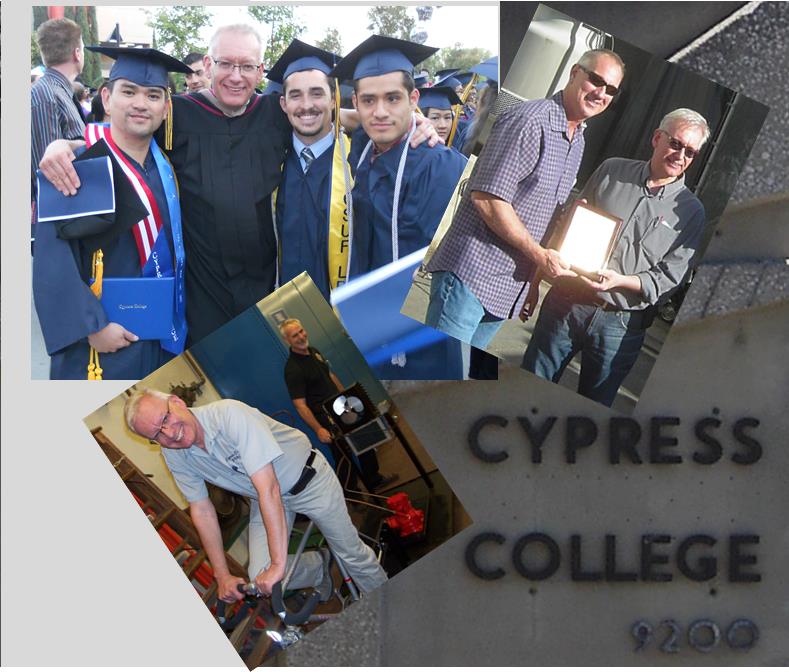 Richard Hock joined the Cypress College staff as a full-time instructor in 2004. Prior to that, Mr. Hock taught the night division program Basic Commercial Refrigeration and Refrigeration Electrical Controls at Cypress College since 1996.
With a bachelor's degree in Business Administration from SUNY Fredonia in New York, he came to California and then to Cypress College for a Certificate Program in Air Conditioning and Refrigeration in 1982, when he decided to combine his business degree with a technical skill. Mr. Hock entered the industry as a design application engineer of refrigeration equipment for the food service industry. Many projects to his credit include Walt Disney World food service commissary, hotel banquet facilities, Olive Garden Restaurants, Rally's, Wendy's, California Pizza Kitchen, Marie Callanders, Hyatt Hotels, Wolfgang Puck Cafe, Manhattan Bagel, California State Prisons, Taco Bell and many more independent applications.
From design application engineering, Mr. Hock went into sales with an independent manufacturer's representative group for food service refrigeration and cooking equipment. From there, he started his own walk-in cold storage room and refrigeration manufacturing company with an emphasis on product design and export to Mexico.
He returned to school for a Master's Degree in Business Administration and focused on administration, the business side of service contracting with local mechanical and service contractors. Mr. Hock oversaw the Food service Refrigeration Manufacturing and Refrigeration Services for Preferred Mechanical Services.
Mr. Hock is a long time member of RSES (Refrigeration Service Engineer's Society) and an officer of the Long Beach Chapter.
In his leisure, he enjoys HO scale model railroading with his fleet of ice bunker and mechanical refrigerator cars.
Electricity for Air Conditioning & Refrigeration I (AC/R 105C)
Did you know that over 85% of all of the service calls placed for air conditioning and refrigeration equipment are electrical problems? That is why the basic understanding of electricity and electrical circuits is one of the foundations of the training for the Air Conditioning & Refrigeration Program at Cypress College.
In this course, electrical theory and Ohm's Law is combined with practical hands on wiring of electrical circuits and electrical measurements taken with electrical test meters. The reading of electrical schematics, ladder schematic wiring diagrams are used to formulate sequences of operation. This basic skills set provides all of the application knowledge for field electrical troubleshooting.