Virgil Adams III, M.A. Psychology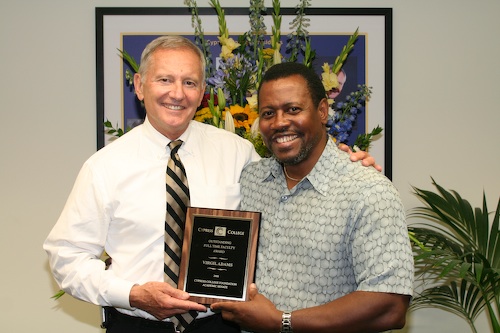 Hello Students,
I'm interested in your future as a prospective Human Service Paraprofessional. I remain available to meet with you to discuss your goals and aspirations. You are invited to contact me and map out your immediate and future professional goals in the ever rewarding world of Human Services.
Allow me to introduce myself. I am a full-time Professor in the Human Services Department. Prior to teaching Human Services at Cypress College, I taught in the Sociology Department at Cypress College, Long Beach City College, El Camino College and Santa Ana College. I have also taught Introduction to Psychology at Santa Ana College's Psychology Department.
I earned a Bachelor's of Arts in Sociology (emphasis in Social Work) from the California State University @ San Bernardino in 1983. I also earned a Master's in Psychology (Marital and Family Therapy) while attending Azusa Pacific University in 1990.
I completed a 3000 hr. Internship at Loma Linda University Children's Hospital in the Family Adolescent Child Therapy Program. I possess several certificates in Play Therapy, Alcohol and Drug Interventions and Counseling techniques. I also possess a 1500 hr. Certification in Addictionology and Compulsive Behaviors.
I am very active in College Leadership at both Cypress College and Santa Ana College. I have completed faculty training at Cypress College in the Leadership Development Institute. I am a past Faculty Facilitator at Santa Ana College's Student Leadership Institute providing workshops on Conflict Resolution, Time Management, Leadership Styles, Team-building, Vision and Goal Setting, Communication Skills, and Cultural Diversity Awareness. At Cypress College, I conduct workshops on Building Effective Relationships, Generational Learning Styles, and Conflict Resolution, and Emotional Intelligence.
I am a graduate of Orange County Multi-Ethnic Diversity Leadership Institute and the P.O.S.T. Supervisory Leadership Institute of California. I also serve as a member of the Orange County's Youth Motivation Task Force providing under-represented high school campuses with in-class presentations and mentoring.
I currently serve on the Diversity Committee and Leadership Team, and Puente Program Mentor. I am a past committee member for the Center of Inter-Cultural Diversity, Staff Development Committee, Social Science's Vision Statement and Action Plan Committee, and Korean Christian Club, and Human Services Club, at Cypress College. I was awarded the Outstanding Full time Faculty award for 2008-2009 academic year.E.O.P.S. Faculty of the Year 2010 and Who's Who in America for the  Humanities 2011.
My current classroom curriculum consists of Introduction to Sociology, Self-Esteem Strategies, Drug and Alcohol Studies, Introduction to Criminal Justice and Counseling in Criminal Justice, Careers in Criminal Justice, Multi-Cultural Aspects of Criminal Justice,Victimology, and Criminology.
I look forward to an educationally challenging and eventful semester with you.
HUSR 224C Self Esteem Strategies
Self-Esteem Strategies is designed to assist the student with the techniques with developing and maintaining self-esteem in personal and the work environment.
This class is the foundation for facilitating change and promoting growth from both a intrapersonal and interpersonal level. I offer this course every semester.
Please join me in class and continue your lifelong learning experience.