2021 Health Science: Abigail Villegas
Abigail is studying and working in health care – and has been affected by health care concerns as well. During the COVID-19 pandemic, her grandmother and mother were both hospitalized. Her mother recovered but after a month and a half Abigail's grandmother passed away.
Although it was a difficult final year, Abigail is graduating in Health Information Technology and will take her RHIT exam. She was hired in a Revenue Cycle Management Office as a Medical Billing Specialist and plans to work full-time to further her knowledge in the field of HIT.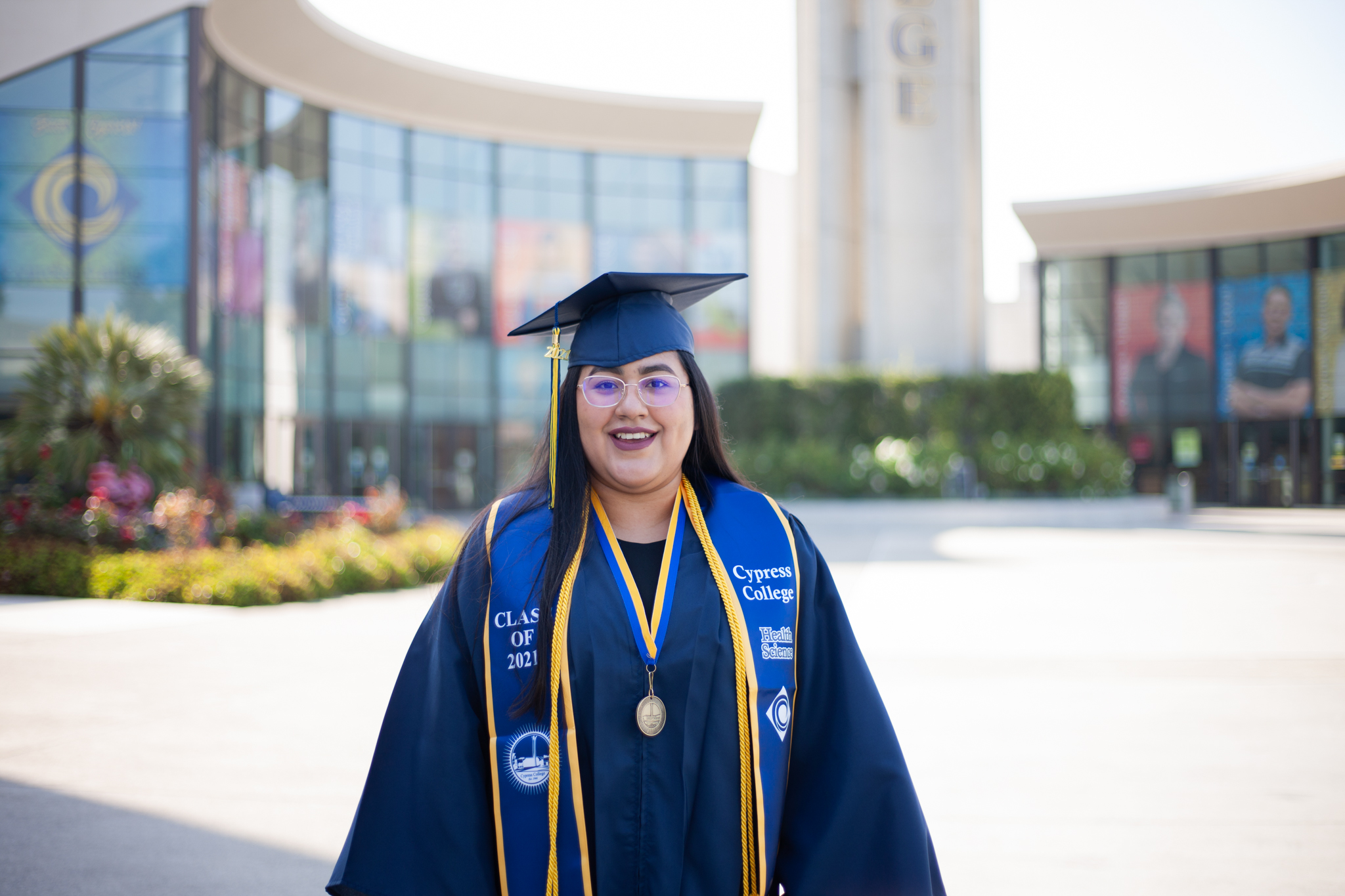 Please tell us about yourself. Where did you grow up? What are your interests? What is your story?
I was born and raised in Long Beach, California. My favorite hobby is reading. I love to read a bit from every genre.
What are you most passionate about? Why?
I feel a genuine passion for learning. I enjoy being able to learn new skills that I can apply toward helping others. I am especially passionate about my field, Health Information Management. There are many opportunities the field has to offer that could make a great impact in helping advance and innovate healthcare.
Why did you choose Cypress College?
Cypress College was recommended to be by a few acquaintances. One of them mentioned that Cypress College has a high graduation rate and holds its students to a higher standard. I was not feeling challenged where I was before and decided to give it a chance.
What have you been involved in at Cypress College? How has your path unfolded?
I was not involved in student activities, but the HIT program has been an unforgettable experience. I have come so far in these past two years and have changed for the better.
Share a memorable event or experience while you've been a Cypress College student.
My favorite memories are the ones I created with my fellow classmates. We all joined the program together and have made it to the finish line. We found a strong, encouraging support system that carried each other. I would not have made it this far without their friendship.
Who are the faculty and staff (in your major, an academic or other support program, etc.) who have helped you get where you are today?
Jennie Larez, Patti Spitler, and Carol Wilhelm have been an incredible help getting me where I am today. They have all been incredibly supportive, shown a genuine care for students, and made themselves available to talk or answer questions. I had more classes with Professor Jennie Larez, and I will definitively say she has challenged me the most. Through her classes, she has pushed me to be a better student and helped me be successful in a way I did not think I was capable.
How has Cypress College supported you throughout your time at the college?
Whether it be financial or educational, Cypress College has supported me by offering all the necessary tools I needed to succeed.
What are your immediate plans after completing your studies at Cypress College (at your transfer institution, in the workforce, etc.)?
I am planning to take my RHIT exam when I graduate. I was hired in a Revenue Cycle Management Office as a Medical Billing/Credentialing Specialist and am planning to work full-time to further my knowledge in the field of HIT. I am hoping to return to my education in a few years to receive my bachelor's degree.
What are your long-term goals? What do you aspire to?
After a few years, I would like to expand my horizons and enter different part of the field. I would like to lead a diverse career, but I would hope to manage a Health Information Department in a hospital one day.
What are you most proud of?
I am proud of what I have accomplished as a student. I never considered myself a great student in high school and I carried that belief with me into college. I feel proud that I am graduating, my GPA of 3.8 as of last semester, and that I was even nominated for
the Scholar of Distinction Award let alone represent my division. I never imagined I would be able to accomplish this much, and I am proud that I have made it this far.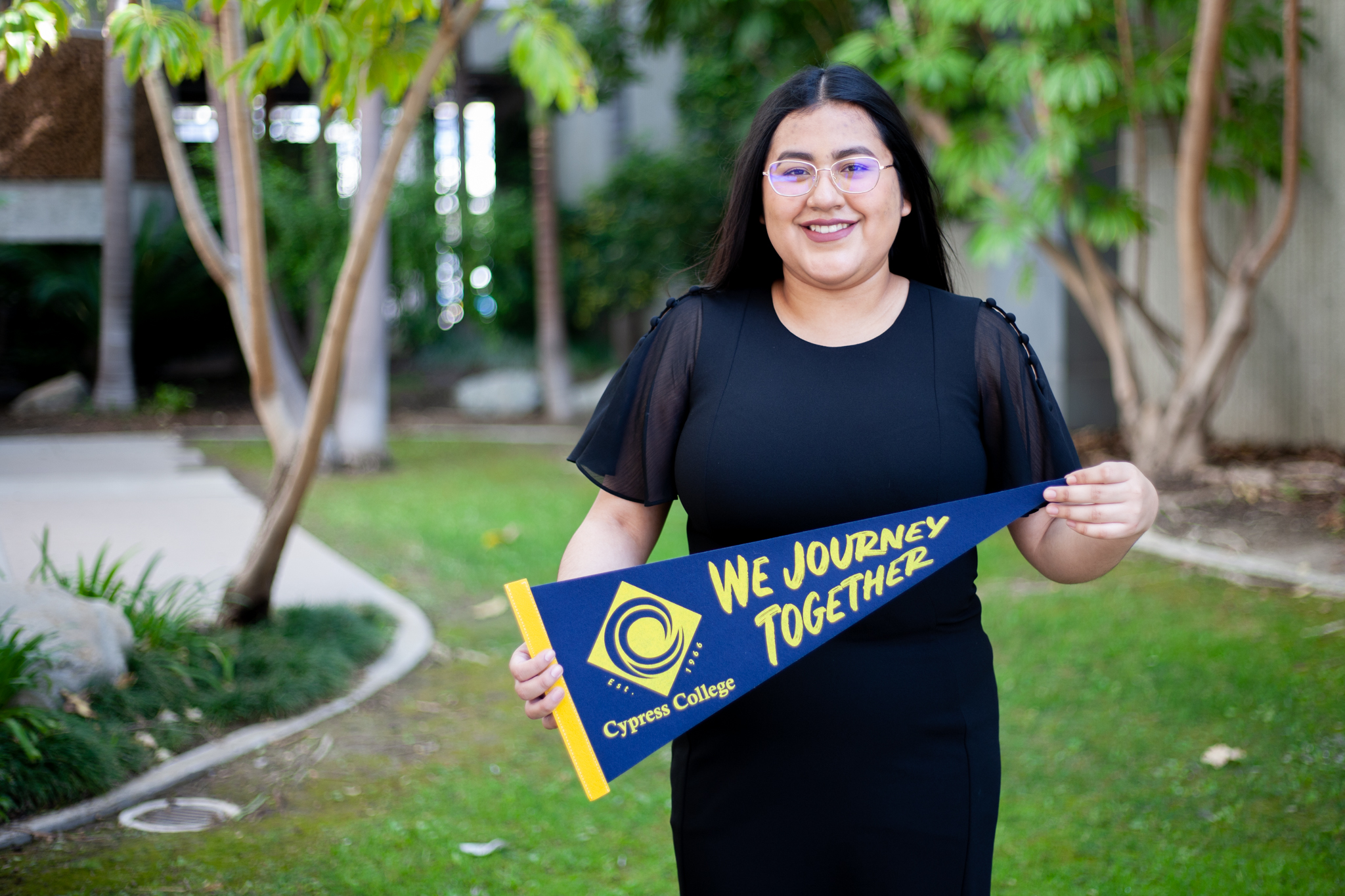 What one bit of advice would you give to current and future Cypress College students?
If you do not try, you are already failing. Fear of failure is a crippling feeling and will hinder you from being successful.
How have you been impacted by the COVID-19 pandemic? What has gotten you through and/or what have you learned from it?
Yes, my family was hit by the COVID-19 pandemic. This whole year has been an epic struggle starting with the transition to remote learning and there were many times I wanted to quit. I kept telling myself to at least try and see how the semester would go. Last semester, my grandmother, my mother, my aunt, and myself were infected by the Coronavirus. Unfortunately, my grandmother had to be hospitalized with my mother following one week later. My mother was able to recoup and came home one week later. My grandmother after a month and a half passed away. While I wanted nothing more than to quit, the thought of my family kept me going. All I could think was that I was not going to throw away what my family has sacrificed for me and that my mother needed me. I prayed for strength, hoped for the best, and I was able to pull through the semester.
Is there anyone in particular you'd like to thank?
I would like to thank my family and friends for supporting me along the way. My parents especially have done so much for me. My father supported me financially no questions asked as to what I was studying but was proud that I was in school. My mother for being my number one supporter. She always told me I did not have to be the best, I just had to do my best.
Is there anything else you'd like to share?
I am extremely grateful that I was part of the HIT program at Cypress College. This program has challenged and has helped me grow in so many ways as a person. The person that I have become throughout this program equipped me to deal with the past year, especially the last semester, as I have.