2021 Language Arts: Hiroki Funahashi
Hiroki came to Cypress College three years ago from Japan. He was drawn to the Flight Attendant program and Cal State Long Beach nearby, which he hoped to attend someday. Shy at first, and feeling his fluency wasn't strong enough, Hiroki joined the Forensics team to work on his English. He felt embraced by his teammates and coaches, and as he began to perfect his speech skills he conquered more challenges, even winning first place at a tournament. The support from students and teachers gave him a sense of community and bolstered his confidence. He feels he's grown as a person and is ready for transfer to CSULB to major in Communication Studies.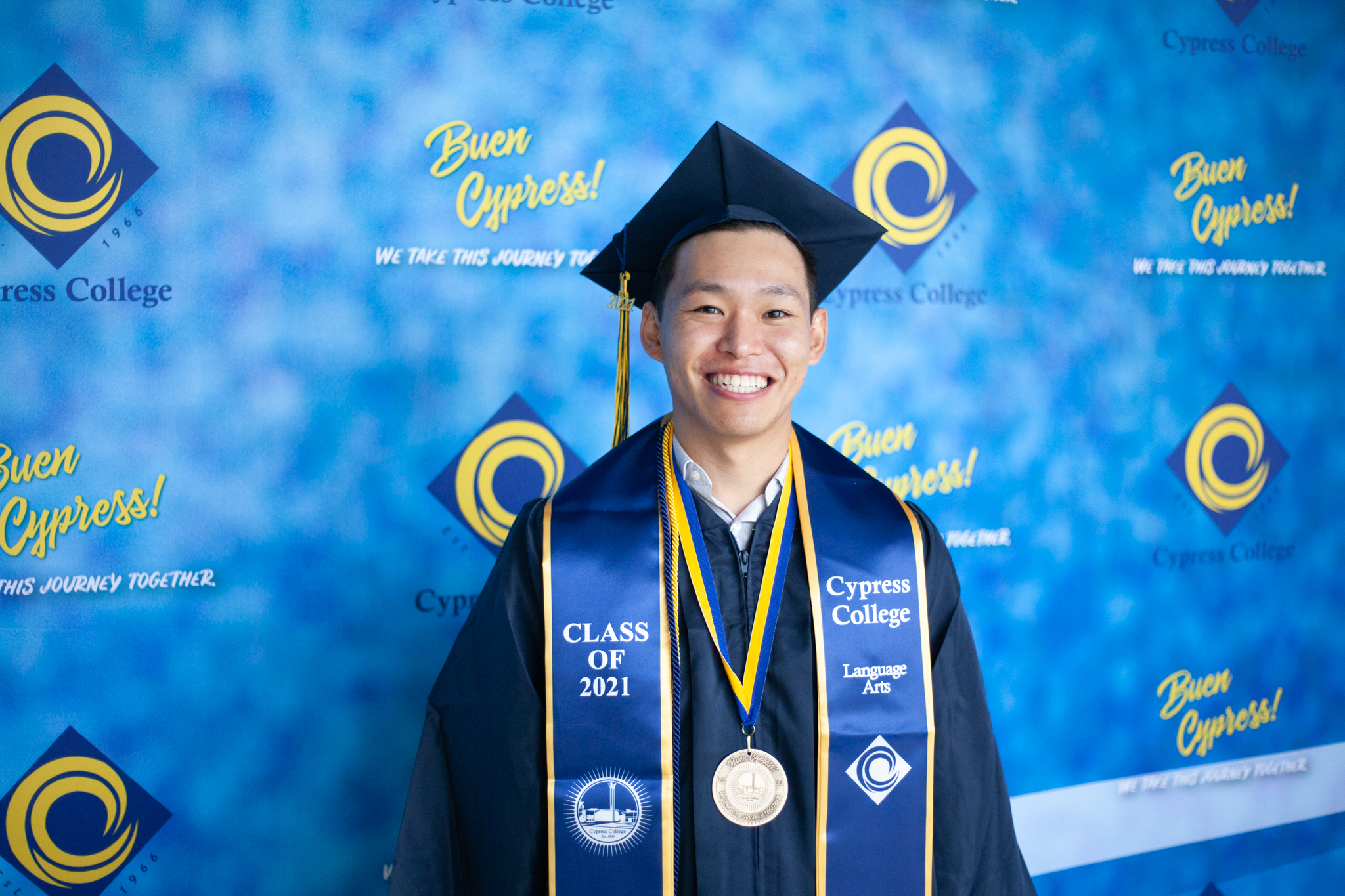 Please tell us about yourself. Where did you grow up? What are your interests? What is your story?
I grew up in Nagoya, Japan, and had lived there until I came to the United States. These past three years living in the states have been great since I've become more interested in western culture. I enjoy going to see movies, traveling, going to a coffee shop, playing tennis, and hanging out with my friends.
I'm enjoying a big adventure now here in the states being away from my family. Even though my life in Japan wasn't very successful, I can see my life in the states has made me grow a lot.
What are you most passionate about and why?
I would say I'm most passionate about film. I'm not a very curious person, so it's difficult for me to get into something. But film has been my big hobby for a long time, and I even considered building my career in the film industry. It simply gives me joy and teaches a lot of things through it.
Why did you choose Cypress College?
I chose Cypress College because Cypress is one of the few colleges that has a flight attendant program. Also, I've visited Long Beach and was familiar with the area, the size of the college seemed not too big nor too small, and there are few Japanese students, so I can challenge myself to focus on my English fluency.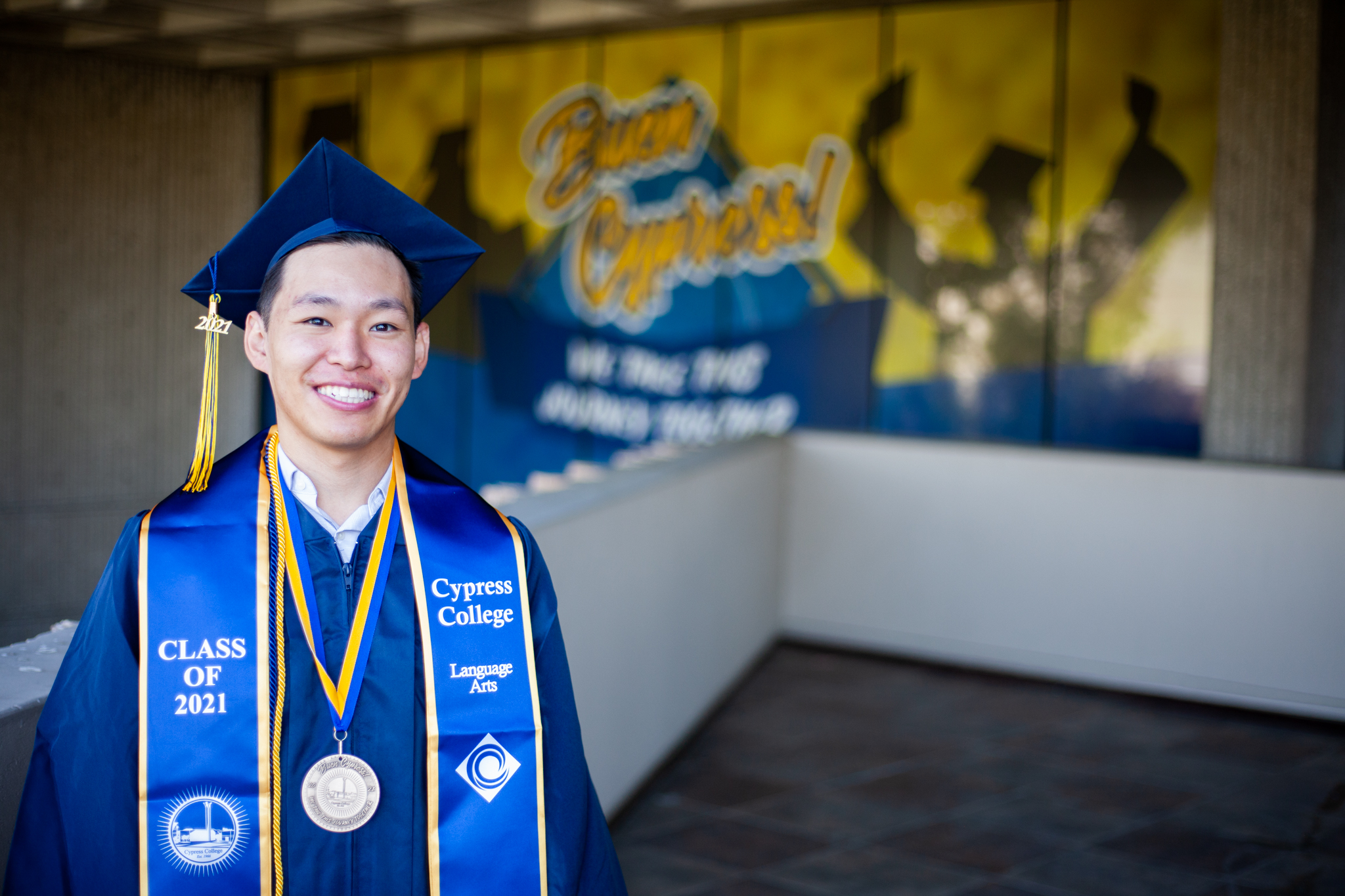 What have you been involved in at Cypress College? How has your path unfolded?
I've been on the Forensics team since fall 2019, and it really helped improve my speaking skills. I was having a hard time making friends because I don't really talk in class in general. But my teammates are very friendly and welcoming, so I could continue joining the team even though giving a speech was still not very comfortable. I also worked a front desk position at the LRC and was a PAL for English 100 classes. Both jobs were very challenging, because they require communication skills and English abilities, but all of my coworkers and my professors are very helpful, so these experiences made me more comfortable talking with people and made me realize what I'm capable of.
Share a memorable event or experience while you've been a Cypress College student.
It would be either how I was feeling defeated during my very first couple of weeks at Cypress due to all the struggles I had in every class or when I won first place at my first speech tournament because I didn't expect it at all and I saw all of my teammates were so excited about it.
Who are the faculty and staff (in your major, an academic or other support program, etc.) who have helped you get where you are today?
I'd like to thank Profs. Samantha Simmons, Stuart Rosenberg, and Michael Frey. They are the ones who helped and pushed me to try hard a lot when the campus was open. They have also been good friends/mentors.
Also Profs. Joshua House and Jennifer Page for welcoming me to the Forensics team and making my speaking skills improved. Profs. Keith Vescial and John Payne have helped me motivate during this pandemic. Prof. Kathryn Wada and all of my coworkers from the LRC also have helped make my school life at Cypress easier.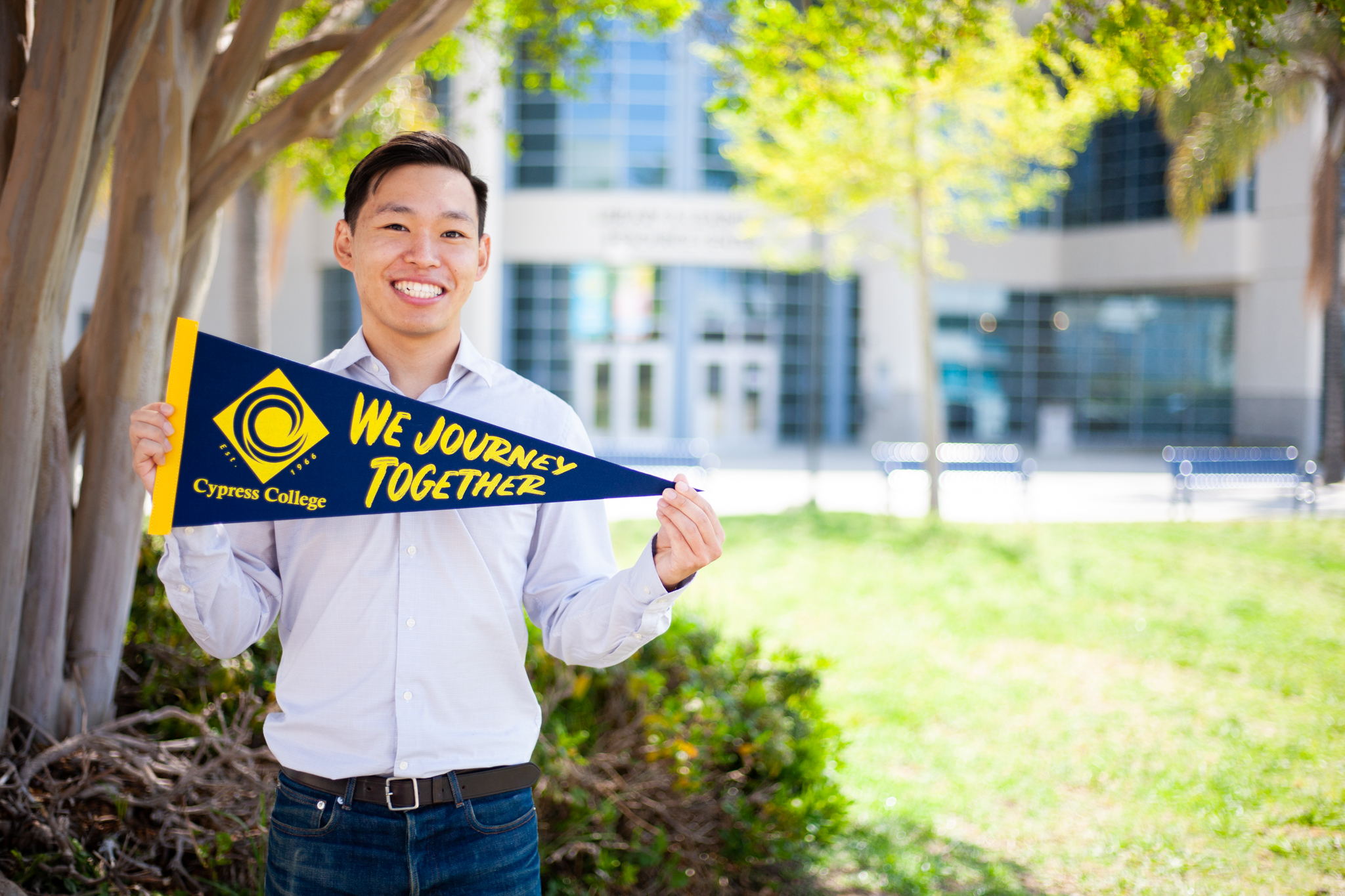 How has Cypress College supported you throughout your time at the college?
Cypress College has supported me a lot throughout my academic journey. Offering tutoring services was really helpful. International Students Office also supported me as I didn't know anything about American
college. The LRC gave me an opportunity to work on campus, and that was very rewarding because I got to talk to a lot of people and became more familiar with the college in general. I'm also thankful to faculty members behind the scenes who made my campus life enjoyable and kept me updated with college news.
What are your immediate plans after completing your studies at Cypress College (at your transfer institution, in the workforce, etc.)?
I'm going to transfer to CSULB and major in Communication Studies. I'm still not sure what I'm going to focus in this field, yet this major will help me be able to communicate with people more naturally. And that skill would help me seek my career in the hospitality industry. I'm also hoping to travel around the states to see more of the country and have more life experience.
What are your long-term goals? What do you aspire to?
My biggest goal for now is to be able to work in the United States or other countries. That's something beyond my control, so my goals after that are not very clear. But I think seeking my career in the hospitality industry would be right for me. Just to have my own family and to be able to live by myself and not relying on or making my parents worry about me would be my ideal goal.
What are you most proud of?
I am most proud of what I have achieved at Cypress and how much I have grown as a person. I didn't think I can be a presidential scholar or even qualified for the Outstanding Graduate. I didn't do well in high school in Japan, so I didn't have confidence in myself for a long time. This is something I am still working on, yet looking back what I have accomplished at Cypress, I can clearly see that I am not the same as I was three years ago.
What one bit of advice would you give to current and future Cypress College students?
My biggest advice to Cypress College students is definitely to go see professors during their office hours frequently. That's one thing I kept doing even during this pandemic. It made me get to know them and made them get to know me better, so that environment encouraged me to ask more questions. Because of the relationships I have made with my professors, it became more fun to go to their class, and I'm pretty sure that I would not have been successful if I didn't make these connections.
How have you been impacted by the COVID-19 pandemic? What has gotten you through and/or what have you learned from it?
To be honest, this pandemic has affected me positively in my opinion. The beginning was horrible as most people experienced, and what's worse, I could have been gotten deported due to the regulation former President Trump almost made. It didn't happen, fortunately, but due to this pandemic, I have changed my academic plan. I was originally going to do the OPT program after finishing my flight attendant degree, but I figured that doing an internship would be hard to do, so I've decided to transfer to a four-year university, and that makes me be able to stay in the United States longer. A lesson I learned from it is that being flexible to a situation is very important in life.
Is there anyone in particular you'd like to thank?
I'd like to thank my family in Japan. It must have been a tough decision to send me to another country, especially because I'm the baby of the family. My parents also need to support me financially since I'm not allowed to work in the states. But they never complained about what I do in the states and always support my decisions. I could not be there for them whenever something happened in my family, but I saw that they always tried not to make me worry and to make me focus on my studies. I know how lucky I am to have their support at my age, so I hope I can return the favor by receiving this honor.
My time at Cypress made me finally proud of myself and made my family proud of me, and this couldn't have happened without all the support I had at Cypress. So I'd like to say thanks again. It was not easy, but I could see how much I grew as a person throughout this time. I saw myself as a failure for a long time but these achievements taught me to have more confidence in myself and always be honest to myself. I won't regret my decision of studying abroad and choosing Cypress. It means a lot to my life.