2021 Science, Engineering, Math: Lia Thompson
Lia has made her own higher education plan. She went to work directly out of high school to afford college, and as she continued to be promoted, she had less time for classes.
When Lia decided something had to give, she dedicated herself to school and extra-curricular activities at Cypress College. It was there that she got involved with STEM2, L/LRC, SI, where she tutored other students. Her scholarly passion is genetics, and she will study Biochemistry at UCI this fall after participating in summer research at Cal Poly Pomona.
Now that she's excelled in her academic career, after a slight detour, Lia encourages others to go at their own pace to achieve their goals and never give up.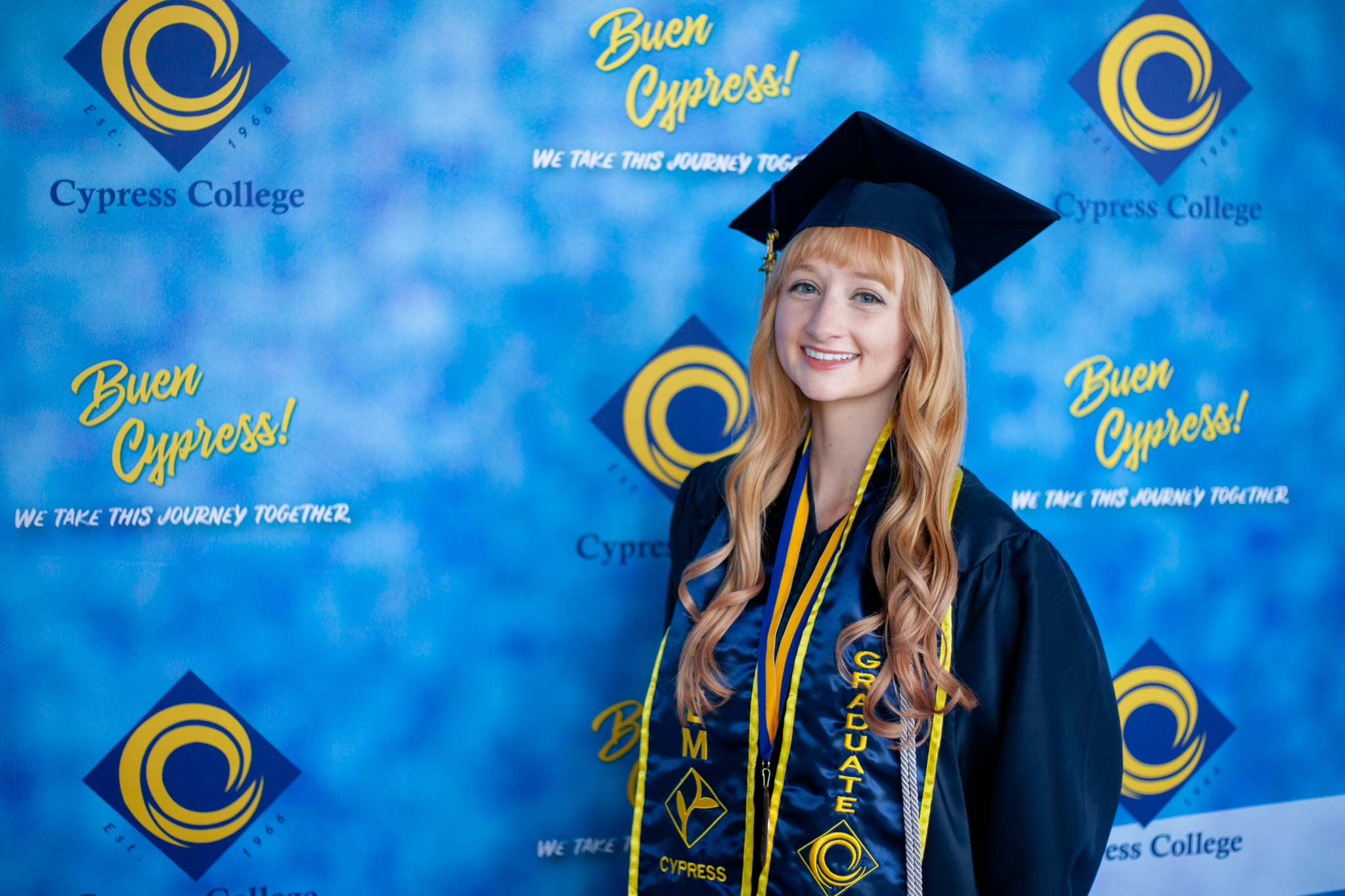 Please tell us about yourself. Where did you grow up? What are your interests? What is your story?
I grew up part of a big family in Cypress. After graduating high school, I knew I would need to work to pay for college but because I didn't have any work experience, getting a job with a full school schedule would have been difficult. I decided to take a semester off so I could get my foot in the door. I got a job as a cashier and excitedly began college in the spring. After about a year I got promoted to a full-time position and had to take fewer classes. Eventually, I decided that my schooling was more important to me, so I decided to quit that job and begin working part-time as a tutor. I was then hired to work at the school and have been loving that ever since. It allowed me to focus more on my schoolwork which helped me finally graduate.
On the occasions that I have free time, I like being outdoors — hiking, exploring, and rock climbing. I also really enjoy dancing and meeting new people.
What are you most passionate about? Why?
I love learning how things work. Growing up, I loved watching all kinds of documentaries with my brother and luckily that curiosity has persisted. I really enjoy school and am looking forward to continuing my education.
Why did you choose Cypress College?
I decided that attending a community college would be the best option for me because I didn't know what I wanted to study. I am very glad I chose Cypress because it allowed me to learn broadly and explore my options before deciding on a major.
What have you been involved in at Cypress College? How has your path unfolded?
I have had the opportunity to work at the school as an Learning Resource Center tutor and an Supplemental Instruction leader. I tutor mostly chemistry courses and I am the SI leader for the cell biology course with Dr. Adel Rajab. I have met so many amazing students, and helping them understand the difficult concepts taught in these courses has been so fulfilling.
I am also part of STEM2 which has given me a chance to learn from amazing people in a variety of different professions.
Share a memorable event or experience while you've been a Cypress College student.
One of my favorite things I participated in was the summer dance festival. I loved learning the choreography and performing with my friends. Although I knew I wanted to pursue a career in STEM, I found myself drawn to dance classes and have taken many of the courses offered at Cypress. They have been a much-needed change of pace from my academics.
Who are the faculty and staff who have helped you get where you are today?
I'd like to thank:
Dr. Adel Rajab who inspired me to pursue genetics. I have taken several classes with Rajab and have enjoyed every one of them. I was very nervous about talking to professors and he helped me come out of my shell a little bit. He was understanding and took the time to answer all my questions and always pushed me to do my best.
Professor Lenore Landis for making chemistry interesting with all the in-class demonstrations and overall, just being an amazing professor. I am so glad I was able to take so many of my chemistry courses with her. She helped me get a deep understanding of the material which helped me not only with my subsequent classes but also with my work as a tutor.
Professor Gary Shin for being so funny and doing a great job of making biology fun and accessible.
Professor Garet Hill for bringing some much-needed silliness to at-home learning.
Professor Maha Afra who helped me grow into a more thoughtful and understanding person.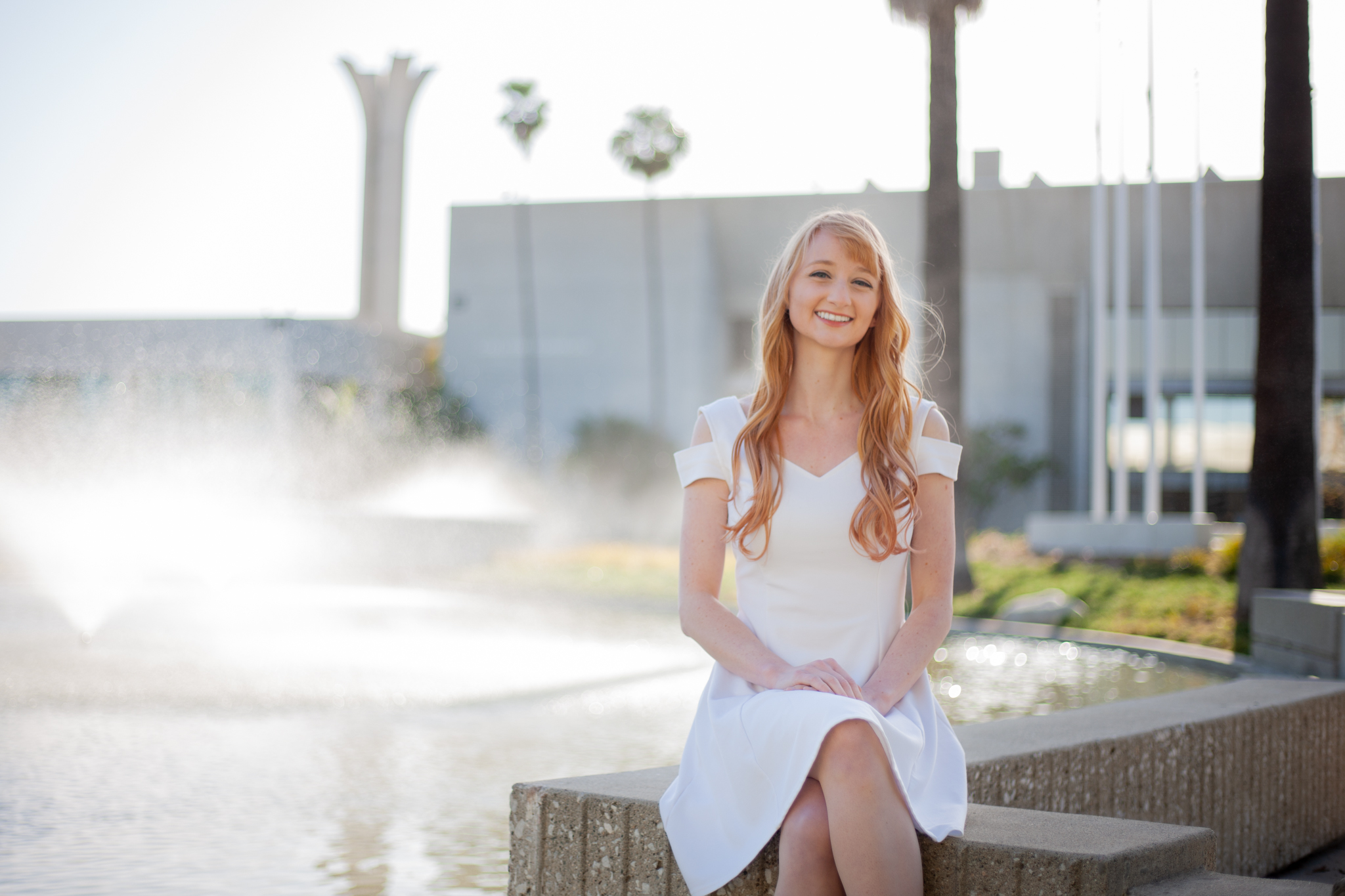 How has Cypress College supported you throughout your time at the college?
I had an amazing counselor named Mareena Morrow that is part of the STEM2 program. She made my schooling process much smoother by helping me figure out what classes I needed to take and giving me important information about the transfer process.
I also think the SI program has been helpful to me as a student. Many of my classes had SI leaders and I enjoyed attending the sessions not only to better understand the material but also to build friendships with my classmates. It's a great program that I can't recommend enough.
What are your immediate plans after completing your studies at Cypress College?
This summer, I will be participating in research at Cal Poly Pomona, looking into how plants respond to their environment; in the fall, I will be starting at UCI.
What are your long-term goals? What do you aspire to?
After receiving my bachelor's in biochemistry from UCI, I'd like to pursue a Ph.D. and ultimately work as a genetics research scientist. I am interested in genetics because there is so much we still don't know and there is so much potential to help prevent the suffering caused by genetic diseases.
What are you most proud of?
Honestly, passing my English classes. Writing is something that has always been very difficult for me. I have a hard time getting my thoughts onto the page in a way I am happy with and it makes me dread writing. Unfortunately, an important part of research is writing papers, so it is something I need to get more comfortable with. I have been working at it and doing well in those courses helped me prove to myself that I can work past it. It is still difficult for me, but I am making progress.
What one bit of advice would you give to current and future Cypress College students?
Take your time and enjoy the journey. I did not graduate in two years and that's OK. The great thing about community college is being able to learn at your own pace.
How have you been impacted by the COVID-19 pandemic? What has gotten you through and/or what have you learned from it?
It has been hard. I do much better when I can keep my home life and school life separate, but I have done my best to adjust. I tend to get distracted at home so having Zoom study buddies has been a huge help. Honestly, the main thing getting me through this is knowing that things will eventually go back to normal.
Is there anyone in particular you'd like to thank?
I would like to thank my friends and family for being so understanding when I have to study. My coworkers at the LRC and my fellow SI leaders for making work here so much fun and my SI coordinator Janelle Salinas for being so understanding and supporting the SI leaders in every way she could.
Is there anything else you'd like to share?
Just keep pushing through, you can do this!