2022 Business: Rasha Jasim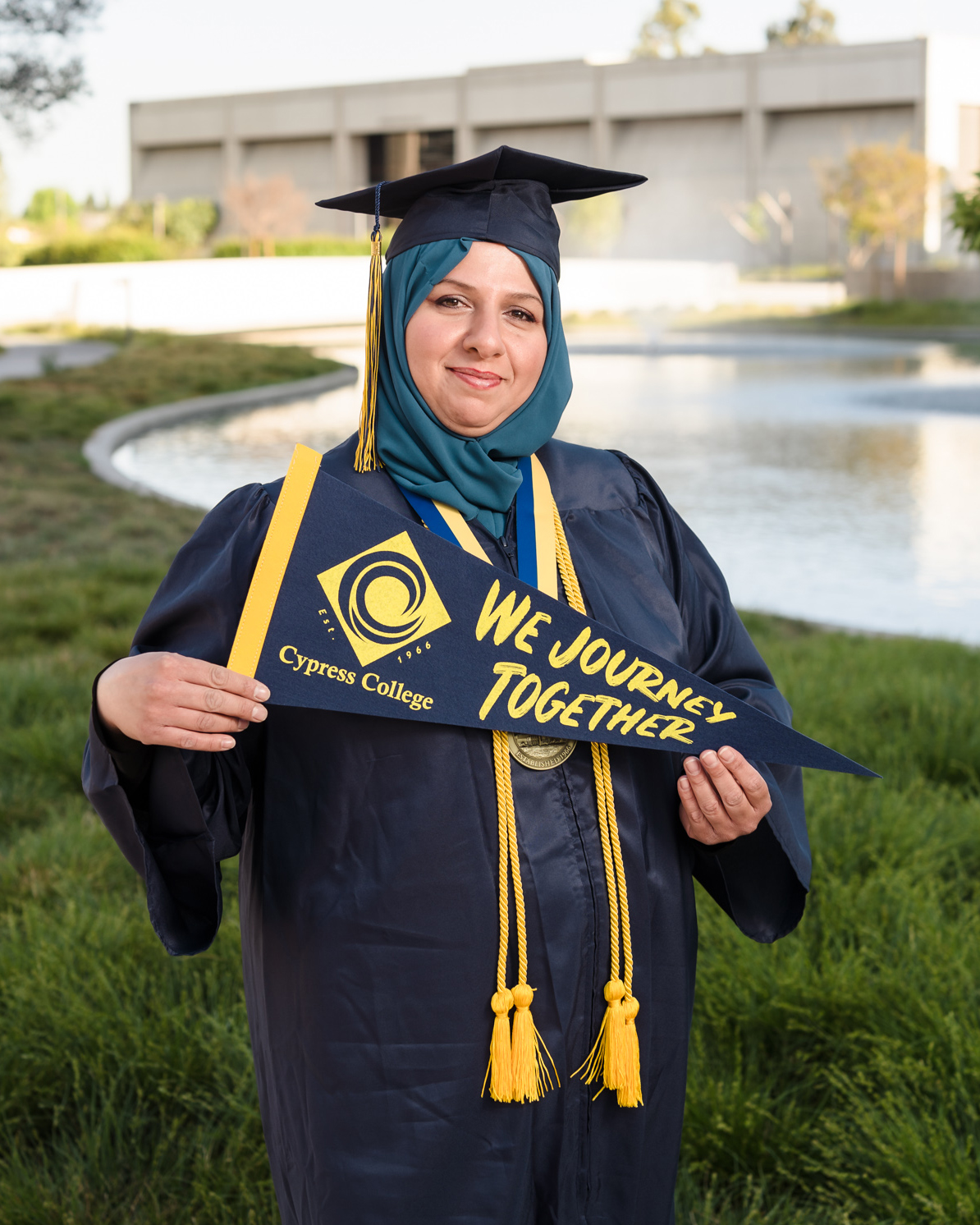 Rasha Jasim took a long road to Cypress College. Originally from Baghdad, she moved with her parents and sister to the United States as a young adult and eventually settled near Cypress. She started her own family when she got married and began raising children, five in total. Looking after a family of seven, in addition to holding a job, meant pausing her dreams of a college degree.
After some slow starts at other schools, Rasha came to Cypress College. She felt more determined than ever to get the degree she sought, and even though she started during the pandemic lockdown, she says the support she received from faculty went "above and beyond."
Now, Rasha is going above and beyond. She originally intended to end her college career after getting an associate degree; after her positive experience and faculty encouragement, however, she will now transfer to one of the California State Universities to which she was accepted in the fall and wants to enter a graduate degree program after earning her bachelor's degree.
Please tell us about yourself. Where did you grow up? What are your interests? What is your story?
I grew up in Baghdad, Iraq. When I was 22 years old, I moved with my parents and sister to the United States, where I got married and had kids. I am now a full-time student and a full-time mother of five wonderful children ages, 3, 7, 9, 11, and 17. My oldest is also a student at Cypress College. I lived in California with my family for the past 14 years, and I love our golden state. During that time, life wasn't easy. I wanted to finish my college degree for a while but being a working mother with lots of responsibilities, going back to school was a hard decision to make. I had so many doubts, however, it was the best decision I've ever made. My children are my motivation, I want to be their role model and give them the best life I can. Growing up, most of my family members and relatives are business owners where I mostly worked from a young age, which encouraged me to major in Business Administration. My interests are reading, arts and crafts, and cooking.
What are you most passionate about? Why?
I am passionate about personal development; I want to improve every aspect of my life and always strive to be better than I was yesterday. By doing this, I believe I will be better for myself, my family, my friends, and my community. I am also passionate about my education, which has made me work hard to achieve my academic and later career goals.
Why did you choose Cypress College?
In the past, I have attended different colleges in different states where I didn't have the best experience, which discouraged me from pursuing my education. After the pandemic hit, I decided to go back to school to pursue my educational goals. I was searching for close-by colleges that have flexible schedules to accommodate my busy schedule, and the closest was Cypress College. And what encouraged me more was that some of my friends have attended Cypress College and they loved it. So, last year, I made the decision to apply and finish my associate degree. During that time, I had the best experience, I enjoyed every moment of being at Cypress College. All the professors and faculty that I have encountered went above and beyond to help the students achieving their goals.
What have you been involved in at Cypress College? How has your path unfolded?
Being a mother of five kids and a full-time student didn't give me much time to be as involved in my school as I would love to be. All my time is devoted to raising my children and doing schoolwork. However, I am currently a member of the Cypress College Business Club. Also, I tried my best to attend as many as I can of the college's workshops and events, which were very helpful. Cypress College has helped me find my path. In the beginning, I wanted to finish my associate's degree in Business Administration, however, after my first accounting class with professor Manjra, I was hooked, that was where my path unfolded, and I knew that I want to have my bachelors in Business Administration with a concentration in accounting.
Share a memorable event or experience while you've been a Cypress College student.
It is a privilege to be at Cypress College, and I cherish every moment of it. I had the best experience of my life. Just recently, I had the best conversation with professor Solis. It was during an optional zoom meeting for my online accounting class and I was the only student. I had a few questions which she explained to me and then she did the lecture even though I was the only student. She gave me some great advice. I cannot thank her enough.
Who are the faculty and staff (in your major, an academic or other support program, etc.) who have helped you get where you are today?
First of all, I would like to thank my counselor, Robert Grantham, for giving me the confidence to enroll in a full-time program. I would also like to thank all the wonderful mentors at Cypress College, Prof. Ann Sheridan Solis, Dr. Parwinder Sidhu, Prof. Kathleen Troy, Prof. Samreen Manjra, and Prof. Jeannie Jo. A special thanks to Professor Janessa Osle, whose support I will never forget.
How has Cypress College supported you throughout your time at the college?
Cypress College provides students with a robust support system. As a student, I have received all the help and support I need for a successful educational experience, such as counseling, tutoring, and workshops, all at the click of my computer.
What are your immediate plans after completing your studies at Cypress College (at your transfer institution, in the workforce, etc.)?
My plan is to transfer to one of the California State University's campuses for the fall semester of 2022, and get my bachelor in Business Administration with a concentration in accounting. I was offered admission to two of the campuses that I have applied to, however, I haven't decided yet which one to join.
What are your long-term goals? What do you aspire to?
My long-term goal is to complete my bachelor's degree in the next two years and later get my CPA certificate, and possibly a master's degree in the far future. I aspire to be a CPA and work in my own firm to help others achieve their goals of owning and growing a business while supporting my family and giving them a better life.
What are you most proud of?
I am most proud of myself for overcoming all the obstacles I faced in pursuit of my educational goals and for what I have accomplished so far. I'm very proud of my kids for supporting me and adapting to my new busy schedule. I am also proud and grateful to have had the privilege of being a distinguished Presidential Scholar in the business and CIS department.
What bit of advice would you give to current and future Cypress College students?
My advice to current and future student is never procrastinate, never miss homework, and get everything organized in your life. I also would say, you have an opportunity for an education, don't waste it. Time doesn't stop and neither is learning no matter how old you are, never hesitate to ask for help, and always trust yourself. Cypress College has an excellent team who will ensure that you will have a successful journey, so enjoy it.
Is there anyone in particular you'd like to thank?
There are so many people that I am thankful for. My parents, my sister, my husband and my wonderful kids. I am thankful for their help, support, and their unlimited prayers.
Is there anything else you'd like to share.
I am very grateful and honored to those who nominated me to be the Presidential Scholar of Distinction for Business/CIS department. I hope my story inspires others to pursue their dreams. Buen Cypress!