2022 Career Technical Education: Dan Kim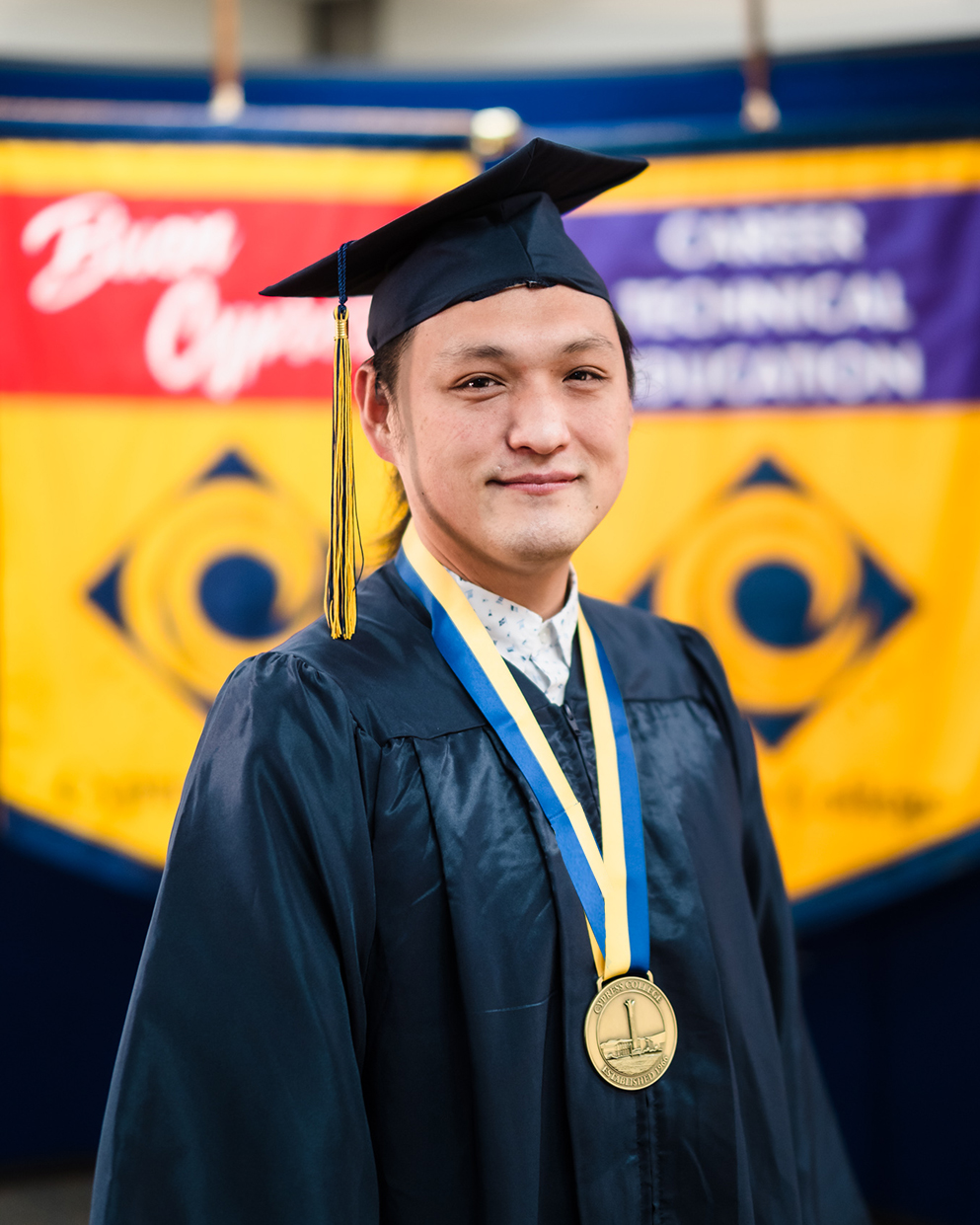 Dan Kim entered the hospitality field at an inhospitable time – during the COVID19 lockdown.
He was eager to work in culinary arts. He saw food as more than simply sustenance and wanted to share this message. He sought education in this arena, to better inform himself and others, and began to research programs in Orange County. He chose Cypress College because the faculty were the most welcoming when he inquired about the program, and they remained his champions as he completed his coursework.
Dan says the faculty were particularly supportive during lockdown, creating an inclusive environment and acting as instructors, counselors, and friends to all students in the program. Despite the roadblocks presented by limited in-person classes, and a shutdown of the student showcase feature the Cypress Bistro, Dan feels the support of his instructors and the camaraderie they created among students led them to getting everything they could out of the program and graduate with confidence in their future success.
Please tell us about yourself. Where did you grow up? What are your interests? What is your story?
I was born and raised in Southern California, grew up in a very middle-class working family. I didn't always have a sense of direction in terms of a career or a livelihood, however, a health scare turned my idea of how to perceive food into something more than just nutritional sustenance. As I changed my view and approach toward food, I faced a blockade in trying to help others. I didn't know how to help those who asked me because the skill and techniques I needed to be successful were foreign to me. I then decided to go to culinary school.
What are you most passionate about? Why?
I am passionate about food and the path it takes from history to the table. The journey food takes from a historical context and from the farm to the plate goes through a winding path of stories culture and techniques. I desire to know the whys behind the food and unravel the mysteries that are hidden within.
Why did you choose Cypress College?
I chose Cypress because as I was doing my research for a culinary program, I had reached out to schools such and Cerritos College and Orange Coast College, fair enough to say that their silence was not the reception I wanted. Cypress was the only location that actively reached out and made me feel like this was an institution of hospitality.
What have you been involved in at Cypress College? How has your path unfolded?
I have been involved with the HRC program in different ways. From demonstrating how to make gougeres at an open house to being one of the department's assistants to the chefs to being interviewed as a student representative for the HRC program, I have chosen to take myself beyond the boundaries of my own comfort zone.
Share a memorable event or experience while you've been a Cypress College student.
My own memorable experience had to be the early stages of the COVID-19 pandemic. In the weeks leading up to the closure of the school, my classes had a final project that we were going to present to the chefs and produce for the Bistro. Fair to say that didn't unfold the way I wanted, but I had put so much work into these project that I refused to let them just fade away without seeing a final product. I don't think I was ever as invested into completing something that got derailed by a situation beyond my control, but for me these projects were supposed to be a culmination and representation of the foundation I learned in the HRC program. I produced my projects anyways despite no one who would have been able to experience it I proudly finished them. Having that sense of drive and determination was a new experience for me because I generally don't perceive myself in that way.
How has Cypress College supported you throughout your time at the college?
I think that the faculty in the HRC program have been very supportive despite being at a remote location. I can honestly say that not being on the main campus really left a lack of inclusivity within the Cypress Community College. There were no real opportunities to be able to interact with the students of other departments. The faculty of the HRC program really did create an environment where everyone was included. From paying the role of an educator to being a counselor or just being a friend, I cannot stress enough the amount work the faculty does to create this environment of inclusivity and hospitality. I feel that the HRC program would expand their reach if they were located within the main campus along with the other departments.
What are your immediate plans after completing your studies at Cypress College (at your transfer institution, in the workforce, etc.)?
My immediate plan after my studies is to apply what I have learned at Cypress, in the workforce. I am currently working at the Disneyland resort within my current field.
What are your long-term goals? What do you aspire to?
My long-term goal is to own a little bistro that is focused on a fusion of French pastries and Korean comfort food.
What are you most proud of?
I am the proudest of the fact I finished and graduated from this program.
What bit of advice would you give to current and future Cypress College students?
The bit of advice I would give to current and future students at Cypress College would be to not let setbacks get in the way of your goals. Nobody has a smooth ride, and it is okay to change course occasionally.
Is there anyone you'd like to thank?
I would like to thank my parents and my sister and brother, for it was them who lent me their unconditional support once I decided to enter the world of culinary. I would also like to thank every member of the faculty of the HRC program for bestowing me little nuggets of their wisdom, patience, and experience to build the foundation I now have. Chef Stephanie Rosati, Chef Jeremy Peters, Chef Amanda Gargano, Chef Tracy Heine, Professor Lisa Clark, and Professor Jeannette Jones.