2022 Fine Arts: Abdul Meelar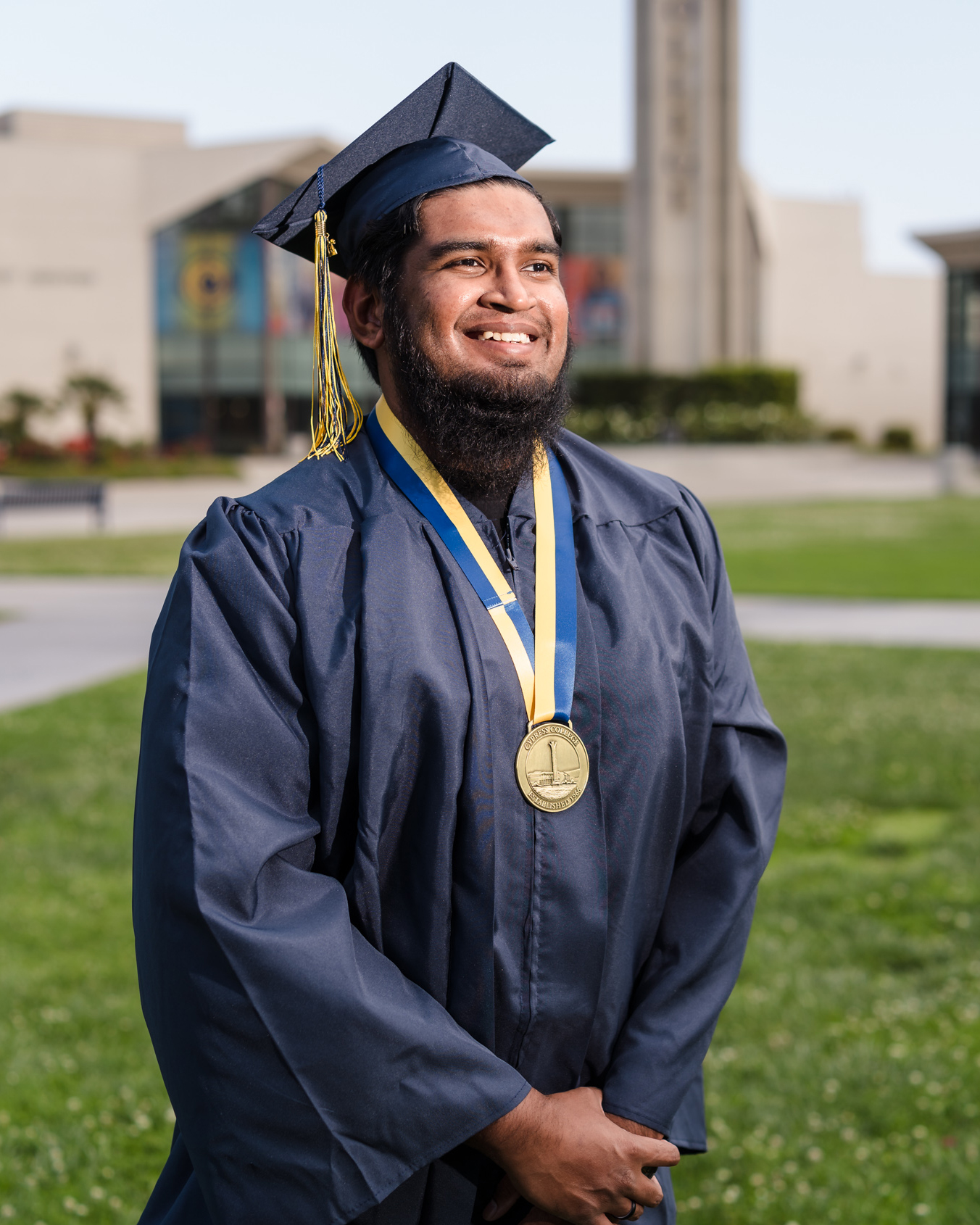 Graphic Design student Abdul Meelar moved to the States from Sri Lanka when he was 7 years old. To absorb the most he could about his new home, he turned to American pop culture. That's when he fell in love with science fiction and fantasy, through movies, video games, photography, and what he calls "anything nerd-related." That's how he discovered, and became fascinated with, entertainment projection mapping.
He chose to attend Cypress College purely out of convenience and familiarity. By the end of his time here, however, it was more than simply an easy option; it was his passion. He became a founding student of the Projection Mapping class – the first community college class of its kind in the country – and his involvement with campus organizations grew. He became the Photography Club vice president, part of the Muslim Student Association, a member of the Projection Mapping Club, and a student worker for the Media Arts Design lab.
Abdul plans to start an internship with a projection designer. He thanks instructors Kati Angelov, Tony Maher, Juan Valenzuela, Ed Giardina, Kirk Pickler, and Aydi Ortiz for the support and encouragement he received during his time here. 
Please tell us about yourself. Where did you grow up? What are your interests? What is your story?
Hi, my name is Abdul Meelar, I'm 25 years old, going to be turning 26 in a few months. I moved to the states from Sri Lanka when I was 7 years old. I did some growing up back in Sri Lanka, but I did most of my growing up here, where I became the person I am today. When I was younger, I had resorted to American pop culture and movies as a way to learn about where I live and the culture, but in doing so I learned that I absolutely love anything sci fi or fantasy, which sparked my interest in video games, basketball, photography, movies and anything nerd related. In doing so, I discovered the world of projections and projection mapping for entertainment and I was hooked instantly!
What are you most passionate about? Why?
I'm honestly very passionate about anything creative and imaginative which in my case tends to be photography, motion design, comics and movies. They will always have a special place in my heart due it being my safe haven during my younger years.
Why did you choose Cypress College?
I choose Cypress initially because my cousin used to come here. Plus it is close to where I live and that I wouldn't have to take the freeway to get here.
What have you been involved in at Cypress College? How has your path unfolded?
I was very fortunate to be able to be the vice president of the photo club on campus, I was also part of the MSA, Muslim Student Association and the projection mapping club as well. But I was also given the opportunity to be a student worker for the MAD lab and kinda be able to give back to the media arts dept.
Share a memorable event or experience while you've been a Cypress College student.
There are many memorable events and experiences for me, majority of them include doing projection mapping and projection events, but the one that stands out the most would definitely have to be when we did projections for the Americana Gala at the Disneyland Hotel.
Who are the faculty and staff (in your major, an academic or other support program, etc.) who have helped you get where you are today?
They are in no particular order Kati Angelov, Tony Maher, Juan Valenzuela, Ed Giardina, Kirk Pickler and Aydi Ortiz.
How has Cypress College supported you throughout your time at the college?
I won't be transferring but I am hopefully going to be starting an internship with a projection designer and further add to my tool belt.
What are your immediate plans after completing your studies at Cypress College (at your transfer institution, in the workforce, etc.)?
Cypress has been more than helpful and more than supportive during my time here. They've helped me majorly by giving me access to programs and equipment I wouldn't have been able to have access to if I was trying to do things solo and giving me access to amazing professors who care deeply about their students.
What are your long-term goals? What do you aspire to?
My long term goals would definitely be hopefully eventually work for Disney and be able to work as an Imagineer!
What are you most proud of?
I'm very happy and proud of myself for overcoming obstacles and persevering no matter what life threw at me. Through the good and the bad, I was able to keep my head up and keep at it. But work wise, im proud of being one of the founding students of the projection mapping class and being in the first community college in the entire US to offer a class like that!
What bit of advice would you give to current and future Cypress College students?
The advice that I would give to current and future cypress college students is that they should never give up and keep their heads up. No matter how many times you get knocked down to the canvas, you gotta get back on your feet.
Is there anyone in particular you'd like to thank?
I would first say God, then both my parents for raising me to be the man I am today and lastly my two professors, Kati and Tony for being the absolute best mentors anyone could have asked for!
Is there anything else you'd like to share?
Keep your head up, you are never alone, you have people around you who are more than willing to help out a friend in need.