2022 Health Science: Pauline Lim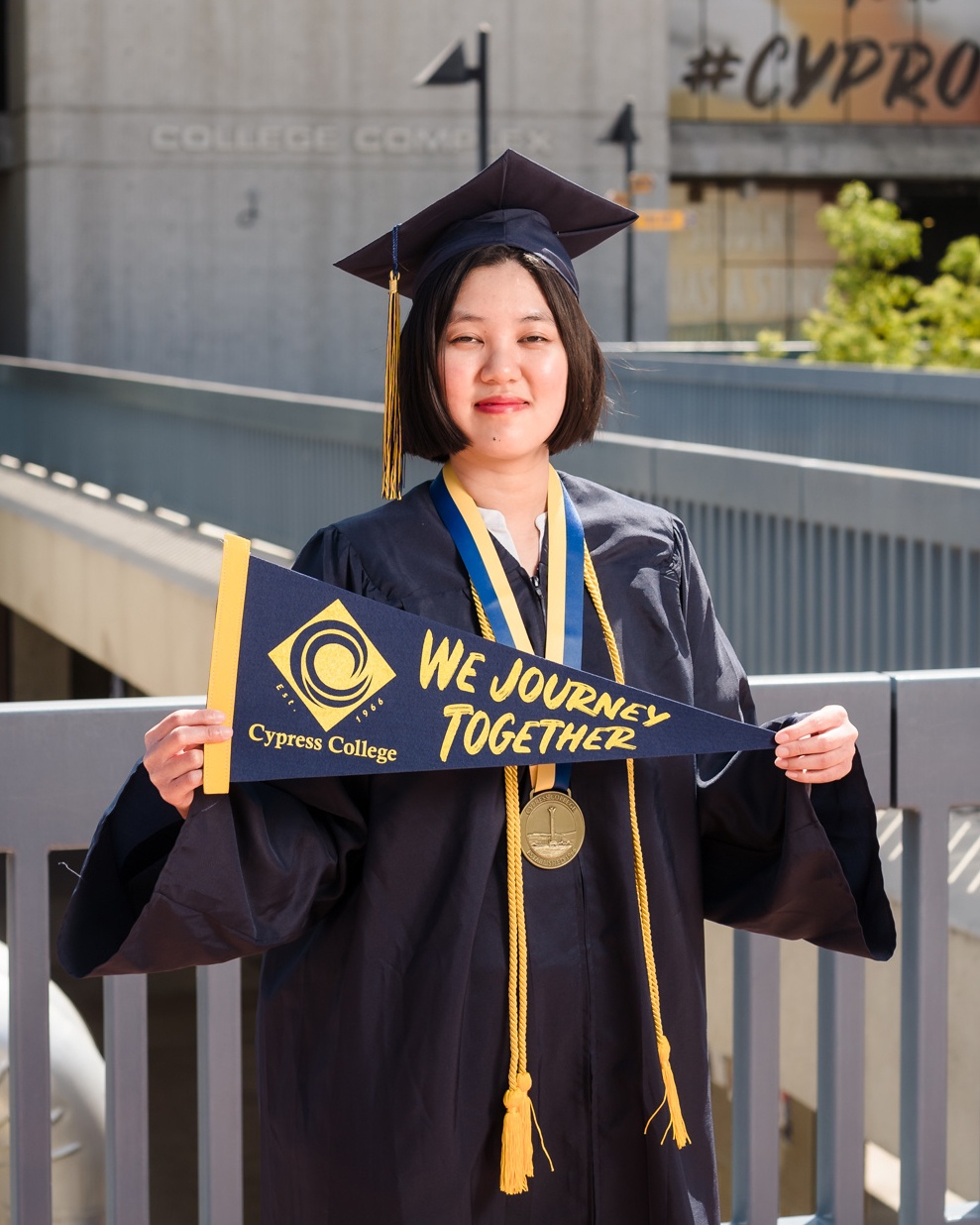 Pauline Lim found herself on an endless treadmill of working for a paycheck and not a passion. At one point she had to step off and ask herself if there wasn't more to life.
She says after six years she decided to stop work completely and turn her attention to school. That's when she enrolled at Cypress College. She felt she made the right decision when she joined the Health Career Opportunity Program and found satisfaction in pursuing a career path that could help others through Health Information Technology. During her time here, she took advantage of resources available to students and became fully engaged in campus life. Although the COVID-19 pandemic lockdown halted some of those programs, she still has come away from her experience all the more enriched and ready to give back.
Pauline will transfer to California State University, Fullerton, to study Public Health and earn her bachelor's degree. She's glad to have found something in life that means more than making money; it means putting one step in front of the other on a path to a fulfilling career.
Please tell us about yourself. Where did you grow up? What are your interests? What is your story?
I moved to the United States from the Philippines years back and was fortunate enough to have guidance on how to assimilate faster than usual because I had relatives here. I think I started working a few months after I moved; ever since, work has been my main priority and the only thing that I have thought of doing since the move. I was making money and working nonstop then eventually I thought, "Do I really want to do this for the rest of my life?" The lifestyle was just very different from when I lived in the Philippines. There was almost a sense of independence through working but at the same time feeling trapped in the cycle of finding the income needed to survive.
That went on for at least six years or more until 2019, when I had the courage to just stop working altogether and prioritize school and my education. I somehow found this decision of mine to just prioritize school was the turning point. I have become more engaged in classes and activities within the school and I honestly feel that I have grown into a much better person. When I think about how I used to work nonstop and was practically tired all the time without any progress in life, I saw how sometimes you just need to take that first step and be courageous and develop resilience towards anything that comes your way. We never know what can happen to us, so we just have to believe that we can overcome anything. That's what I have learned throughout my journey.
What are you most passionate about? Why?
I am most passionate about learning and gaining knowledge. I realize that, simply with knowledge, you can connect in any conversation if you know enough of something. Ironically, being an introvert and a person who gets nervous when I am in front of a big group of people, I appreciate the communication I have with people who help me learn more about anything. We are lifelong learners and we are continuously learning even when we are out of school.
Why did you choose Cypress College?
It was easily accessible, and it had the program I wanted.
What have you been involved in at Cypress College? How has your path unfolded?
I would say that the moment I knew I was on the right path was when I joined the Health Career Opportunity Program at Cypress College under the guidance of Dr. Grote and Ms. Jacqueline Rangel. The program opened the door to different opportunities and led me to decide to pursue a bachelor's degree in Public Health through the Summer Research Experience program. It somehow worked out that the connection between Health Information Technology and Public Health became clear to me with the help of HCOP.
Share a memorable event or experience while you've been a Cypress College student.
A memorable experience for me, before everything transitioned online, was the amount of resources available to students. Because I was prioritizing work for a couple of years, I did not realize how many resources were available to students until I made the decision that it was time to focus on school. As a student, attending Supplemental Instruction for one of my classes. It was the first school resource I utilized. It was memorable to me, as it gave me the chance to get out of my little box and gave me the opportunity to explore things I did not think I was capable of like, being a Supplemental Instruction Leader myself.
Who are the faculty and staff (in your major, an academic or other support program, etc.) who have helped you get where you are today?
My professors in the Health Information Technology program and HCOP have given me the knowledge I need to go out into the real world. The support I got from them and learning ways to adapt in certain situations have helped me develop my critical thinking skills. I have learned that sometimes not everything can go according to plan, and I am surprised at how much I learn about myself through classes and different circumstances presented within the last two years. Without their help, I would not have been able to be where I am today and I would not have achieved what I have achieved.
How has Cypress College supported you throughout your time at the college?
Cypress College supported me financially through FAFSA and grants; because Cypress College is a diverse community, I was able to meet different people from different walks of life. Cypress College has given me the chance to explore different career paths and helped me figure out what I wanted to do.
What are your immediate plans after completing your studies at Cypress College (at your transfer institution, in the workforce, etc.)?
I am transferring to California State University, Fullerton, for my bachelor's degree in Public Health.
What are your long-term goals? What do you aspire to?
My long-term goal is to be able to work in the Public Health sector and utilize my knowledge in Health Information to gain a more efficient and effective way in providing the necessary changes that is needed in the healthcare field. Eventually, I am thinking of becoming an educator once I gain knowledge and experience in the field.
What are you most proud of?
I am most proud of graduating after so many twists and turns. It has been a long journey and I am proud to say that even when I graduate, I still am continuously learning. Never in my mind would I have thought I would pursue a bachelor's degree because I was not forced into getting one. Everything is my own choice, and I am glad that I was given that freedom.
What bit of advice would you give to current and future Cypress College students?
No matter what the hurdles are in your life, just know that you can overcome them by taking it one step at a time. If you need help, reach out. At least one person will be willing to help you out! Also, grab any opportunities that are presented to you! You might think that you cannot do it, or you don't deserve it, but I assure you that you are presented with the opportunity because they see something in you.
Is there anyone in particular you'd like to thank?
Everybody who knows of my journey and struggles. Family, friends, and anybody who I have shared a portion of my story and life. They are all there and have contributed to who I am now, so I am thankful for them.