2022 Language Arts: Krystal Kosacki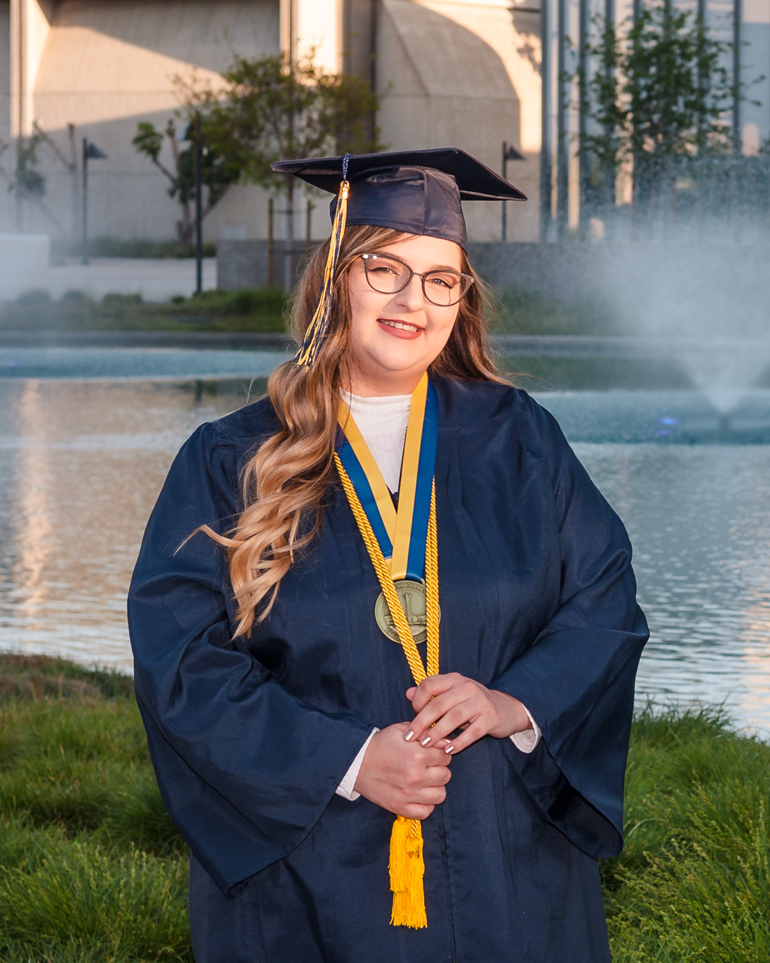 Krystal Kosacki says Cypress College has a place for every interest and every person. With her extracurricular activity experience, she's qualified to make this statement.
A heavily involved student, Krystal has been vice president of student relations in Associated Students, one of the first student ambassadors when the program began, in the Honors Program, in the Psychology Club, and on the Speech and Debate Team. It was on that team where she found a way to turn her words into compelling rhetoric. Now, she will take the skills and perspective she's gained, combine them with her studies in psychology and communication studies, and work toward her goal of becoming a college professor.
Krystal will transfer to UCLA, her dream school, in the fall. This first-generation graduate has gotten the most out of her college career as she possibly could, and looks forward to giving it all back when it's her turn to be a faculty leader.
Please tell us about yourself. Where did you grow up? What are your interests? What is your story?
I am a first-generation college student, with parents who emigrated from Argentina. I grew up in Carson, California and went to Downey High School. My interests are writing, reading, traveling, and public speaking. Although my journey to get here has not been easy, it has been entirely worth it. I love learning and going to school, this environment helps me thrive and be happy. I plan on becoming a professor and helping students realize their true potential in academia.
What are you most passionate about? Why?
I am passionate about speech and debate because it made my voice feel empowered. I was never shy, but I never felt my words made that much of an impact until I joined the Speech and Debate Club. Seeing how my words can make a crowd laugh, cry, or clap showed me that my words matter. Because of the Speech and Debate club, I now have the confidence to speak up for those who cannot. Being on a team has also shown me how great it is to work with others, how you learn from one another and motivate every member to keep going. Most importantly, being involved in the Speech and Debate club has made me open-minded. I no longer see things in black and white, but instead realize there is always a gray area, which has made me a much more understanding and empathetic person.
Why did you choose Cypress College?
I chose Cypress College because I knew it was the best community college in the area. Several upperclassmen recommended attending this college, and it was the best decision I made. After visiting the college on a tour, I knew it was the right fit for me.
What have you been involved in at Cypress College? How has your path unfolded?
I started at Cypress College in 2014 and have been involved in many of the extracurricular activities available here. I was the Vice President of Student Relations in Associated Students and was able to help give a voice for the rest of the students at the college. I was one of the first Student Ambassadors when the program started, this was created to make the college experience easier for all students. I am in the Honors Program, where we are given the opportunity to have a smaller class size and received academic help. I was in the Psychology Club, in which we had multiple guest speakers who provided insight into the Psychology field. I am in the Speech and Debate Club, where I have been able to advocate and spread awareness for topics I am passionate about. Every semester at Cypress College, I have become more and more involved. There is a place for every interest and every person.
Share a memorable event or experience while you've been a Cypress College student.
I had the distinct honor of speaking at the 2022 Golf Classic, sharing my journey at Cypress College. I was able to share my story and how much of an impact attending Cypress College made in my life. I am so happy I got the opportunity to explain who I am and show my appreciation for this college.
Who are the faculty and staff (in your major, an academic or other support program, etc.) who have helped you get where you are today?
Professor Liana Koeppel inspired me to major in Communication Studies, she made her class so fun and interesting that I decided it was what I wanted to study.
Professor Joshua House, my Debate coach, who spent hours of his free time helping me practice and motivating me.
Professor Jennifer Page, my Speech Coach, who was always willing to help me with anything and everything I brought to her attention.
Professor Kasim Alimahomed, my Debate Coach, who gave me new ideas constantly to use in my competitions and was very supportive.
Penny Gabourie, my Honors Club Counselor, who has been helping me since 2014 and is the one who motivated me to apply to UCLA.
Every single faculty and staff member at Cypress College has made my experience better. In all my years attending this college, I have never had a bad experience with anyone employed here.
How has Cypress College supported you throughout your time at the college?
My family and partner made it possible for me to succeed in school. Whether financially or emotionally, they have been there for me. My parents always pushed me to get a degree and I owe it to their encouragement that I returned. My partner helped me by setting aside countless hours, quizzing me with flashcards, proofreading my papers, and helping me rehearse my speeches. They were my support system and I owe my success to them.
What are your immediate plans after completing your studies at Cypress College (at your transfer institution, in the workforce, etc.)?
I was accepted into UCLA for fall 2022, majoring in Communication Studies, and I accepted their admissions offer.
What are your long-term goals? What do you aspire to?
I plan on getting my bachelor's and master's degrees in Communication Studies and becoming a professor. I want to shape young minds and influence the youth to follow their academic dreams, just as I was inspired. I had great professors who always lifted me up and I want to pay that forward.
What are you most proud of?
I am proud that I am transferring and that I got into my dream university. All the hours of studying and listening to lectures have paid off. I am one step closer to my goals and it feels great!
What bit of advice would you give to current and future Cypress College students?
Never give up! Life will always throw hurdles at you, but you can surpass them and succeed. Challenges make you stronger, so keep on fighting.
Is there anyone in particular you'd like to thank?
My parents: Adriana and Claudio Kosacki.
My partner: Spencer Knoche.
My brother and sister: Christopher and Tatiana Kosacki.
All the faculty and staff at Cypress College.
Is there anything else you'd like to share?
Although I am happy to be continuing my higher education journey, I am very sad to say goodbye to Cypress College. Thank you for the years of memories I will take with me on my future endeavors.