2023 PSD Business/CIS: Jesse Chang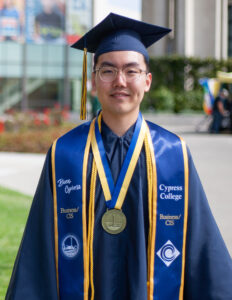 Jesse Chang said he started attending Cypress College with a mission to improve himself. He grew up trying to follow a set checklist of life requirements, such as attending a good high school and achieving high grades, but found that way of life stifling and at odds with the way he really wanted to live: chasing new experiences. Cypress College proved to be an ideal setting for new experiences, especially with Jesse's involvement in Associated Students.
After graduating from Cypress College with associate degrees in business administration and economics, Jesse plans to earn a bachelor's degree and work in a business rotational program. He later hopes to earn an MBA and ultimately become a faculty member at a business school in California.
Please tell us about yourself. Where did you grow up? What are your interests? What is your story?
I grew up in Long Beach, CA and moved to La Palma when I was 5 years old. I grew up with my wonderful mom, dad, and younger brother. I am very interested in consuming good art, film, and stories that tell the human experience. I am a lover of life and humanity, and I hope to learn and experience as much as I can. I lived my life in a way where I would follow a checklist of things to do: go to a good high school, get good grades, etc. However, I found myself clashing with my love of life and how I wanted to spend a lot of my time chasing new experiences. I came to Cypress College and at first pursued initiatives to continue to pursue that unreachable standard. However, eventually, I found my own way and found appreciation for the things that I did and pursued excellence in the things that I found meaning and value in.
What are you most passionate about? Why?
I am most passionate about art, any piece of media that shows a depiction of the human experience or life in a glorified, meaningful way. I love to see the snapshots of the wide range of human emotion from joy, sadness, fear, to anger. I love to see the vibrant colors of the earth from red, green, blue, to gold. I love the different lessons and metaphors that the elders teach. I love the creative prose and romanticism of the everyday events. I love art.
Why did you choose Cypress College?
I initially chose Cypress College because of the Promise agreement and the Charger Experience. I was actually rejected from all the UCs I applied to, and I wanted to have another chance to apply myself. What I've found is that Cypress College was the best decision I ever made through all of the wonderful friends, faculty, and staff I have met as a result of the unique culture at Cypress College
What have you been involved in at Cypress College? How has your path unfolded?
I have been involved with the Associated Students at Cypress College. I started as a senator, where I was a representative in shared governance committees and assisted with bonding events for students. I then became the vice president of fiscal affairs where I was in charge of budgeting duties. Afterwards, I became the president of Associated Students. I was also a member of the Business Club.
Share a memorable event or experience while you've been a Cypress College student.
I remember getting free lunch in the spring of 2022 and talking to the person next to me about what the best lunch option was. We both agreed that it was the chicken quesadilla. We continued to talk and we ate lunch together. I choose this memory because this really captures the unique culture at Cypress College where you could introduce yourself to anybody and you can walk away as friends.
Who are the faculty and staff (in your major, an academic or other support program, etc.) who have helped you get where you are today?
So many faculty have helped me get to where I am today. I remember being a senior in high school and in the summer, I attended an orientation by the Charger Experience. I met with a counselor, Adriana Caridad, and the amount of information and support I received was so amazing and professional. I also met with Dr. Henry Hua who told me of all the resources that the Business/CIS Division had to offer and that really put me into a good position as a student. All the faculty I have interacted with so far have been excellent: Melanie Nabahani, Jeannie Jo, Abigail Awad, Raymond Macias, David Nusbaum, Doug Cooney, Rex Amend, Jennifer Kalamian. All these faculty have really challenged my mind, brought new perspectives, made me find new appreciation, and question what it means to be human.
The counselors, Adriana Caridad, Penny Gabourie, Yolanda Duenas, Guadalupe Dominguez, and Sierra Hegle, have all demonstrated excellence, knowledge, and support and really embody Buen Cypress.
How has Cypress College supported you throughout your time at the college?
Cypress College has provided for me a comfortable environment where I could focus on my studies and have a strong support network. Cypress College has a wonderful, welcoming community of students that all work for the best interests of others whether it is through creating study groups, tutoring each other, or venting about the upcoming math exam. The faculty have all been very understanding and accommodating for all students. The staff have been a rock that allowed for a beautiful, safe campus with academic plans and support.
What are your immediate plans after completing your studies at Cypress College (at your transfer institution, in the workforce, etc.)?
I plan to transfer.
What are your long-term goals? What do you aspire to?
I hope to work in a business rotational program after graduating with my bachelor's degree. I also plan to go to graduate school to get my MBA and work in strategy. I hope to become a leader in my field by making impactful and ethical business decisions that drive growth to products and services I am passionate about, namely entertainment. I then hope to become faculty at a business school in California.
What are you most proud of?
I am most proud of my growth as a student and as a professional. In high school, I was not very motivated and I would often struggle to keep myself focused. I was also very shy and awkward around people. I did not have any plans after college and I had no idea what I wanted to do with my life. However, ever since I entered Cypress College, I came with a mission to improve myself and become a strong student and professional. I am very proud of my work ethic and the study habits I have developed to maintain high grades at Cypress College. I am also very proud of my confidence and ability to approach people, which has allowed me to go on coffee chats with professionals to learn about different industries.
What bit of advice would you give to current and future Cypress College students?
I would advise current and future Cypress College students to really make use of all the resources that are at Cypress College. There are really so, so many resources here and it is a wonderful school. There are so many opportunities to challenge your mind, expand your perspective, meet new friends, and practice independence. I would advise to always remind yourself of where you are and make the most of everything that is available. Join a club, go to office hours, approach strangers, watch an athletics game.