2023 PSD Career Technical Education: Sabrina Tosti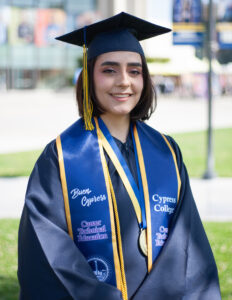 Having grown up baking with her grandmother, it is just something that's always been in Sabrina Tosti's life. She knew she enjoyed baking birthday cakes for family and making desserts for different holidays, so after earning a bachelor's degree in business administration at Cal State Fullerton, she decided to earn a degree in baking and pastry arts at Cypress College.
Sabrina hopes to combine the knowledge gained in those two degrees by one day opening her own bakery. In the meantime, she looks forward to growing in her craft by first participating in a culinary internship in the Marriott Voyager program, then continuing in the hospitality industry and gaining kitchen experiences.
Please tell us about yourself. Where did you grow up? What are your interests? What is your story?
I have been in Fullerton my whole life. After graduating high school, I studied at CSUF and earned my bachelor's in business administration in 2021. One day, I hope have a business of my own like my parents.
I grew up baking with my grandma, so it just became a part of my life. I would love to bake birthday cakes for my family and desserts for the holidays. After Cal State Fullerton, I decided to earn my baking and pastry arts degree at Cypress College. My current hobbies are reading, sewing, and playing video games.
What are you most passionate about? Why?
I would say I am most passionate about baking and plated desserts. I enjoy matching flavors that complement each other to make complex desserts. It's such a nice feeling to have friends and family enjoy what I create.
Why did you choose Cypress College?
I chose Cypress College for the curriculum offered and the staff that are currently my teachers. I also heard great things about the program's bistro.
What have you been involved in at Cypress College? How has your path unfolded?
During my time at Cypress, I focused on honing my culinary skills. The upper-level bistro classes helped me be more creative and be more confident in the culinary and hospitality world. It has been a lot of fun to help my teachers and fellow students to have a successful lunch service every week.
Share a memorable event or experience while you've been a Cypress College student.
A memorable experience was my pastry arts final exam. It was my first time creating a dessert based on my ideas, creativity, and everything I learned in the program. It was an autumn theme with flavors such as cranberry and cinnamon. It was a great experience to assemble all my dessert components and see the hard work pay off when my teacher tasted it.
Who are the faculty and staff (in your major, an academic or other support program, etc.) who have helped you get where you are today?
I would have to say the entire culinary and hospitality staff. I had the privilege to work with many of the professors and chefs. Some individuals I want to mention in particular are Chef Amanda Gargano, Chef Stephanie Rosati, and Professor Jeanette Jones. These teachers have shaped me to be the chef I am today. They were always eager to answer my questions and give me advice. I also appreciated their patience and wanting to help me succeed.
How has Cypress College supported you throughout your time at the college?
Cypress College has supported me by offering an exceptional academic counseling program. Jeannie Mitcsh has been great in helping me select the correct classes and staying on track to earn my degree.
What are your immediate plans after completing your studies at Cypress College (at your transfer institution, in the workforce, etc.)?
My immediate plan after completing my studies at Cypress College is to start my culinary internship with the Marriott Voyager program.
What are your long-term goals? What do you aspire to?
My long-term goal is to continue working in the hotel/hospitality industry. I aspire to be a head pastry chef and be a part of the menu planning process. I also want to gain more kitchen experience to one day in the future open a bakery.
What are you most proud of?
I am most proud of my accomplishments during my World Culture and Cuisine class. It was an amazing experience to make new friends, explore my love for baking pastries, and the opportunity to work with talented chefs daily. All the food we made was amazing and it was fun to learn about different cultures and their food.
What bit of advice would you give to current and future Cypress College students?
The advice I would give to current and future Cypress College students would be to always ask questions and have an open mind. Asking questions and diving deep into a subject helps you to stand out. Many teachers and even peers like to see individuals who are genuinely interested and are willing to learn anything. I find myself getting more opportunities and making closer connections by showing how passionate I am.
Is there anyone in particular you'd like to thank?
I would love to thank Chef Amanda for always believing in me when it mattered the most and being a great listener. I could not have completed my senior year without her. I want to thank Chef Katrena for giving intuitive baking advice and being a great mentor. Lastly, I want to thank my grammy for being my #1 fan, taste tester, and for supporting me throughout my entire college career.
Is there anything else you'd like to share?
I just want to say thanks again to Cypress College for giving me an experience I will never forget. I made so many wonderful memories, friends, and I cannot wait for what the future will hold.