2023 PSD Fine Arts: Preston Harris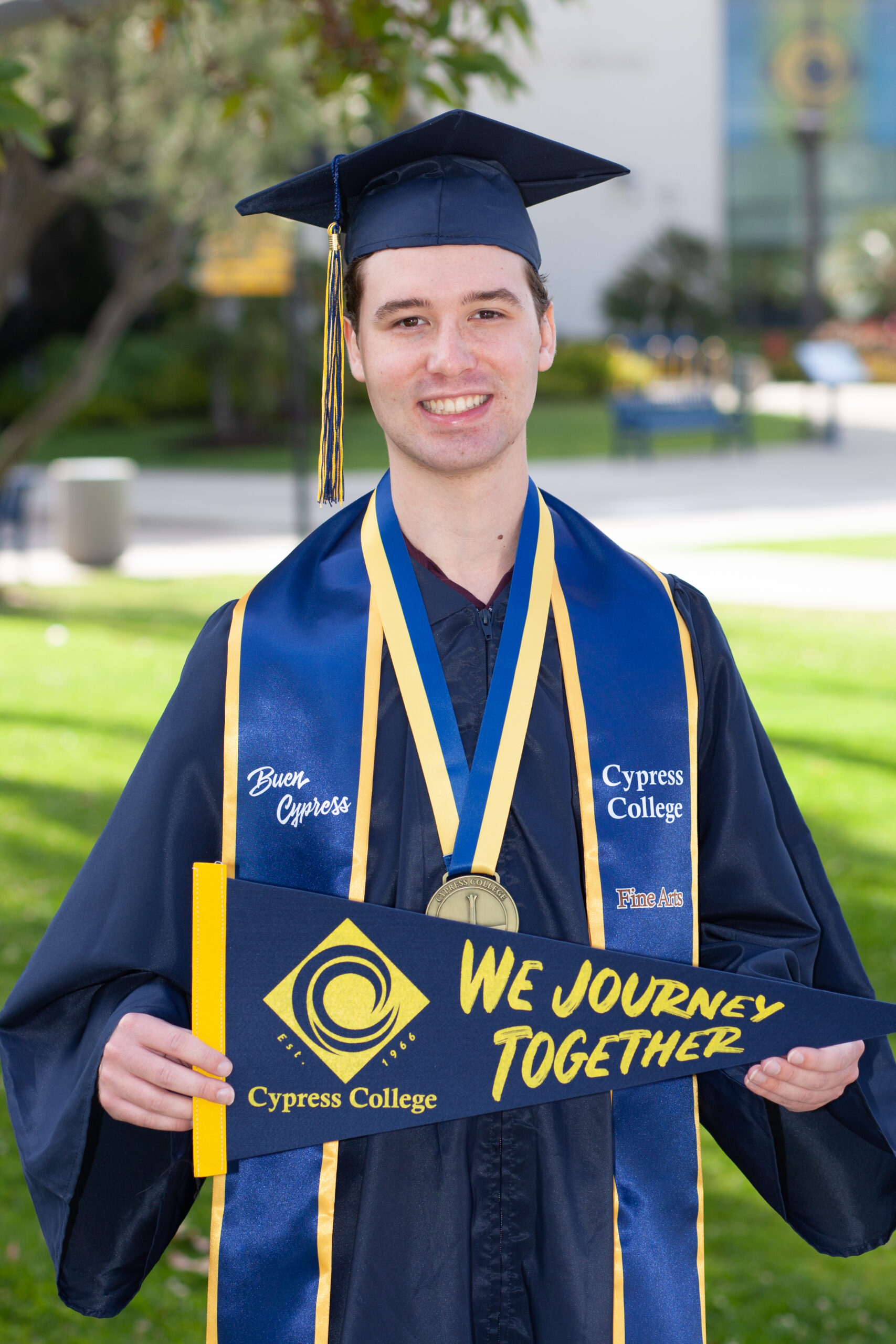 Improvisation skills have helped Preston Harris from a young age. Starting with role-playing games as a kid, to leading acting and writing workshops in high school to learning how to run lines with fellow theater students through Zoom glitches during lockdown, Preston has used acting techniques that call for quick thinking and inventiveness. As a Theater Arts student at Cypress, Preston furthered his acting craft; he also gravitated toward history classes, and the result was a richer appreciation of how theater can give voice to the underserved, and provide a platform for expression from a wider range of individuals. He will keep pursuing this channel of expression when he transfers to Cal State Los Angeles next semester and works toward earning his SAG card. Whatever comes next, he'll be able to both adapt to any circumstance through improvisation and rely on skills he's acquired through hard work at Cypress College.
Please tell us about yourself. Where did you grow up? What are your interests? What is your story?
I've lived in Garden Grove my whole life. I enjoy playing Magic the Gathering, and my experiences with roleplaying games like Dungeons & Dragons solidified my love of acting. As a high school volunteer, I taught acting and singing to first graders and writing to fifth graders, and I hosted a How to Act Your Song workshop for fifth through seventh graders. Through my Teaching as a Career class at Cypress, I was invited to teach voice acting to a group of high school students via Zoom in 2021. I'm not sure what my exact career will look like, but I'm likely going to be a teacher.
What are you most passionate about? Why?
I love engaging, through critical lenses, with media of all kinds. This makes English, History, and playwriting a blast for me. I love subjects that make me challenge my view of the world instead of reassuring it. If I don't have at least one existential crisis reading something every day then I'm not living my best life.
I am most passionate about creating theater that inspires but is also inclusive and true to life. My time at Cypress has been a blast because I've been exposed to people who come from all walks of life, including ages, ethnicities, and chosen families. There is this uncontrollable joy that I feel when a new voice is allowed to speak their truth in a theater space. When I hear Juan Carlos Luna deliver Shakespeare in Spanish or when Sarah Arizaga gets to watch her lesbian drama put on stage, my heart sings. It's seeing these stories and people get to finally be true to themselves and share that authenticity without fear that I become so excited.
Why did you choose Cypress College?
My high school graduation in 2020 consisted of me driving up to the curb, popping open the trunk, and having school officials toss my diploma in the back of my car. Such was the case for many COVID grads. When I learned I would be Zooming from a dorm-room bunk bed, I canceled my plans to go straight to a four-year school. In other words, attending community college wasn't part of my original educational plan, but it turned out to be an awesome detour.
What have you been involved in at Cypress College? How has your path unfolded?
I met students and faculty in the Cypress Theater Department via Zoom for the 2020-2021 school year. It was quite the challenge to work on timing in Acting 1 when my scene partner's connection would freeze. Those sorts of challenges, however, made coming to school the next year even better.
I was cast in one of the first in-person shows post lockdown. We had COVID testing every week during the production of The Laramie Project. I remember the first time I took off my mask for a dress rehearsal. "Oh, wow," said one cast member, "that's what you look like!" I think she meant it as a compliment, but it was a weird time, indeed. I was in two shows in Fall 2022: Almost, Maine and The Rocky Horror Show. During winter break I helped several students edit their submissions for a student play festival I organized and produced. For my final Cypress semester, I'm performing in Mr. Burns: A Post-Electric Play. Especially through my work for the play festival, I've become an active member of the Queer-Straight Alliance.
Share a memorable event or experience while you've been a Cypress College student.
I'm so glad I took advantage of the trip to New York that the theater department hosts each spring break. In 2022, I'm proud of encouraging the group to see the Off-Broadway production of Sleep No More. I remember how great it felt to listen to everyone's reaction to the show.
This year, to promote our stage production of The Rocky Horror Show, we hosted a viewing of the movie for the QSA. I was the only actor who taught the audience "The Time Warp" dance. I was so enthusiastic, several non-theater majors asked to sign up for an acting class.
Who are the faculty and staff (in your major, an academic or other support program, etc.) who have helped you get where you are today?
Donny Jackson, who showed me how to embrace all theater and embrace its challenges
Jennifer McMillin, who allowed me discover how to play an objective rather than a feeling
Jenna Riley, who made sound design fun and gave me a passing grade even though I drew my speakers outside the theater space on my final exam
Paul Hadobas, who celebrated my artistic vision even though I struggled as a make-up artist
Doug Cooney, who made me feel that I really could produce my own play festival
Jim Hormel, who would call me out for playing a character instead of being a character
How has Cypress College supported you throughout your time at the college?
Supportive faculty. Oh, and free parking!
What are your immediate plans after completing your studies at Cypress College (at your transfer institution, in the workforce, etc.)?
This summer I hope to be cast as a background actor (extra) so I can work toward obtaining my SAG card. I'll continue to mentor Cypress writers who want to create their own one-act or full-length plays. I hope to create a program similar to the play festival at Cal State LA.
What are your long-term goals? What do you aspire to?
I want to be an actor who can inspire his audience to think about my performance on the ride home and have them continue to talk about the show all weekend long. My goal is to work as a professional actor for stage, film, commercials, or voice. I'm also interested in writing, directing, producing, and perhaps creating a devised theater company. After some time in the field, there's a good chance I will want to teach at the high school or college level.
What are you most proud of?
I produced and directed a student play festival this year. I helped beginning writers tell their stories, and I worked hard to help them bring those stories to life. I was most proud when one of the writers said that my greatest gift is my kindness.
What bit of advice would you give to current and future Cypress College students?
Do what you love; love what you do.
Is there anyone in particular you'd like to thank?
I'd like to thank my fellow students who have made me look forward to coming to class every day, and Jenelle Herman for giving queer students a safe campus to be themselves.
Is there anything else you'd like to share?
I'm going to miss Cypress' quirkiness next year. But I'll be back to visit.