2023 PSD Science, Engineering, Mathematics: Mia Nguyen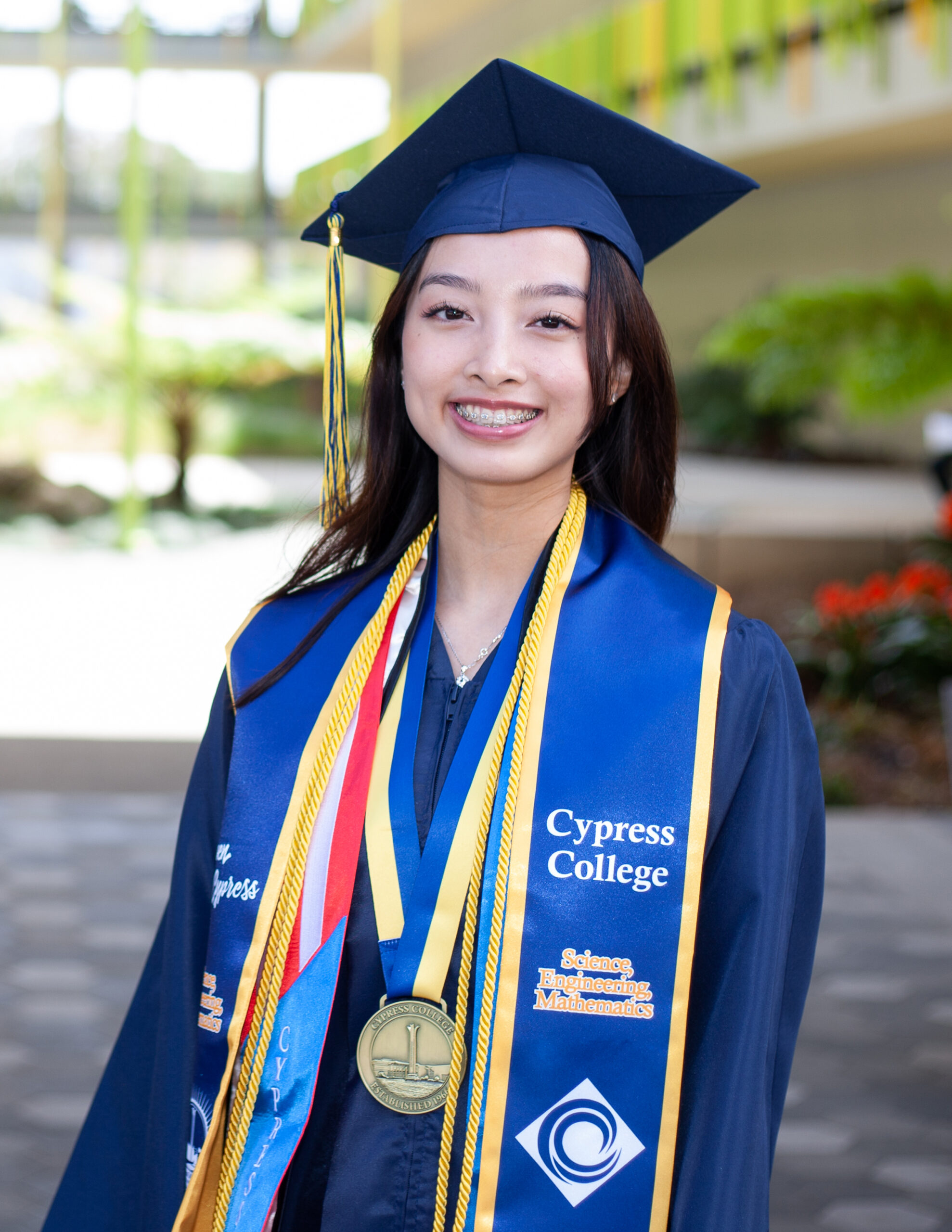 Mia came to the United States from Vietnam when she was 15 years old, ready for a challenge. It was her dream to go to college in the U.S., and she worked hard to make that dream a reality. That included joining the military, which she says "sharpened" her, and applying to four-year colleges. She achieved her goals of serving her new country, but was turned away by the colleges she contacted.
She pivoted and made the choice to start at a community college, choosing Cypress for its wide range of classes and supportive resources. She turned to on-campus programs for help, such as VRC and EOPS, and became a Supplemental Instruction leader sharing her knowledge with students. Now, Mia is headed to UCI, to further realize her dreams, sharpen her skills, and give back through service to others.
Please tell us about yourself. Where did you grow up? What are your interests? What is your story?
I was born and raised in Vietnam, but I had always had the American dream from watching multiple shows online and hence, as a 15-year-old girl fresh out of middle school, I traveled to the U.S alone to chase my dream as an exchange student in Michigan State. However, the language barrier and many more physical and mental hardships of a teenager girl without family by her side made me want to go back to Vietnam. With a great love of a mother for her daughter, my mom gave up everything she had in Vietnam and came to the U.S. with me, and we have lived here since then.
As a first-generation child in school from a refugee family, I always remember that my ancestors came to this country as refugees and sacrificed rising through hard work and effort. I want to build on the foundation my family laid for me as I move up the success ladder and accomplish the dream that my mom sacrificed for me. Furthermore, being the person my mother could count on, it once felt like I needed to be stronger, which led me to challenge myself and step out of my comfort zone, so I joined the military. It was very hard physically and mentally, but it was one of the best things that sharpened me. Being in school and serving can be loads of work sometimes, it can get really overwhelming at once. However, I believe that what doesn't kill you makes you stronger and the more challenging my life gets, the better and stronger person I will become.
What are you most passionate about? Why?
Having a chance to work with the Supplemental Instruction Program, I was able to share my knowledge and realized that it has become my passion in no time. I love helping people with the knowledge that I have from my favorite subjects and also learn from students as well. Being an SI leader has been really fulfilling and rewarding to me and I really enjoy doing it.
Why did you choose Cypress College?
After graduating from high school, I was hoping to get into a four-year institution and pursue my bachelor in my subject of interest. However, I wasn't lucky enough to get accepted into the universities I applied to, so I switched my educational path to transferring. I did some browsing and came across Cypress College web page. After some research, I chose Cypress College because they offer many classes that are transferable with a surprisingly low cost of tuition, and they also have great resources. At Cypress College, the staff and instructors are very supportive and caring, they want students to succeed. Furthermore, I was able to gain high quality knowledge with a low tuition cost, and it prepared me very well for a broader educational environment.
What have you been involved in at Cypress College? How has your path unfolded?
While most of the students in my class had had their majors chosen, I didn't know what I wanted to do at first. With the enthusiasm of the professors, however, I have taken in many classes – specifically Math, Physics, and Chemistry – that  they have inspired me to establish my interest in chemical engineering.
Having an opportunity to work with the SI program has also given me a chance to work with so many amazingly bright students, to not only help them succeed but also learn a lot from them as well.
On the other hand, I've also participated in many helpful programs for resources such as the EOPS Program and Veteran Resources Center. The staff are very nice, and they are always ready to help you.
Share a memorable event or experience while you've been a Cypress College
The most memorable experience I have had at Cypress College would be the environment and the surrounding people. I have met amazing people and built many relationships that I will forever be grateful for. After three years studying at Cypress, it has grown inside me and became my second home. Amazing people and experiences have nurtured me to grow and become the person who I am today.
Who are the faculty and staff (in your major, an academic or other support program, etc.) who have helped you get where you are today?
I would not be where I am today without all the supports and guidance from the faculty, staff, and my co-workers. I was beyond fortunate to have met such amazing people that have become my inspiration and role models for me to look up to. With that, I'd like to thank:
Dr. Brinda Subramaniam, thank you for sharing your passion and knowledge in Physics with us. Thank you for giving me a chance to become your SI leader and guide me through my journey at Cypress College. You have inspired me and many students to do what we love with an enthusiasm and to always jump out of our comfort zones to be a better version of us.
Dr. Craig Tomooka, you have made one of the most challenging classes so interesting and enjoyable and I really enjoy your lecture demonstrations. Thank you for always pushing us to do our best and helping us through all the laboratory sessions.
Professors Scott Roby and Christina Plett for making Calculus fun and understandable.
Professor Samantha Simmons, thank you for making my first semester at Cypress College so memorable. I remember it was a hard time for all of us with online school and the pandemic, however, you have helped me grow into a more thoughtful and understanding person.
Lastly, I would like to also thank Janelle Salinas, Veronica, Bradi, Vy, my co-workers, and the SI program in general for always supporting and helping me in every way when I need it the most. You all have been amazing, and I don't know what I would do without you.
How has Cypress College supported you throughout your time at the college?
Throughout my time at Cypress College, I have had the chance to focus on studying and pursue my degree without worrying of where to find the resources whenever I have questions all because the EOPS Program and the VRC exist. The staff and counselors have been super helpful and always answer all of my questions thoroughly and make my educational plan so much easier to manage. They also provide school needs for us such as hotspot, laptops, stationery for free in case any students need it.
What are your immediate plans after completing your studies at Cypress College (at your transfer institution, in the workforce, etc.)?
After completing my journey at Cypress, I will continue serving in the military and studying. Furthermore, I will be starting my next journey to pursue my bachelor's at UCI next fall.
What are your long-term goals? What do you aspire to?
After getting my bachelor's in chemical engineering at UCI, I'd like to get some hands-on experience as a chemical laboratory scientist and decide whether or not to become a chemical officer in the military.
What are you most proud of?
This award is what I'm most proud of. I have worked really hard and put in all of my dedication in academics, and I think this is a reward to myself and all the support that I have gotten since the first day of college. I'm really glad to know that my hard work has been recognized and paid off.
What bit of advice would you give to current and future Cypress College students?
Life is tough but so are you. You'll never know if you can do it until it is done. Just hang in there and you will achieve what you set your mind to.
Is there anyone in particular you'd like to thank?
I'd like to sincerely thank my mom for everything she has done and sacrificed so I can be here today. She is my motivation for me to keep going every day. I love you mom!
Is there anything else you'd like to share?
Lastly, I'd like to thank Cypress College for a being part of my youth and my academic journey. I am thrilled and proud to be the Presidential Scholar of Distinction representing the SEM pathway!