Timely Warning: Students Report Concerns About Man Offering Modeling Opportunity
OFFICE OF CAMPUS COMMUNICATIONS
Timely Warning
September 25, 2015
Three Cypress College students have reported to Campus Safety that a man was aggressive and persistent in soliciting their interest in modeling for extra money. The students all declined, but told Campus Safety that he made them feel uncomfortable, and, in at least one case attempted to talk one of the students into getting into his vehicle.
While such activity is not a crime, Cypress College is alerting the campus community to these reports because the information may be helpful to students and employees in caring for their personal safety. The incidents took place on Thursday, September 24, 2015, and Monday, September 21, 2015. Each also occurred in the late afternoon.
The suspect was described as a white male, with blonde hair, and appearing to be in his early 30s. On both days, he was wearing a dark polo shirt. A picture of the vehicle he was driving on Thursday appears below. It had paper plates, and one of the students observed a pink baby car seat inside the pickup.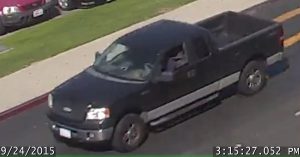 Anyone with information is asked to contact Campus Safety at (714) 484-7387. Imminent threats should be reported to 911.
Students and employees are reminded to report incidents or suspicious behavior to Campus Safety and/or Cypress Police immediately. Additionally, students are reminded that Campus Safety can be reached 24 hours a day, 7 days a week at (714) 484-7387, and that it is important to program that number into their mobile phones for quick access.
Cypress College issues Timely Warnings in accordance with the Jeanne Clery Disclosure Act. For more information, visit Campus Safety.