Tips to Start the Spring Semester at Cypress College
Cypress College's spring semester has begun, with classes getting underway this morning.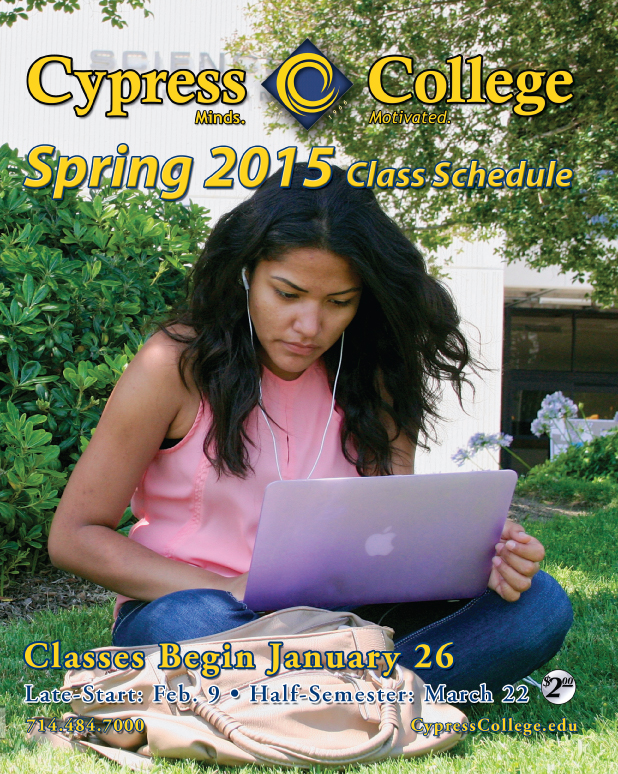 To help students get off to a great start this semester, here are some helpful tips, and links to more detail. Students can also find help on our Facebook page or on Twitter.
If You Read Nothing Else
The single-most-important piece of information is don't miss the first class meeting. This has always been important. It's even more important given the high demand for classes we're experiencing.
Waitlists and Petitioning
If you're on a waitlist, it expires at midnight on the day the class begins. That means that on the first day a class meets, there's no longer a waitlist.
Instead, the list is included in priority order on the instructor's roster as a tool to help faculty with the petition process.
So, if you're on a waitlist, you'll need to attend the first class meeting in hopes of obtaining an add code. Likewise, if you're petitioning a class, you'll want to arrive early to the first class meeting. Since your name isn't on the roster or the waitlist, you'll want to let the instructor know before class that you're petitioning.
Finding Classes
There's a feature on our webpage called "Find Classes." The guide is intended to help you successfully find — and enroll in — courses.
"Find Classes" offers an FAQ, definitions, and instructions (along with screen captures) on how to effectively use the searchable class schedule.
As you use this version of the schedule, be sure to click on the CRNs in the search results. Doing so will provide more detail about the course — including important prerequisite, corequisite, and advisory information. For instance, did you know that any student can enroll in a Dental Assisting course, but will be dropped if you're not an applicant of that program?
Since you don't want to be dropped, this is something to pay attention to.
Cypress College offers a number of interesting and new courses. One of them is our "CC Tank" (think "Shark Tank") social media class, CIS 120. This course provides complete coverage of using the Internet and related technologies including an in-depth coverage of the business of social media and marketing within social media networks.
As classes get started, we'll post some with space available to our Facebook page.
Parking
There is a one-week grace period for parking from January 26-31, 2015. Students may park in student spaces without a permit.
A valid parking permit is required beginning February 2, 2015.
Please Note: Officers will enforce all other parking violations during this grace period.
Paying Fees
Fees are due upon registration.
There's a short grace period to permit registration online and payment in person or by mail.
Delaying payment — even if it's waiting for financial aid — could result in being dropped from all of your classes.
Getting Help
Of course, if you need help with the registration process, of if you're stuck somewhere in myGateway, we've got friendly staff who can help you out.
Here are some other tips:
Many questions are answered in our schedule of classes. You can view the class schedule and even use Acrobat's search feature to find the answer to what you're looking for. The document contains a list of offices, their locations and phone numbers.
Want to know where you're going before you get on campus or even how to get here? View the current map or download a printable version. This page also contains driving directions to the college from the various freeway around the campus.
The myGateway portal asks for an "add authorization code" if a class is full. Each instructor is given a list of authorization codes that they may provide to students if they are able to accommodate more people in their class. How (and if) they are used and distributed is completely up to the faculty member. To get into the class, it's most likely that you'll need to attend the first class meeting. Show up early and let the instructor know that you're interested in adding the class if at all possible.