STEM Director Yanet Garcia Honored by Cal State Fullerton
Preparing a workforce proficient in the fields of science, technology, engineering, and math has been identified as a critical national priority. To help meet this challenge, Cypress College, in partnership with Cal State Fullerton, created the (STEM)2 Program with the goal of increasing student participation, persistence and success in these fields.
Director & Counselor Yanet Garcia came to the program in 2012 from Cal Poly Pomona. Under her leadership, student participation in (STEM)2 has more than doubled, with the program now offering wonderful educational, scholarship, transfer, and career opportunities for Cypress College students. Features include workshops, guest speakers, one-on-one counseling, peer mentoring, paid summer research opportunities, and a host of other benefits. This summer, thirteen STEM Scholars have been accepted for the Summer Research Experience at CSUF, and an additional three at other institutions, including the Scripps Institution of Oceanography. The program has become a well-recognized pathway for students to go on to success in STEM fields at great four-year institutions.
In recognition of her achievement, Yanet was recently honored by the Cal State Fullerton College of Education, at their Honor an Educator Luncheon and Ceremony. Cypress College President Bob Simpson and Richard Fee, Dean of Science, Engineering, and Math, were among those on hand to honor her.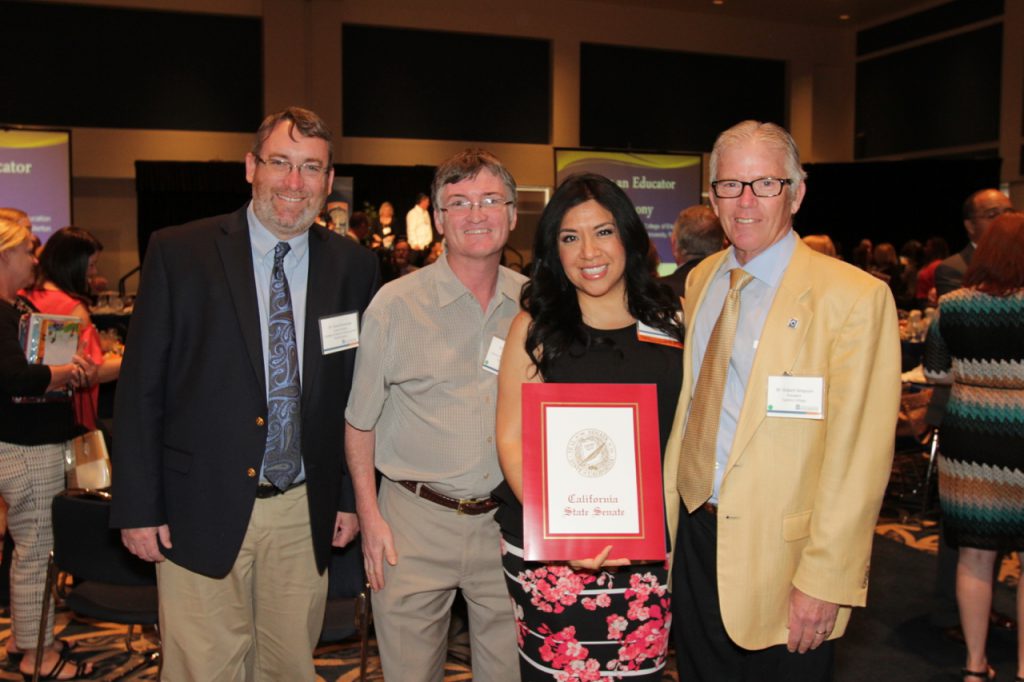 Above: Yanet with Dr. David Bowman, Interim Dean of CSUF College of Natural Sciences and Mathematics, Dr. Richard Fee, and Dr. Bob Simpson
At the ceremony, Yanet was presented with commendations from California State Senator Bob Huff,  Assembly Member Young Kim, and the Dean of the CSUF College of Education. A big congratulations to Yanet, as well as our deep gratitude for everything she does for the College and our students!
——
Our faculty and staff make Cypress College one of California's top community colleges. Recent 2015-16 accolades include:
– #1 in the U.S. | Top Toyota T-TEN Auto-Tech Program in the Nation.
– #2 in C.A. | Top Two ESL & Basic Skills English Programs in California.
– #3 in C.A. | Ranked as a Top Three California Community College (Schools.com)
– #3 in the Region | Ranked Top Three in Greater Los Angeles & Orange County for Student Transfer and Graduation Rates (EdSmart.org)
– 15 of 113 | California Community Colleges piloting a Bachelor's Degree (Mortuary Science)
– #17 in the U.S. | National Ranking on MTV-U's website "Rate-My-Professor"
– Top National Licensure Exam Pass Rates | Perfect state licensure pass rates for students in the following programs: Dental Hygiene, Diagnostic Medical Sonography: Abdomen; Diagnostic Medical Sonography (OB/GYN); Diagnostic Medical Sonography: Physics; and Mortuary Science: Sciences. 90+% state licensure exam pass rates for students in the following programs: Dental Assisting; Mortuary Science (Arts); Radiology Technology. And85%+ state licensure rates for students in: Health Information Technology; Nursing; and Psychiatric Technology.
– 2/3ds of the Class of 2015 qualified for transfer to a UC or CSU institution.
– 76 Orange Empire Athletics Conference Titles
– 25 California Community College Athletic Association State Championship Titles