Class of 2021 Celebrated in 54th Commencement
Cypress College celebrated the Class of 2021 in its live, remote 54th Commencement on Friday night.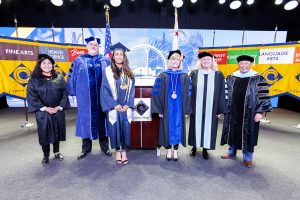 As one of Cypress College's largest graduating classes, the 1,542 students overcame the pandemic along with the rigors of their normal coursework.
Graduates provided photographs and quotes shown on screen along with the recitation of their names. These individual slides can be found in the Commencement Central section of the college's website. The live studio-based broadcast featured: Cypress College President JoAnna Schilling, Ph.D.; North Orange County Community College District Chancellor Cheryl A. Marshall, Ed.D.; NOCCCD Board of Trustees Vice President Jacqueline Rodarte; Cypress College Academic Senate President Dr. Craig Goralski; Cypress College Vice President of Student Services Dr. Paul de Dios; and Nicolette Garcia, who is both the Associated Students president and the 2021 Outstanding Graduate.
The ceremony — which was broadcast live at 5 p.m. on Friday, May 21, 2021, on the college's Vimeo and Facebook platforms — also included video features of the 2021 Outstanding Graduate and the 2021 Presidential Scholars of Distinction.
Class of 2021
In all, the college awarded 2,016 associate degrees and eight bachelor's degrees during the 54th Commencement. Some 62% of associate-degree graduates did so with transferable degrees, meaning they will be attending 4-year universities as juniors starting in the fall. There were 255 graduates on the President's Honor Roll (3.75-4.0 GPA), 859 on the Dean's Honor Roll (3.0-3.74 GPA). In addition, 1,249 students earned certificates this academic year from one of the college's 145 certificate programs.
In its third year, the Presidential Scholars of Distinction is a scholarship highlighting the accomplishment and persistence in overcoming adversity of students in each of the college's nine pathways. Faculty in each of these pathways nominate and vote on the recommendations with the students being affirmed by Dr. Schilling. The 2021 Presidential Scholars of Distinction are:
Jacklyn Marie Williamson, BUS/CIS;
Alexandra Camacho, CTE;
Paul Scott, Fine Arts;
Abigail Villegas, Health Sciences;
Jonathan Gad, Kinesiology;
Hiroki Funahashi, Language Arts;
Lia Thompson, SEM;
Wilfredo Carrasco, Social Sciences; and
Ayah Said, representing Counseling and Student Development and the "We Journey Together" pathway
Garcia, the Outstanding Graduate, was selected from among those who were graduating on the President's Honor Roll based on their nomination submission and work of the review committee. In addition to her role as the Associated Students' president, Garcia is a member of the DSS, EOPS, and Charger Experience programs, and help found or re-start student organizations such as the Anthropology and ASL clubs. She will attend Pepperdine University in the fall.
Meet the full class of 2021, see additional viewing options, and more at Commencement Central.