2023 Commencement Central
---
Cypress College's 56th Commencement
Friday, May 19, 2023 at 4 p.m.
---
Commencement Ceremony
Cypress College is excited to recognize and celebrate student achievement! The college's in-person, on-campus celebration for this year's 56th Commencement Ceremony will be held on Friday, May 19, 2023.
Note: Participation in the commencement ceremony is not required to graduate. If you plan to participate, an RSVP is requested to assist us, but not required; simply purchase your academic regalia and follow the instructions in the "Important Day-of-Commencement Information" tab.
Important Day-Of-Commencement Information
On Friday, May 19, graduates must meet behind the Student Center in the pond area next to the Veterans Resource Center by 3 p.m. Please arrive dressed in your cap and gown, and do not be late.
Graduates will be grouped by academic pathway (i.e. Business/CIS; Career Technical Education; Fine Arts; Health Science; Kinesiology; Language Arts; Science, Engineering, Mathematics; Social Sciences; and Counseling, liberal arts, and other majors in We Journey Together). There will be a short briefing before you proceed to the ceremony area. You will also be handed a reader card, which you will need to fill out so the graduate reader can announce your name as you walk across the stage. The processional will begin and recessional will end at the pond.
Etiquette
Please adhere to the following etiquette during the commencement ceremony:
Graduates MAY NOT bring any bags, purses, or other items that may hinder them during the ceremony.
Decorum is an expectation at commencement. Out of respect for your fellow graduates, you must remain present for the entire duration of the ceremony; do not leave the ceremony after your name has been called and you have walked across the stage. You will be promptly directed back to your seat. If you or your friends and family intend to make dinner reservations or other celebratory plans, please make sure to schedule them accordingly.
Excessive noisemakers, such as airhorns, cowbells, thunder sticks, whistles, etc., are prohibited at the event. All attendees are expected to be courteous to the speakers, fellow graduates, and other families/guests waiting to hear their graduates' names called.
Guests with balloons must either sit in the very back of the seating area or leave the balloons in a vehicle during the ceremony so as not to obstruct the view of other guests.
Guest Information
You are welcome to invite as many guests as you would like; however, all guest seating is available on a first-come, first-served basis. Reserving of seats at the event is strictly prohibited.
Immediately following the ceremony, all graduates, as well as their friends and family, are invited to meet behind the Student Center (in the pond area next to the Veterans Resource Center) to meet and take photos with some of your favorite faculty and staff members.
On-Campus Parking and Accessibility
Parking will be free on the day of commencement. Lots 1 and 9 are recommended for all attendees; however, all lots will be open if additional parking is needed. Lot 1 is recommended for accessible parking.
A priority seating area will also be available at the ceremony for guests with physical/mobility disabilities.
Gifts and Photography
At the event, the Cypress College Bookstore will have a booth offering flowers, balloons, and collegiate gifts available for purchase. Our campus food service will also have light snacks for sale.
A professional photography service will also be on-site during the ceremony taking photos of individual graduates as they walk across the stage. These individual photo packages should be available for purchase online within two weeks following the event. Media wall photo opportunities will be available for personal photography at the event.
Regalia
Purchase your academic regalia to wear on this special occasion! To participate in the commencement ceremony, graduates MUST purchase an academic regalia (cap, gown, and tassel) package online and have it shipped directly to them. Please place your order as soon as possible to allow time for delivery.
Purchase your academic regalia to wear on this special occasion! Cap, gown, and tassel packages can be purchased for $21 plus shipping and tax. Honors cords are available for an additional $11.
High Honors (gold cord) is based on an overall grade point average of 3.75-4.00 during your entire college career.
Honors (silver cord) is based on an overall grade point average of 3.30-3.74 during your entire college career.
Please adhere to the following with your regalia:
Graduates are encouraged to decorate their caps; however, gowns MAY NOT be decorated.
Hemming of gowns is permitted within reason. Sleeve ends should reach your wrists and gown length should fall roughly eight to ten inches above the ground.
Please be mindful to wear comfortable shoes as you may be standing for extended periods of time.
Stole Distribution
Stole distribution will take place May 1-11 during Student Life and Leadership Hours. Those hours are Monday through Thursday, 8:30 a.m. to 6 p.m. As a reminder, the last day to place cap and gown orders online will be May 1.
Outstanding Graduate
Every year, one student graduating in the current academic year who has earned a cumulative GPA of at least 3.75 and demonstrated great personal achievement in addition to their scholarly success is selected as the Outstanding Graduate of the Year.
Eligible students will be emailed an invitation to submit an application for this honor. All submissions are reviewed by the Outstanding Graduate of the Year Selection Committee with the final selection provided to the Cypress College president. The conferring of this award will be coordinated with the finalist by the Office of Campus Communications in advance of the commencement ceremony.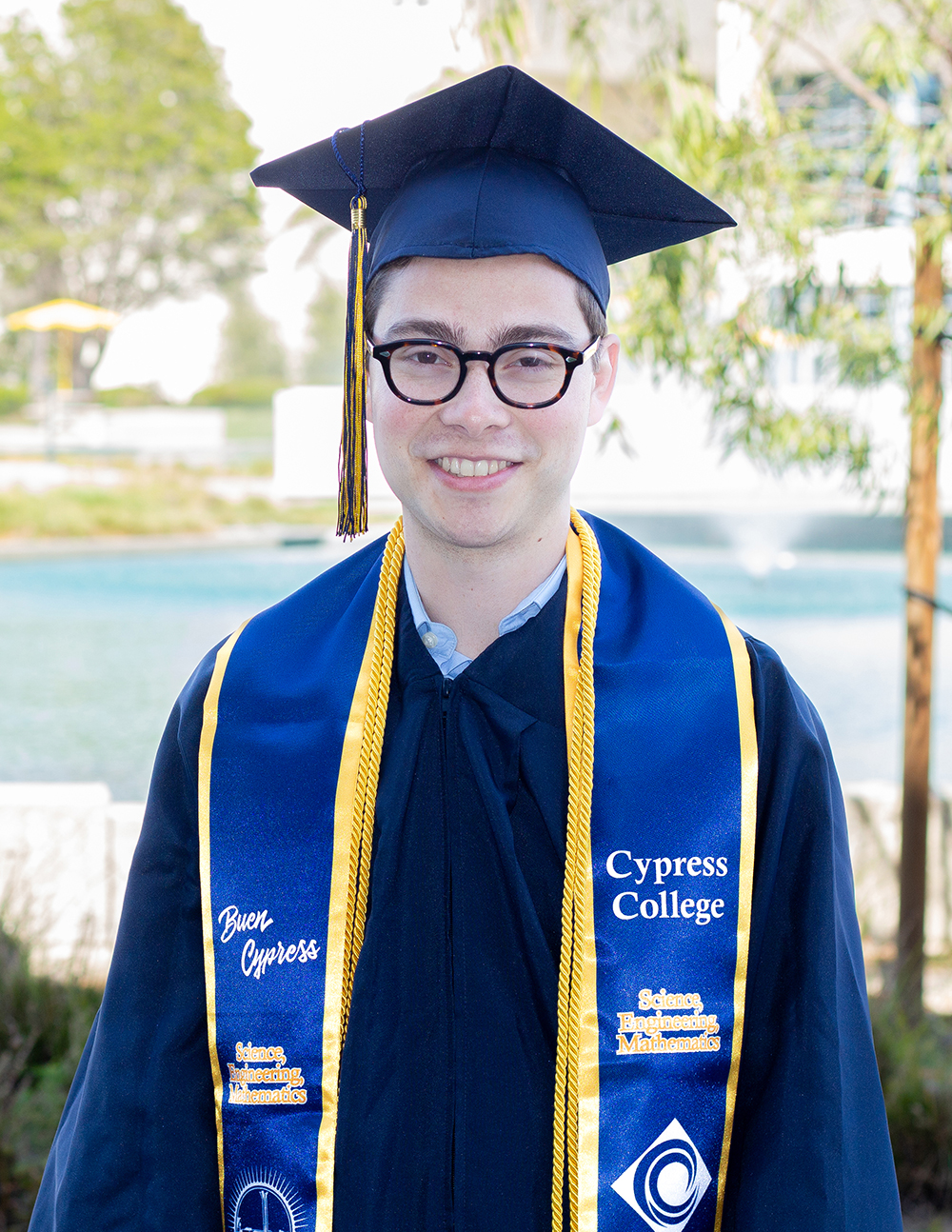 For 2023, the Outstanding Graduate is Edwin Bujanda. Upon learning that Edwin Bujanda is graduating Cypress College with degrees in mathematics, physics, business administration, and economics with aspirations of becoming a mechanical engineer, it's easy to assume math and science have always been in his wheelhouse. But, he admits, he rejected math up until recently.
"I just thought it was something I wasn't capable of," he said. "I always had that, 'that's just out of my league' mentality, but you can really surprise yourself. Especially when you're under pressure to do well."
Looking for more challenge and complexity as he was nearing completion of a different degree, Edwin decided to take a calculus and a physics class in addition to his usual coursework. To make that semester even more taxing, Edwin and his wife – who he met at Cypress College – had just moved and were anticipating the imminent birth of their daughter.
Edwin powered through the long nights and days of sleep deprivation with the help of family and mentors in the Cypress College SEM Division, and ultimately found himself set on a new path to pursue his true passion in engineering. He took advantage of many different opportunities to further him on his educational journey, including joining the college's (STEM)2 Program, participating in the NASA Community College Aerospace Scholars program, joining a summer research experience at UC Irvine, and interning as a student engineer for the City of Los Angeles Department of Public Works.
Always looking forward, Edwin will pursue a Bachelor of Science in mechanical engineering at a UC in fall 2023 and then hopes to pursue a master's degree before entering the aerospace industry.
Presidential Scholars of Distinction
In 2019, Cypress College started a new tradition with the selection of the inaugural cohort of Presidential Scholars of Distinction, an academic recognition and scholarship intended to honor nine students who exemplify what it means to be a Cypress College student. The Presidential Scholars are nominated by the faculty in their specific academic major clusters, selected by the members of that academic pathway, and affirmed by President JoAnna Shilling, Ph.D.

Jesse Chang,
Business/CIS

Sabrina Tosti,
CTE

Preston Harris,
Fine Arts

Stephanie Wood,
Health Science

Anthony Delgado,
Kinesiology

Olly Tetrault,
Language Arts

Mia Nguyen,
Science, Engineering, Math

Selwyn Gibson,
Social Sciences

Azusena Zamarripa,
We Journey Together
Alumnus of the Year
The alumnus of the year is an award administered by the Cypress College Foundation to recognize the achievements of Cypress College alumni and their contributions to their profession and community.
The Cypress College Foundation selected Betty Sarkis as the 2023 Alumna of the Year. Betty was born and grew up in Tehran, Iran. As a Christian minority, she was forced from her home after the Revolution in 1979 and came to America through political asylum, arriving in San Francisco. Although she could speak Aramaic, Farsi, and French, she spoke no English.
Betty moved to Cypress and began her journey at Cypress College in 1989. She started learning English as a second language and graduated in 1991. She then transferred to CSULB and completed her B.A. and M.A. in French and began teaching at CSULB as she earned her teaching credential and her first teaching position. Betty is now a high school teacher in Little Saigon where she teaches French and English learning development and helps immigrant students from Vietnam, Afghanistan, Pakistan, and Mexico.
Because of her life-changing experience at Cypress College, Betty has been a strong supporter and advocate of the college. She has inspired her husband, Troy, to give back to Cypress College. Together they have been actively involved since 2007 with the Cypress College Foundation, providing significant support through the Americana events that provide an opportunity to students like her to get their education. In addition to her efforts, her husband was also awarded the 2022 Americana Citizen of the Year representing Los Alamitos.
Betty is grateful for her experience at Cypress College and the opportunity that was provided with so many memories and inspiration from her professors and counselors.
Outstanding Faculty and Charger Award
Each year, the Academic Senate conducts a nomination and selection process for three faculty awards: the Outstanding Full-Time Faculty Award; the Outstanding Adjunct Faculty Award; and the Charger Award, presented to the faculty member who goes above the call of duty for professional duties outside the classroom. 
Virgil Adams, Outstanding Full-Time Faculty
Julie Hollinghurst, Outstanding Adjunct Faculty
Angela deDios, Charger Award