2022 Commencement Central
---
Cypress College's 55th Commencement
Held on Friday, May 20, 2022 at 4 p.m.
---
---
Commencement Ceremony
Cypress College is excited to recognize and celebrate all that you have achieved! After two years of remote commencement ceremonies due to the COVID-19 pandemic, Cypress College is planning an in-person, on-campus celebration for this year's 55th Commencement Ceremony on Friday, May 20, 2022.
Graduates from the classes of 2020 and 2021 are welcome to join the ceremony! Please check your personal and Cypress College/NOCCCD inbox for further details.
Note: Participation in the commencement ceremony is not required to graduate. If you plan to participate, an RSVP is not required; simply purchase your academic regalia and follow the instructions in the "Important Commencement Day-of Information" tab. Class of 2020 and 2021 graduates who purchased regalia for their remote commencement ceremonies may use it for this in-person ceremony, too; a new regalia purchase is not necessary.
Class of 2022: Pick up your free pathway stole!
Free for you to keep and wear during commencement. Distribution in Student Life & Leadership (Bldg. 8), Room 152 on:
Friday, May 13 @ 9 a.m. – 12 p.m.
Monday, May 16 @ 9 a.m. – 4 p.m.
Tuesday, May 17 @ 9 a.m. – 4 p.m.
*Stoles will not be distributed after Tuesday, May 17, so please pick yours up at your earliest convenience.

Important Commencement Day-Of Information
On Friday, May 20, graduates must meet behind the Student Center in the pond area next to the Veterans Resource Center by 3 p.m. Please arrive dressed in your cap and gown, and do not be late.
Graduates will be grouped by academic pathway (i.e. Business/CIS; Career Technical Education; Fine Arts; Health Science; Kinesiology; Language Arts; Science, Engineering, Mathematics; Social Sciences; and Counseling, liberal arts, and other majors in We Journey Together). There will be a short briefing before you proceed to the ceremony area. You will also be handed a reader card, which you will need to fill out so the graduate reader can announce your name as you walk across the stage. The processional will begin and recessional will end at the pond.
Please adhere to the following etiquette during the commencement ceremony:
You are welcome to invite as many guests as you would like; however, all guest seating is available on a first-come, first-served basis. Reserving of seats at the event is strictly prohibited.
Immediately following the ceremony, all graduates, as well as their friends and family, are invited to meet behind the Student Center (in the pond area next to the Veterans Resource Center) to meet and take photos with some of your favorite faculty and staff members.
At the event, the Cypress College Bookstore will have a booth offering flowers, balloons, and collegiate gifts available for purchase. Our campus food service will also have light snacks for sale.
A professional photography service will also be on-site during the ceremony taking photos of individual graduates as they walk across the stage. These individual photo packages should be available for purchase online within two weeks following the event. Media wall photo opportunities will be available for personal photography at the event.
Regalia
Purchase your academic regalia to wear on this special occasion! To participate in the commencement ceremony, graduates MUST purchase an academic regalia (cap, gown, and tassel) package online and have it shipped directly to them. Please place your order as soon as possible to allow time for delivery.
Purchase your academic regalia to wear on this special occasion! Cap, gown, and tassel packages can be purchased for $19 plus shipping and tax. Honors cords are available for an additional $11.
Students graduating with High Honors or Honors who would like to purchase an honor cord should refer to the following when determining which color to purchase:
High Honors (gold cord) is based on an overall grade point average of 3.75-4.00 during your entire college career.
Honors (silver cord) is based on an overall grade point average of 3.30-3.74 during your entire college career.
Please adhere to the following with your regalia:
Graduates are encouraged to decorate their caps; however, gowns MAY NOT be decorated.
Hemming of gowns is permitted within reason. Sleeve ends should reach your wrists and gown length should fall roughly eight to ten inches above the ground.
Please be mindful to wear comfortable shoes as you may be standing for extended periods of time.
Outstanding Graduate
Bradi Palomarez
2022 Outstanding Graduate of the Year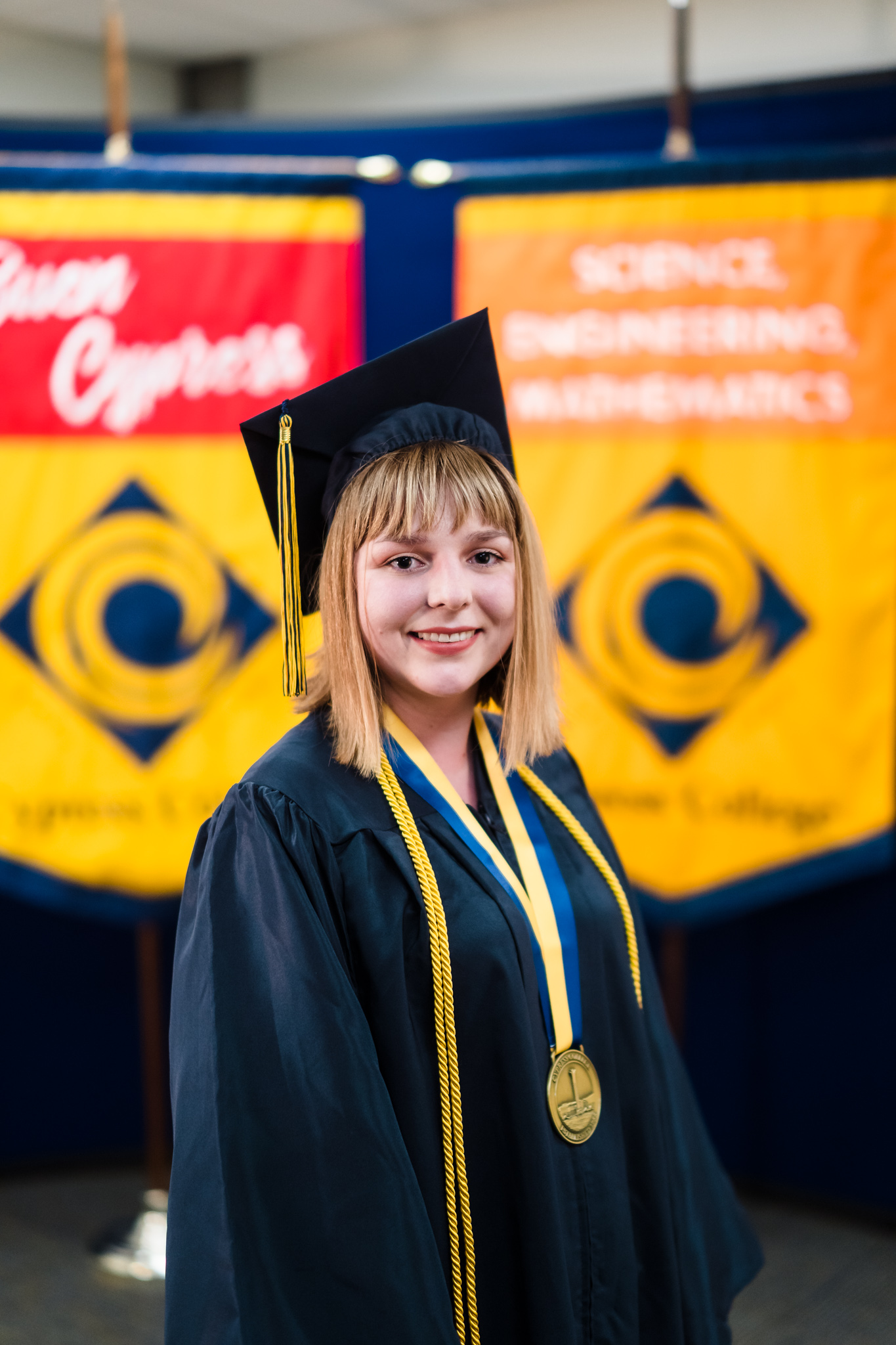 Bradi Palomarez grew up in Huntington Beach, California and is a first-generation college student. She has been involved in the college's (STEM)2 Program and works as a Supplemental Instruction leader for physics in the college's Library/Learning Resource Center.
Palomarez is graduating with two associate degrees for transfer in physics and mathematics, as well as an associate degree in liberal arts with an emphasis in math and science. She will be participating in Boston University's Physics Research Opportunity Program in summer 2022 and plans to continue pursuing research opportunities while applying for transfer in fall 2023 to a four-year university. She ultimately hopes to pursue a career as a physics professor.
"My passion for learning and teaching others has inspired me to pursue a career as a college physics professor," she said. "I believe the most meaningful way I can apply my passion for physics and dedication to helping others is to work as an educator. My long-term career goal is to improve the connection between theoretical physics and technical ability in undergraduate students."
Presidential Scholars of Distinction
In 2019, Cypress College started a new tradition with the selection of the inaugural cohort of Presidential Scholars of Distinction, a new academic recognition and scholarship intended to honor nine students who exemplify what it means to be a Cypress College student. The Presidential Scholars were nominated by the faculty in their specific academic major clusters, selected by the members of that academic pathway, and affirmed by President JoAnna Shilling, Ph.D.
Lavender Graduation
Cypress College will hold its first-ever Lavender Graduation on Monday, May 23 from 5-8 p.m.! All current, former, and future LGBTQ+ graduates are invited to attend!
Lavender Graduation is a special graduation ceremony for our LGBTQ+ graduates to honor and acknowledge their achievements, contributions, and unique experiences at Cypress College. It is an opportunity for our LGBTQ+ students to be celebrated as their true selves alongside those with whom they choose to celebrate.
"The celebration provides an opportunity for LGBTQ+ students to celebrate their achievements in a space that is safe for them to be recognized and honored as their authentic, true selves, something they may not be comfortable doing at the official Commencement Ceremony" says Jenelle Herman, Cypress College LGBTQ+ Liaison, Queer-Straight Alliance (QSA) Faculty Advisor, and Gay & Lesbian Association of District Employees (GLADE) President. She organized the event, which she says will acknowledge this student community's "strength in overcoming the many societal and institutional obstacles in order to succeed."
The ceremony will take place on campus and include dinner for graduates and guests, music, heartfelt words, free individual graduate photos, a free raffle for all LGBTQ+ students, and other activities. LGBTQ+ graduates will be awarded a Lavender Graduation certificate and rainbow stole, presented to each individual by a person who has supported them on their educational journey. There will also be a group photo with all of the graduates.
If you identify as LGBTQ+, or you've actively advocated for LGBTQ+ students on our campus, you are welcome to attend. Please register by Friday, May 13.
If you identify as LGBTQ+ and cannot attend, we would love for you to fill out our LGBTQ+ Opt-In Signup Form so that we have permission to send you LGBTQ+-specific updates and invitations in the future.
Alma Mater
O Alma Mater, Hail with
pride and loyalty,
So sing we now with hearts
uplifted to thy glory.
O Cypress, Thee we love,
Thy spires shall rise above,
Ennobled through the years with splendor,
Cypress, hail to thee.
Alumnus of the Year
The Alumnus of the Year is an award administered by the Cypress College Foundation to recognize the achievements of Cypress College alumni and their contributions to their profession and community.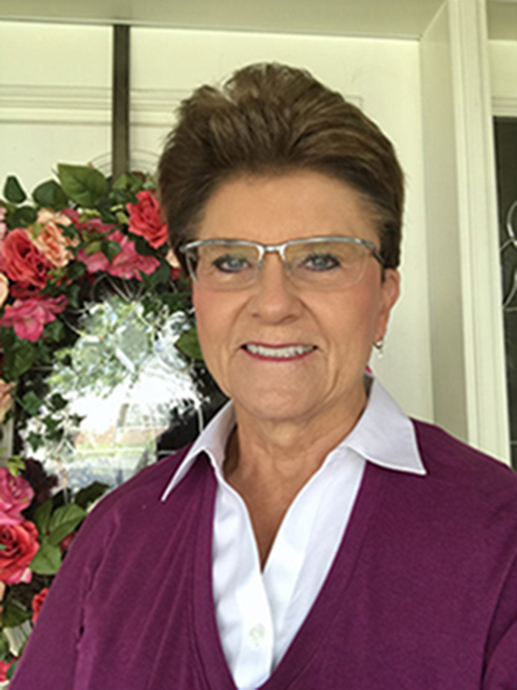 Bonnie Peat
2022 Alumna of the Year
Bonnie Peat was selected as Cypress College's 2022 Alumna of the Year. A 1982 graduate of the college, she earned her associate degree in business administration before transferring to Cal State Fullerton to earn a bachelor's degree in finance.
Peat's 35-year career at Parker Hannifin Corporation's Aerospace Group evolved out of a college intern program and culminated in her retirement in 2019 as vice president group marketing, engines/strategic account executive. She served in a number of roles in the intervening years, including as director of the pneumatics business unit and vice president of customer support operations. She also served as a board member on several joint ventures at the company.
In 2019, Peat was elected to the Cypress School District Board of Trustees and currently serves as the board's president. She also joined the GFWC Woman's Club of Cypress, where she was appointed president and worked with fellow members to donate $25,000 to the Cypress College Foundation and name the college's new Veterans Resource Center outdoor patio in honor of the late Page Betar, a military veteran and GFWC Woman's Club of Cypress member.
Join the Alumni Network at cypresscollegealumni.org.