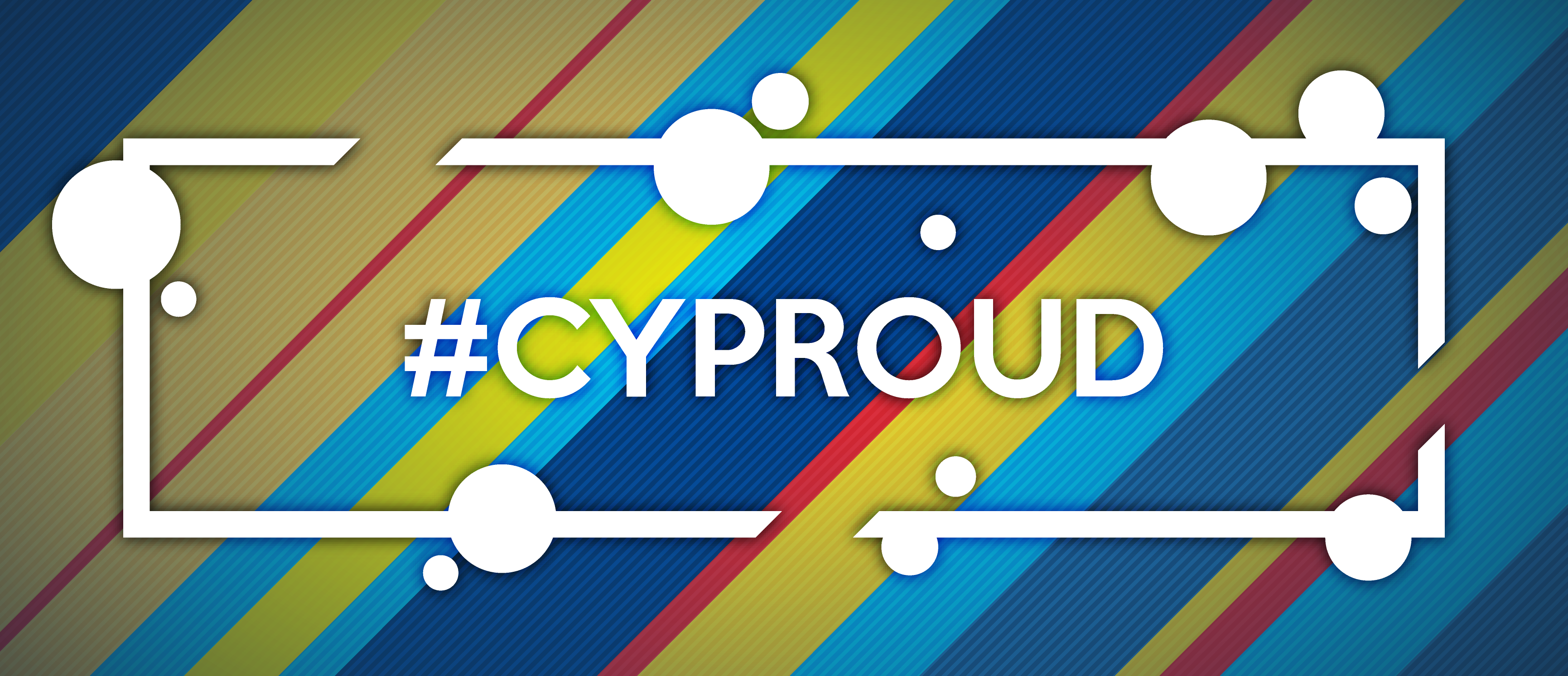 #CYProud: Nicole Farmer, Psychology
Student success comes in many different forms, and Cypress College is proud to recognize and celebrate the variety of paths our students take to achieve their dreams. Whether it's transferring to a four-year institution, or receiving an associate degree or certificate and heading into the workforce, we want all of our students to know we are on this educational journey with them and are pleased to feature distinguished #CYProud students for 2022.
It took Nicole Farmer more than a decade to earn her associate degree, and that fact used to frustrate her. But when she looks back on the hard work she put into achieving her degree, she realizes that she's overcome a lot. Her struggles with ADHD caused her to take longer on schoolwork, yet her perseverance in the face of this challenge powered her through for 13 years until she reached her goal. She says she couldn't have done it without the help of faculty and staff at Cypress College, especially those in DSS. She will transfer to a university to continue her studies in Psychology, where her hard work will continue into what surely will be a successful next journey to a degree.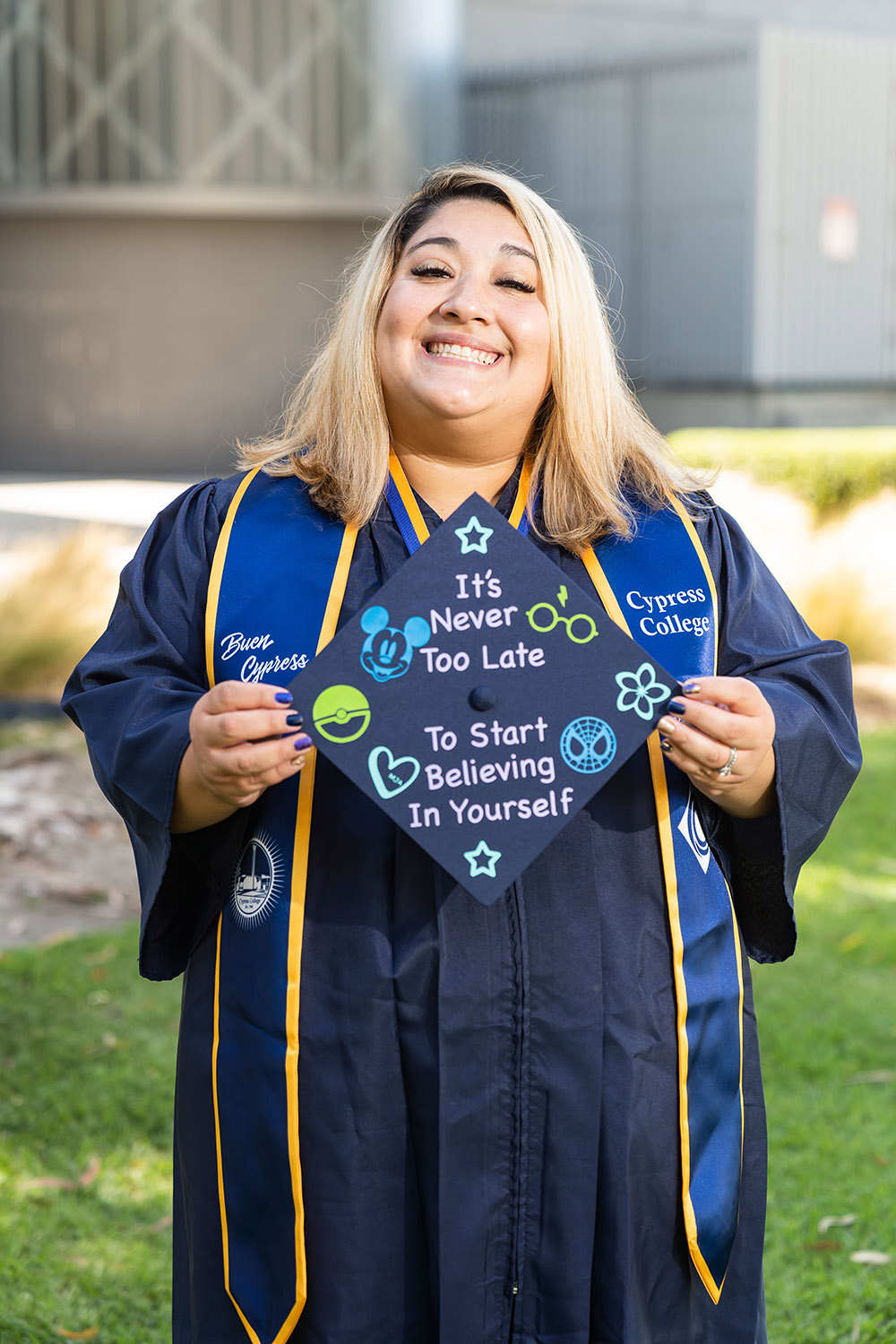 Please tell us about yourself. Where did you grow up? What are your interests? What is your story?
I grew up in Long Beach, CA, to two parents who really valued education and always pushed me to be a diligent student. Despite having a very strong support system, school was always really tough for me. I struggled my way through elementary school, and in middle school I was finally diagnosed with ADHD. Some days, having ADHD feels like a super power and other days I feel paralyzed by it.
I started at Cypress College when I was 17 years old straight out of high school, that was 13 years ago. It took me 13 years to earn my associate degree. I used to let that number embarrass me, but looking back on my journey I guess I feel a sense of pride. For years I convinced myself that I wasn't smart enough or focused enough to be a college student; even though it has always been a desire of mine to get my masters degree and become a counselor. I spent a lot of time living in a cycle of working too much and not putting my energy into the things that I wanted because I didn't believe that I was worthy of them. Occasionally I would go back to school and complete a few courses and then life would happen and I would give up. I reached a point where my mental health got so bad that the life that I was living was hardly a life at all and I felt like giving up.
With the love and support of my husband and my family I made the decision to quit my job and go back to school to finally complete my A.A. and pursue my dream career. Despite having a transcript with a dozen or more Withdrawals and Fails, Cypress College DSS, professors and staff met me with open arms when I came back and believed in my ability to be a great student. I received a tremendous amount of support and resources to push through every hurdle that arose and in May I finally finished my degree and with a transcript full of A's and B's. I got to walk across a stage to receive my diploma with my family in the crowd cheering me on.

Despite a worldwide pandemic, online learning, grieving the loss of loved ones, losing employment, and coping with my ADHD, I finished. Choosing to believe in myself was scary and school wasn't any easier at 27 than it was at 17. I had my fair share of meltdowns because schoolwork took me four times longer than some of my classmates or because staying focused on research methods via Zoom in my kitchen felt impossible, but every single moment was worth it in the end, and I look forward to continuing my education.
What are you most passionate about? Why?

I would have to say that I am most passionate about helping others. I am lucky enough to have received a lot of help and kindness in my life and it brings me joy to try to pay that kindness forward. I am also very passionate about increasing accessibility to mental health education and resources for youth and young adults.
Why did you choose Cypress College?

My senior year of high school I took a tour at Cypress with other prospective students. The staff that we met that day were extremely encouraging and the campus was so beautiful and clean.
What have you been involved in (programs, clubs, events, jobs, other opportunities, etc.) at Cypress College? How has your path unfolded?

I am a proud DSS student, the program made a huge impact on my overall success at Cypress College. The DSS team gave me a safe, quiet place to do homework, take exams, print papers, and taught me more efficient ways to study that catered to my ADHD brain. I am forever grateful for all of the DSS team. While at Cypress I also spent some time as a member of the Human Services Club under Professor Tapia. Human Services club was an amazing group of students who were all also passionate about helping others. Professor Tapia and the club do a lot of good and I highly recommend getting involved to anyone that wants to help make a difference in the community.
Share a memorable event or experience while you've been a Cypress College student.
One of my favorite Cypress College memories was participating in the Annual Pumpkin Bash with the Human Services Club. It was so fun being a part of an event that was free to the public hosted by our school! My own family even came out to support in their Halloween costumes and helped out with running the game booths with us.
Who are the faculty and staff (in your major, an academic or other support program, etc.) who have helped you get where you are today?
Every Single professor that I have met at Cypress College has been beyond amazing. It is so hard to pick because each one genuinely showed me they cared about me as a student and were patient with my own individual needs. Cypress has by far the best educators of any school I have attended hands down. They make you feel seen and heard not only as a student but as a human and with everything that has happened in the world the past couple of years, receiving that level of compassion has truly been a blessing. I would like to give a special thank you to my DSS counselor Deborah; from 2009-2022 she was my counselor and even after I gave up on myself over and over again, Deborah never gave up on me. I have nothing but appreciation for her and will miss her guidance so much.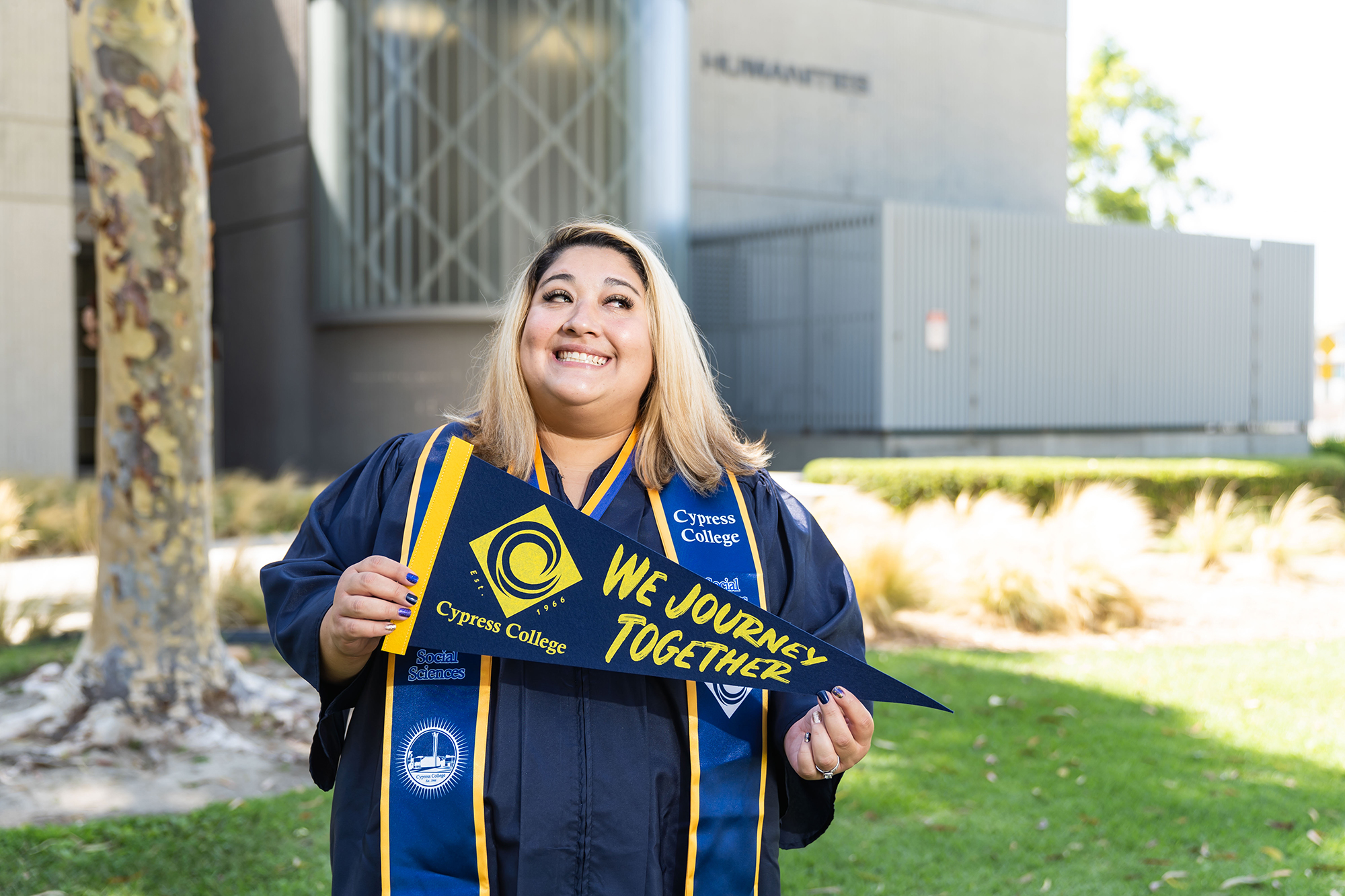 How has Cypress College supported you throughout your time at the college?
Cypress College has so many incredible programs and resources for their students that I have utilized during my time. There were times during the pandemic when both my husband and I were out of work and the Cypress College food bank provided us groceries to get through the week. Last semester, there were many days where I would get out of a three hour lab class starving with no money and there would be free lunch available on campus.

In addition to these programs, if there was ever any information or help I needed it was always easy to find someone who was happy to assist me. Staying focused on being a student was a little bit easier when you had help readily available to you no matter what circumstances life threw at you.
What are your immediate plans after completing your studies at Cypress College (at your transfer institution, in the workforce, etc.)?
I plan to take a semester off before transferring to focus on completing some personal goals and spend time traveling with my husband. My goal is to be at a four year university working on completing my bachelor's degree in the spring of 2023.
What are your long-term goals? What do you aspire to?
I would love to eventually have a career in counseling youth; possibly in an educational setting. My father passed away when I was 15 and being taught how to understand and manage my feelings and emotions was so important to my healing. Although I am still learning and still deal with managing my own grief and mental health, I am grateful for the counseling and therapy that I have received in my life and want to help the youth of this world to learn to navigate their own feelings and emotions.
What are you most proud of?
Not giving up when things got hard and choosing not to give into my own negative self-talk. I am far from perfect and still struggle with these things, but I never imagined I would actually make it this far and for that I'm proud.
What one bit of advice would you give to current and future Cypress College students?
Even if it feels impossible, you owe it to yourself to at least try. You might surprise yourself to see what you are actually capable of.
Is there anyone in particular you'd like to thank?
My husband for helping me find the courage to bet on myself and believing in me every step of the way even when I couldn't always see it myself. My mom for showing me that circumstances don't define you and that hard work goes a long way. My family for cheering me on and supporting me throughout every battle or obstacle. Lastly, the Cypress College staff and students who made this experience exciting and joyful despite the hard stuff.
Is there anything else you'd like to share?
Just do the next right thing. It always feels impossible until it's done. Also, thank you for this opportunity, I am forever grateful and will never forget this feeling.