Accounting
Accounting was the course that helped me more than anything.

– Julian Robertson
Our philosophy is simple. We want you to succeed! Accounting opens doors in every kind of business – coast to coast and internationally. Our courses, faculty, and support systems are geared to provide you with the greatest opportunity to be successful in future business courses and in your professional career. Preparation for a career in business also requires good oral and written communication skills, in addition to proficient analytical competence. Our mission to to help students meet all of these important objectives.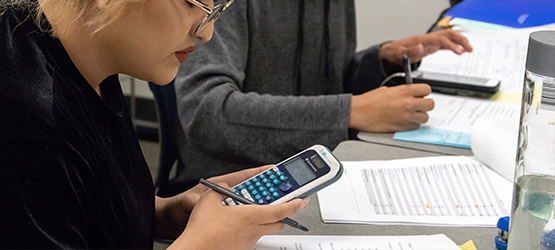 ---
What You'll Study
Accounting
Payroll Accounting
Financial Accounting
Managerial Accounting
Ethics in Accounting
Accounting Systems Design and Applications
Cost Accounting
Government and Nonprofit Entities
Internship
Catalog
Visit our catalog for more information about the degrees and certificates, courses, and program learning outcomes for students majoring in Accounting.
---
Careers & Salary
Careers
Accountant
Auditor
Bookkeeping Clerk
Accounting Clerk
Auditing Clerk
Brokerage Clerk
Payroll and Timekeeping Clerk
Tax Preparer
Salary
Low: $27k
Average: $55k
High: $129k
---
What Students Say
"When I first enrolled I just wanted to get an accounting certificate to hopefully better my pay as a basic accounts receivable clerk. Because of [my professors] and their willingness to teach I am now the staff accountant for my company. It's a huge accomplishment personally. I went from posting payments to preparing financial statements and reconciling bank statements. I've even been offered a promotion to assistant controller! It's gratifying, to say the least."
Danila Mendez
"The opportunities that I was given at Cypress College allowed me to implement my leadership skills as the Vice President of the Institute of Internal Auditors for the Accounting Society this semester. This summer I was accepted for an internship at Deloitte."
Karina Vanessa Lopez
---
Adjunct Faculty
Nyame-Tease Prempeh
Evelyn Sandoval
Accounting Department
Location: Business Education Building, Room 206
T: (714) 484-7211
Department Chair: Ann Sheridan-Solis, asolis@cypresscollege.edu