Automotive Collision Repair
You have to look for teachers. If you want to be a mechanic, go hang out with mechanics.

– Robert Kiyosaki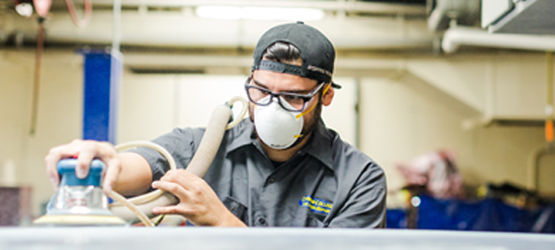 The Automotive Collision Repair program is designed to prepare students for employment as collision repair technicians and for numerous other related areas of the automotive and transportation industries. Training is given in both theory and practical skills. Directed practical work is given in all areas of automotive collision repair under simulated on-the-job conditions.
---
What You'll Study
Auto Collision Repair Tech
Refinishing Technician
Collision Damage Appraisal
Computerized Automotive Damage Appraisal
Auto Detail/Car Care
Electrical Systems and Component Repair
Structural Alignment Repair
ACR/Special Projects
Automotive Collision – Work Experience – Vocational
Collision Repair Management
Automotive Color Matching
Automotive Collision Repair Seminar
Catalog
Visit our catalog for more information about the degrees and certificates, courses, and program learning outcomes for students majoring in Automotive Collision Repair.
---
Careers & Salary
Careers
Automotive Body and Related Repairer
Automotive Glass Installer and Repairer
Painter, Transportation Equipment
Salary
Low: $22k
Average: $39k
High: $76k
---
What Students Say
"I chose to attend Cypress College because of its well-known automobile repair program, which I knew would be most useful in attaining my future goals with car design and repair. This turned out to be true, as I have since had many job opportunities in body shops throughout Orange County."
Zachary Lynch
---
Adjunct Faculty
Roxana Barcello
Walter Bugbee
Ed Terwilliger
Automotive Collision Repair Department
Location: Tech Ed I, Room 202
T: (714) 484-7250
Department Chair: Larry Ramos, lramos@cypresscollege.edu