Automotive Technology
The automobile engine will come, and then I will consider my life's work complete.

– Rudolf Diesel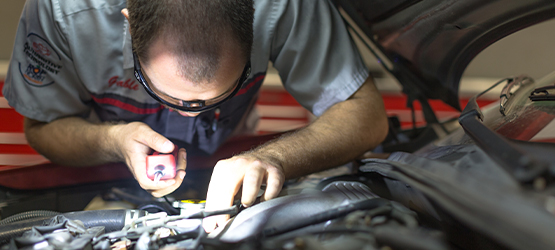 The Cypress College Automotive Technology Department is here to help you get started in your automotive career. Our instructors are qualified to teach in their specialty areas and are National Institute of Automotive Service Excellence (ASE) Master Technician Certified. We are a National Automobile Technician Education Foundation (NATEF) certified program affiliated with the Toyota Training and Education Network (T-TEN).
The demand for automotive technicians is high and if you train with us you'll have an excellent opportunity for career placement.
---
What You'll Study
Automotive Technology Special Projects
Technician Safety
Survey of the Automobile
Automotive History
Automotive Tech Repair Lab
Automotive Electrical
Toyota Automotive Technology
Automotive Technology
Automotive Quick Service
Toyota Electrical Systems
Automotive Air Conditioning
Auto Engine Repair/Machining
Auto Engine Mechanical Concept
Auto Chassis and Brake Systems
Auto Drivetrains/Transmissions
T-TEN Drivetrain and Transmissions
Auto Performance and Driveability
Clean Air Car
Automotive Service Advisor
Electronic and Electrical Diagnostics
Toyota Portfolio
Toyota Professional Series
ASE Test Prep
Engine Blueprinting
Alignment and Chassis
Alternative Fuels
Electric-Hybrid Vehicles
Hybrid Vehicle Maintenance
Automotive Internship
Automotive Service Seminar
Catalog
Visit our catalog for more information about the degrees and certificates, courses, and program learning outcomes for students majoring in Automotive Technology.
---
Careers & Salary
Careers
Automotive Service Technician and Mechanic
Electronic Equipment Installer and Repairer, Motor Vehicles
Salary
Low: $22k–50k
Average: $36k–65k
High: $73k–$100k+
---
What Students Say
"The biggest influences lie upon Mike Klyde and Paul Kelley. The support and dedication that these two invest into T-TEN and the students is amazing. They helped guide me at every step of the way."
Kourosh Shirazi
"It all started with a simple Google search of local schools in my area. Once I saw the T-TEN, Toyota's Technician Training & Education Network, automotive technician training program at Cypress College, it was love at first sight. Looking through Google images, the state-of-the art and hands-on education alongside the greenest grass I have seen on this beautiful Southern California campus, made the decision to attend Cypress College an easy one."
Junnior Rodriguez
---
Adjunct Faculty
Kurt Beu
Navy Chiem
Richard Donia
David Endo
Jacob Hamrick
Manuel Patron
Automotive Technology Department
Location: Tech Ed I, Rooms 104-107
T: (714) 484-7245
Department Chair: Marty Orozco, lorozco@cypresscollege.edu