Dance
Dance is the hidden language of the soul.

– Martha Graham
The Cypress College Dance Department is dedicated to providing a supportive environment to all students. Dance Majors receive a well-rounded education that will prepare them to transfer as dance majors or to teach, choreograph, and perform in professional venues.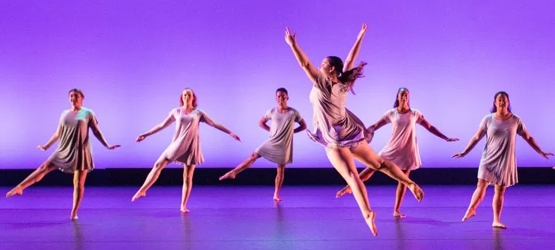 ---
What You'll Study
Dance Appreciation
Dance in the US
Pilates Mat Work
Ballet
Modern Dance
Dance Improvisation
Adaptive Dance
Jazz
Tap
Hip Hop
Afro-Caribbean Dance
Flamenco
Middle Eastern Dance
Latin and Swing Dance
Ballroom
Summer Dance Festival
Performance
Costume Design for Dance
Light Design for Dance
Dance and Technology
Elements of Choreography
Dance Production
Dance Ensemble
Dance Teaching Methodologies
Catalog
Visit our catalog for more information about the degrees and certificates, courses, and program learning outcomes for students majoring in Dance.
---
Careers & Salary
Careers
Choreographer
Dancer
Teacher, Postsecondary
Salary
Low: $18k
Average: $55k
High: $187k
---
What Students Say
"I aspire to become a college professor, as well as open a dance therapy studio. Professor Maha Afra pushed and motivated me to pursue my goals, and has been there every step of the way to help me achieve them. She is always very well-informed and became my mentor. Additionally, she kept her office doors open to all of us in a welcoming environment with lots of pillows where we would go when life was overwhelming. She also reminded us of our self worth and continued to motivate us to achieve."
Monica Vargas
"The faculty that have helped me get where I am today are dance professors: Erin Landry, Maha Afra, and Katiana Pallais. Honestly, I would say all the dance professors at Cypress have positively affected my life in one way or another."
Dominique Brown
---
Adjunct Faculty
Michelle Funderburk-Norris
Issa Hourani
Monik Jones
Francesca Lee
Sing (Stella) Ng
Santiago Rivera
Waeli Wang
Dance Department
Location: Theater Arts, Room 222
T: (714) 484-7201
Department Chair: Maha Afra, mafra@cypresscollege.edu