Theater Arts
I regard the theater as the greatest of all art forms, the most immediate way in which a human being can share with another the sense of what it is to be a human being.

― Oscar Wilde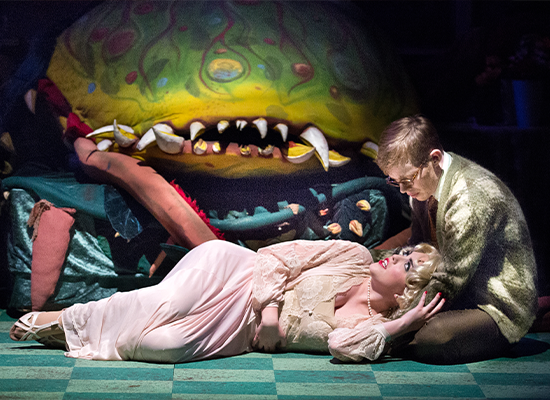 The Cypress College Theater Arts Department offers a full range of classes for students interested in transfer or vocational pursuits in acting, directing, musical Theater, and all areas of technical Theater and design. We also produce two plays and two musicals each year, supported by our 580-seat Campus Theater, and our intimate Studio Theater.
Our faculty provide a disciplined, practical and supportive environment where you can cultivate and advance your skills to pursue an AS degree in Theater Design, an AA degree in Performance, or an AA-T degree in Theater Arts, which provides a path to guaranteed admission to one of California's CSU campuses, as well as certificates in Costume/Makeup Design, Lighting/Sound Design, Musical Theater, Acting for Stage and Screen, or Technical Theater.
---
What You'll Study
Theater
Play Analysis
World Theater History
Diversity in American Theater
Playwriting
Stage Management
Industry Prep
Acting
Dynamic Movement for the Stage
Improvisation Technique
Musical Theater Techniques
Acting for the Camera
Voice and Diction
Acting Workshop
Musical Theater Performance
Rehearsal Performance
Auditions for Theater/Film
Summer Musical Theater Workshop
Theater Design
Video and Projection Design
Sound Design
Stagecraft
Lighting Design
Costume Design
Scene Painting
Stage Makeup
Production Techniques
Stage Crew Running
Stage Crew Production Preparation
Stage Crew Costume/Makeup
Stage Crew House Box Office
Production Techniques
Computer Drafting
Scenic Design for Theater
Directing for the Theater
Directing Actors for Film and TV
Experimental Theater
Prosthetic Makeup
Catalog
Visit our catalog for more information about the degrees and certificates, courses, and program learning outcomes for students majoring in Theater.
---
Careers & Salary
Careers
Actor
Teacher, Postsecondary
Entertainer
Performer
Producer
Director
Salary
Low: $18k
Average: $63k
High: $208k+
---
Faculty
Donny Jackson
Jennifer McMillin-Brick
Adjunct Faculty
Marcella Alberti
George Allen
Keenah Armitage
Doug Cooney
Jamal Douglas
Shaylene Garber
Raymond Gibson
Paul Hadobas
Michael Kirby
Bradley Lock
Cailin Luneburg
Beckett Ogden
Jenna Riley
Arthur Ross
Theater Arts Department
Location: Campus Theater, Room 222
T: (714) 484-7201
Department Chair: Donny Jackson, ddjackson@cypresscollege.edu