Chemistry
Chemistry is necessarily an experimental science: its conclusions are drawn from data, and its principles supported by evidence from facts.

– Michael Faraday
Chemistry is the study of matter and the changes that matter undergoes.
We offer all of the core classes needed for transfer to the UC and CSU systems as well as courses to complete your general education.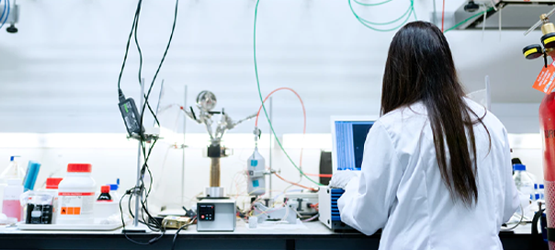 ---
What You'll Study
Chemistry for Daily Life
Chemistry for Health Science Majors
Chemistry and Society
Physical Science for Teachers
Preparation for General Chemistry
General Chemistry
General Chemistry for Engineers
Organic Chemistry
Catalog
Visit our catalog for more information about the degrees and certificates, courses, and program learning outcomes for students majoring in Chemistry.
---
Careers & Salary
Careers
Chemistry Teacher
Chemist
Natural Science Manager
Secondary School Teacher
Salary
Low: $44k
Average: $97k
High: $208k+
---
What Students Say
"Professor Torri Dragonov, my general chemistry II professor was one of the teachers who really encouraged me to continue pursuing chemistry. Professor Draganov is a professor who is invested in the future of her students. She cares a lot about the paths they will be taking and is always willing to give advice. She kept me interacting and interested in her class even though it was a late class with lectures ending at 10 p.m."
Janki Sukhadia
"I got elected to be the Chemistry Club president for the next two semesters. As a campus club, we provide the environment for students who are interested in STEM fields to work with professionals, conduct outreach activities, promote chemistry, and inspire young generations about science. It is also my best and most memorable moment when I was nominated by Professor Robin De Roo for the American Chemical Society, Orange County Section's Outstanding Chemistry Student of the Year 2019."
Minh Nguyen
---
Faculty
Robin De Roo
Torri Draganov
Richard Fee
Phyllis Mays-Larson
Craig Tomooka
Adjunct Faculty
Ahmad Al-Shawa
Preetha Anand
Kevin Chen
Andrew Geragotelis
Howard Han
Nam Ho
San Khong
Alvin Kung
Gary Landis
Alia Latif
Kenneth Lau
Anjalee Liyanage
Raghu Mathur
Maritess Oda
Aisha Siddiq
Vinh Tran
Kim Ngan Tu
Jasmine Walton
Greg Winston
Andrea Zarember
Chemistry Department
Location: SEM, Room 154
T: (714) 484-7000 ext. 48647
Department Chair: Craig Tomooka, ctomooka@cypresscollege.edu