Admissions and Program Eligibility
---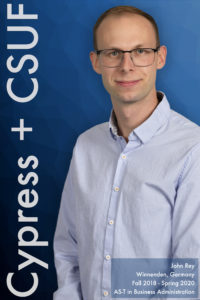 Application & Admission Deadlines
Fall Semester : March 1 – July 1 (classes begin in late August)
Spring Semester: October 1 – December 1 (classes begin in late January)
To apply as a part-time (concurrent) student, contact us at international@cypresscollege.edu.
COVID-19 Vaccination Requirement: On August 21, 2021, the North Orange County Community College District Board of Trustees voted to mandate COVID-19 vaccinations for all employees, and for students enrolled in on-campus classes with allowances for religious or medical exemptions as defined by law. Students are required to upload proof of their vaccination status, or request an exemption, to be able to enroll in on-campus classes. For the fall 2022 semester, new and continuing students are required to take in-person classes and will not be permitted to enroll in fully online classes.
Initial Attendance — New F-1 Visa Students from Outside the US
The following items and documents must be submitted: Upon acceptance, we will send you an acceptance letter and a Form I-20 which you will need to apply for an F-1 Student Visa in your home country.
Initial Attendance
Submit a non-refundable application fee of $40 (cash, personal check in U.S. dollars, U.S. bank money

order, or go to cypressapplicationfee.flywire.com for online payment). Applications will be processed after the application fee has been paid.
Please complete the online International Student Application. Go to https://cypresscollege.edu, click on Apply Now, click on International Students link. You will be asked to upload the following items while completing your online application.

Official secondary education (high school) transcripts in English OR GED certification if applicable
Official transcripts in English from any colleges/universities attended
Financial Statement and/or Bank Certification (must be less than 6 months old).
Copy of valid passport required for new students applying from overseas

English Proficiency must be demonstrated by fulfilling one of the following:
Applicants under 18 must also complete the Cypress College Consent to Treat Minor Patient form
Transfer Admissions — Transfer F-1 Visa Students from Other US Institutions
Submit ALL of the above, plus the following items:
Copy of your I-20 Form, Visa, I-94, and Passport.
Change of Status
Please contact the ISP Office at (714) 484-7049 to schedule an appointment with the Program Manager.
Part-time Admissions for F-1 Visa Students from other US Institutions
The following documents must be submitted to the Cypress College International Students Program Office:
$20 non-refundable application processing fee in US dollars payable to Cypress College. We accept cash, US checks, and money orders.
F-1 Student Concurrent Enrollment Agreement completed by student and P/DSO (or authorization letter from P/DSO)
A copy of current valid I-20
To apply as a F-2 student, contact us at international@cypresscollege.edu.
F-2 Admission
F-2 non-immigrant visa holders may study at Cypress College for up to 11 units maximum (part-time).
Required documents: All application materials must be submitted to the Cypress College International Students Program Office.
$20 non-refundable application processing fee in US dollars payable to Cypress College. We accept cash, US checks and money orders.
F-2 International Student Application
F-2 Status Verification Form
Copy of I-20 form
Copy of Passport
Copy of F-2 visa
Copy of Electronic I-94 form