"Caste" Book Discussion and Presentation
7 May 2021 @ 9:00 am

-

11:00 am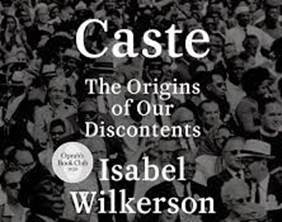 This discussion and presentation will take a deep dive into the linguistic, ideological, and cultural categorization of "Caste" laid out in Isabel Wilkerson's, "Caste": The Origins of Our Discontent" (2020).  It is hoped that the discussion of key concepts in the book, as it relates to and intersects with the lived experiences of "subordinate castes" in the United States, will provide participants an alternate lens for anti- racist and social justice work at their respective campuses.
PRESENTER: Ranmalee A. Perera, MA will lead the discussion of the historical context of the "Caste" social stratification system and how it manifests in modern social praxis in South Asian diaspora and U.S. higher education.
PRESENTER: Virgil Adams, MA, MS, PhD (ABD) will lead the discussion of "Caste" hierarchy and its insidiously violent framework in historical and modern United States as it applies to non-Europeans
Prerequisite: Read "Caste: The Origin of Our Disconnect" by Isabel Wilkerson
OPEN TO STUDENTS, FACULTY AND STAFF
Faculty and Staff Register though the Staff Development Calendar on myGateway
Zoom Meeting • Meeting ID: 957 0807 0726 • Passcode: 519756
P.I.E. Series offers workshops and trainings designed to increase our intercultural proficiency so we may provide effective teaching and support services for our diverse student body. For more information about these and other events, visit nocccd.edu/upcoming-events. Sponsored by the District Office of Diversity & Compliance.