Cypress College Film Festival
11 May 2018 @ 6:00 pm
Free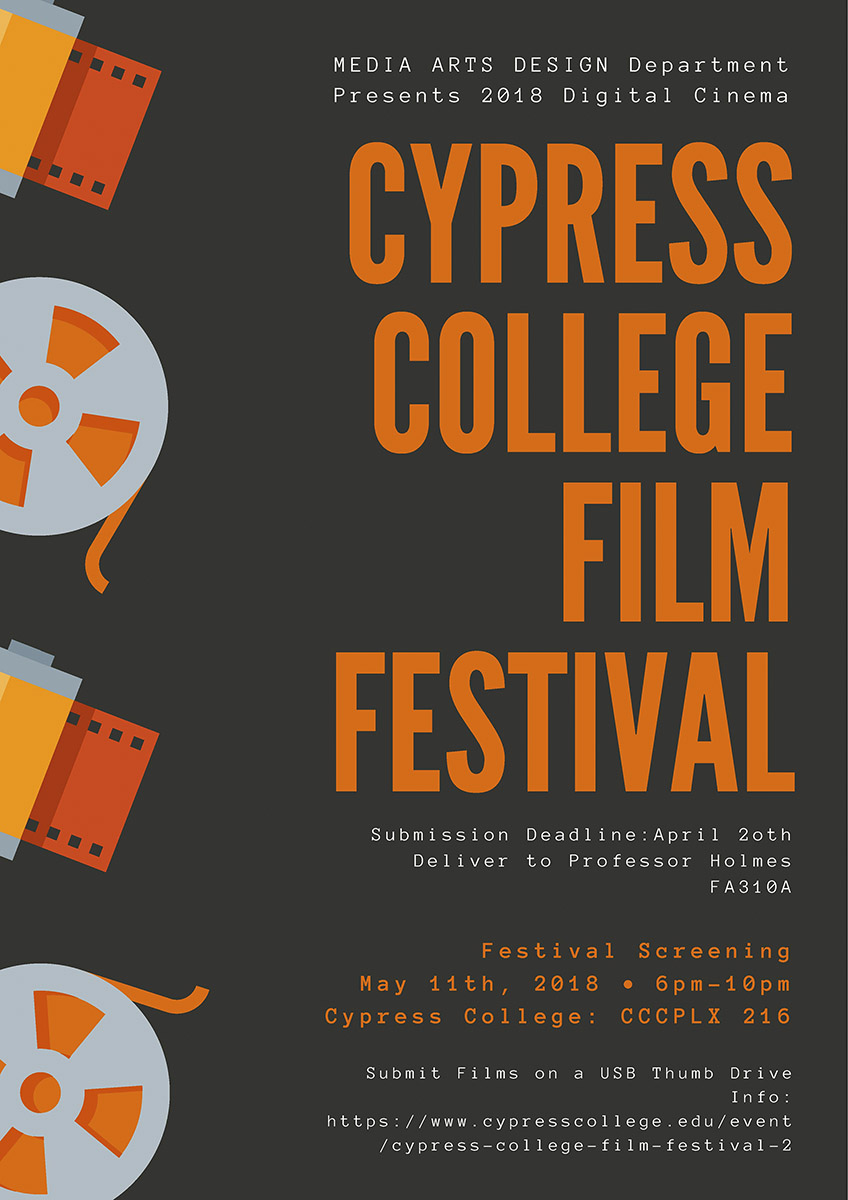 The MAD Film Festival takes place in CCCPLX-216 at 6 p.m. Click here to download the guidelines and entry form.
Guidelines
Eligibility Requirements
Film Festival entrants must be currently enrolled in a college or high school.
*Films must have been completed within the twelve months prior to May 11, 2018.
Films may have been produced with video or film processes.
Films must have been made by student crews, writers, directors, (no professionals).
Content Guidelines
Films must be original works and not derivative or parodies of other films.
Narrative films should have a beginning, middle, and end with a conflict and resolution.
Music videos should be interpretive & creative, and not simply bands playing but may include
some footage of the band playing as part of the complete film.
Abstract or experimental art films should have an identifiable theme.
No nudity will be allowed as this is a student film festival and family event.
No explicit sex acts.
Avoid profanity *(If profanity is used in dialog, it must be bleeped by filmmaker).
All city, state, and national laws must be followed in the production of your film.
Violence or "Jackass" style stunts presented for shock value alone will not be accepted.
All action must have a context within the story.
Music used in the film must be original and not commercial music lifted from CDs, iTunes,
internet downloading sites, or from other movies or television shows.
If music used in the film was created by the filmmaker, a friend or relative of the filmmaker, a
credit must be given at end of film and a music release must be signed and submitted with the
film for screening purposes.
Photographs or images of any kind that appear in the film must be created by the filmmaker or
must have a signed image/artwork release submitted with the film.
Music not created by the filmmaker must be royalty-free music acquired at a source like
http://www.freeplaymusic.com. Music ripped from CDs or iTunes are not allowed.
Technical Requirements
Film length 30 seconds and not to exceed 10 minutes. 5 minutes is an ideal runtime for films.
Films made in a language other than English must contain English subtitles.
Films must have a beginning title and ending credits (Reference your school in credits).
Film submissions must be sent on a USB thumb drive. These will not be returned.
Submissions must list, the film's title, director and runtime, email, and phone number.
Films must be submitted in Quicktime (.mov) or (.mp4) file format with stereo audio.
Films and USB drives will not be returned.