Speaker Series: John Noltner, A Peace of My Mind
3 Sep 2019 @ 11:00 am

-

4:00 pm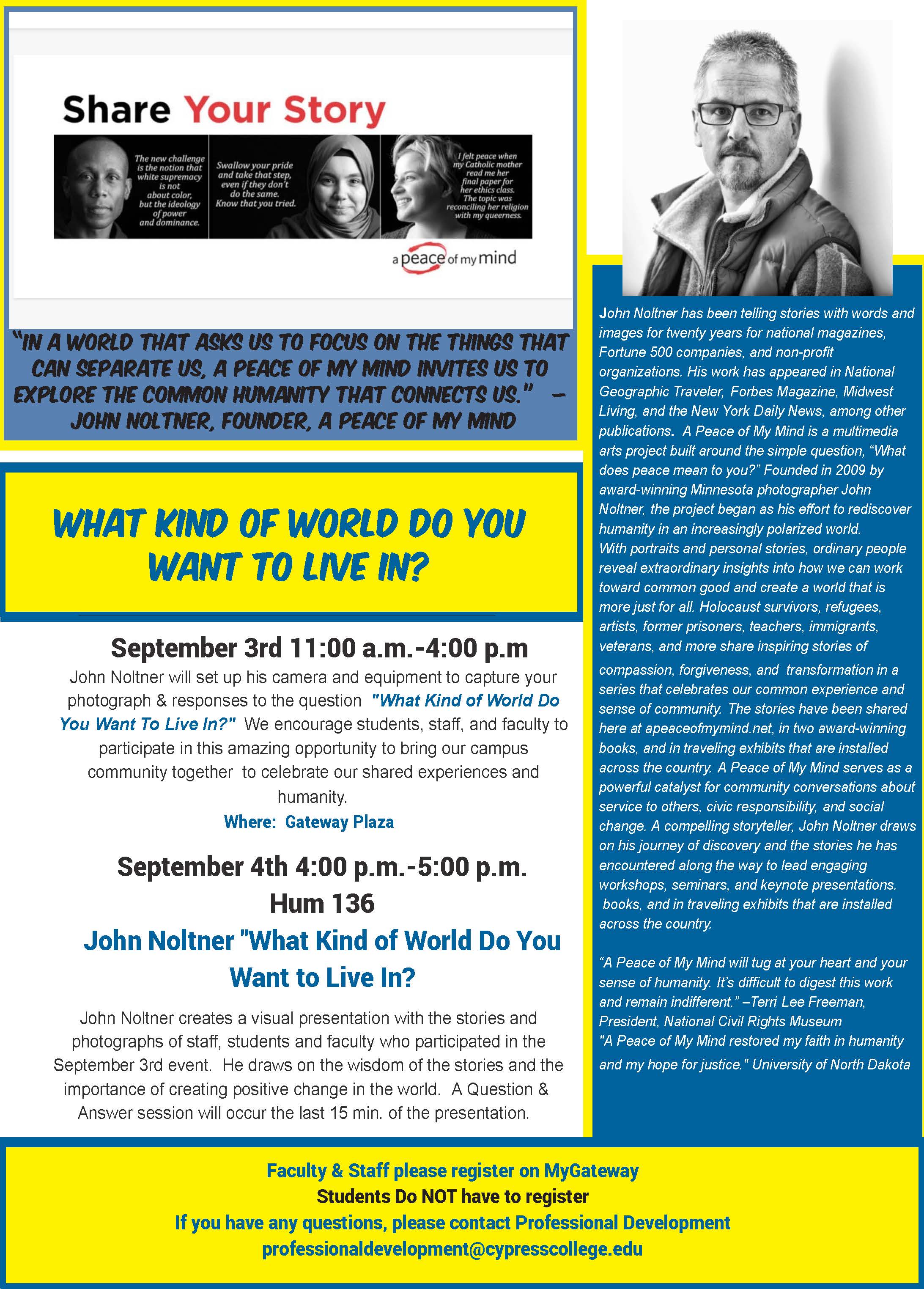 John Noltner will set up his camera and equipment to capture your photograph and responses to the question "What Kind of World Do You Want To Live In?" We encourage students, staff, and faculty to participate in this amazing opportunity to bring our campus community together to celebrate our shared experiences and humanity.
Faculty & Staff please register on myGateway. Students do NOT have to register.
Where: Gateway Plaza
"In a world that asks us to focus on the things that can separate us, A Peace of My Mind invites us to explore the common humanity that connects us." – John Noltner, founder, A Peace of My Mind
John Noltner has been telling stories with words and images for twenty years for national magazines, Fortune 500 companies, and non-profit organizations. His work has appeared in National
Geographic Traveler, Forbes Magazine, Midwest Living, and the New York Daily News, among other publications. A Peace of My Mind is a multimedia arts project built around the simple question, "What does peace mean to you?" Founded in 2009 by award-winning Minnesota photographer John Noltner, the project began as his effort to rediscover humanity in an increasingly polarized world.
With portraits and personal stories, ordinary people reveal extraordinary insights into how we can work toward common good and create a world that is more just for all. Holocaust survivors, refugees, artists, former prisoners, teachers, immigrants, veterans, and more share inspiring stories of compassion, forgiveness, and transformation in a series that celebrates our common experience and sense of community. The stories have been shared here at apeaceofmymind.net, in two award-winning books, and in traveling exhibits that are installed across the country. A Peace of My Mind serves as a powerful catalyst for community conversations about service to others, civic responsibility, and social change. A compelling storyteller, John Noltner draws on his journey of discovery and the stories he has encountered along the way to lead engaging workshops, seminars, and keynote presentations, books, and in traveling exhibits that are installed
across the country.
"A Peace of My Mind will tug at your heart and your sense of humanity. It's difficult to digest this work and remain indifferent." –Terri Lee Freeman, President, National Civil Rights Museum
"A Peace of My Mind restored my faith in humanity and my hope for justice." University of North Dakota