TRANS VISIBILITY with Alexandra Billings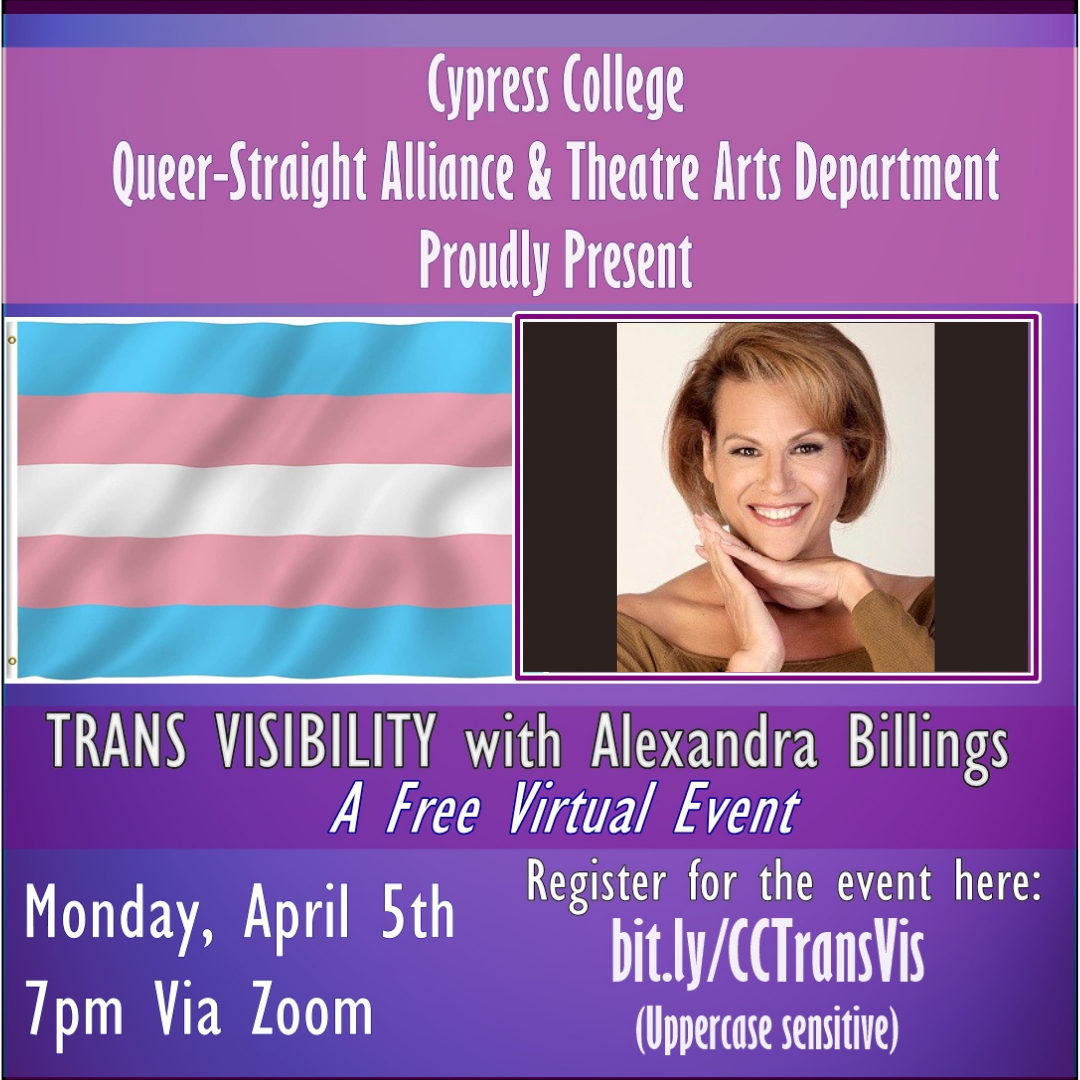 Alexandra Billings is an amazing human being with a wealth of experience and wisdom in the areas of theater, film, activism, and higher education. She has been acting since 1968, performed in hundreds of plays and musicals (incl. Wicked), and appeared and had recurring roles on several TV series (incl. Transparent and The Connors). She is an HIV advocate, is passionate about trans rights, and has received multiple awards for her LGBTQ+ activism. She received her MFA from CSU Long Beach, where she also taught for several years. She now teaches at USC and is committed to all students. She also has a beautiful love story.
During this two-hour event, we will view clips from Alex's original "S/He & Me: A Theatrical Cabaret," which "chronicles the unvarnished, complex, desperate, and often hilariously wacky story of Billings' life, centering on the transition from the young Scott to the show-stopping Alexandra" (broadwayworld.com). With each clip, Alex will share more of her story with us. Throughout the event, questions from participants will be encouraged to make the time more of a conversation. Questions related to Alex's transgender identity as well as her career are encouraged. She wears her heart on her sleeves, and no question is off-limits.
We encourage anyone who wants to better understand and/or support the trans community to join us for this event.
We will also be streaming the entire S/He & Me performance during Spring Break at our Queer-Straight Alliance club meeting on Thursday, April 1 from 12-2 p.m. at bit.ly/QSAmeeting. We would love for you to join us! However, it is not necessary to view this prior to our event with Alex.
Register for the event at bit.ly/CCTransVis.
Related Events